Your Feet Deserves To Be Pampered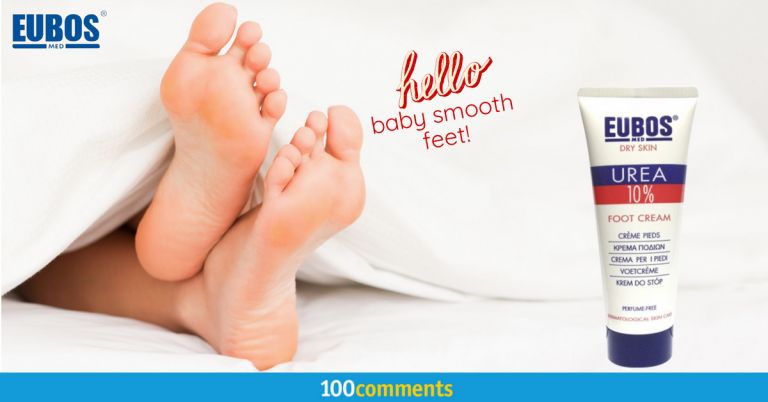 We use our feet an awful lot daily yet they are often the most neglected parts of our body. Every time we walk, stand and run on our feet, it takes a toll on it. The most common condition that can occur to our feet is xerosis or dry skin. The skin at the bottom of our feet do not contain any oil glands, which explains why it is so easy for it to be chapped and cracked.
Since rough and cracked skin can be accompanied by itchiness and infections, it is vital for our feet to be moisturised so that they remain healthy and strong. This is where a good foot cream like EUBOS Urea 10% Foot Cream comes in.
Dry & Chapped Skin on Feet Begone!
Not only does dry skin itch, it can also hurt – ouch!
Hence, EUBOS Urea 10% Foot Cream is designed to provide gentle, soothing yet intensive care to extremely dry, rough and chapped feet, the EUBOS Urea 10% Foot Cream contains urea, which has many wonderful benefits. It is extremely hydrating and moisturising and really helps bring relief to dry skin. A natural skin moisturiser, urea also boasts of the ability to clean while emanating powerful hydrating properties. This results in smoother and more elastic skin.
This power-packed foot cream also contains other natural ingredients such as macadamia nut oil which helps to keep the skin moisturized while strengthening the body's natural protective barrier. It also uses a special formulation of Allantoin, moisturizing lactate, lactic acid and a special combination of emollients with precious macadamia nut oil and glycerol to effectively loosen superficial skin scales and make the skin feel smooth and soft.
Practice Good Feet Health
While keeping a good foot cream with you wherever you go is a great practice, you should also practice healthy feet habits such as keeping your feet clean and dry as bacteria and fungus love to procreate in wet and humid areas. Always wear comfortable and breathable footwear, and avoid sharing shoes or slippers with others. Ladies, we know that pedicures are cute and all but do allow your toe nails to 'breathe' every now and then instead of hiding them under a layer of polish every single day.
By regularly using EUBOS Urea 10% Foot Cream, your feet will thank you for it. The cream is also free from any colourants and fragrances, making it mild and scent free to protect sensitive skin and noses. It also absorbs into the skin quickly, leaving behind no trace of stickiness or oily residue. It is also lanolin-free, PEG-free, paraben-free and formulated without Mineral Oil (Paraffin), which is great for all skin types.
For more information, visit EUBOS Online.
Read raving reviews of EUBOS 10% Urea Foot Cream here!