Youngyf: Nutritious Confinement Meals Delivered to Your Doorstep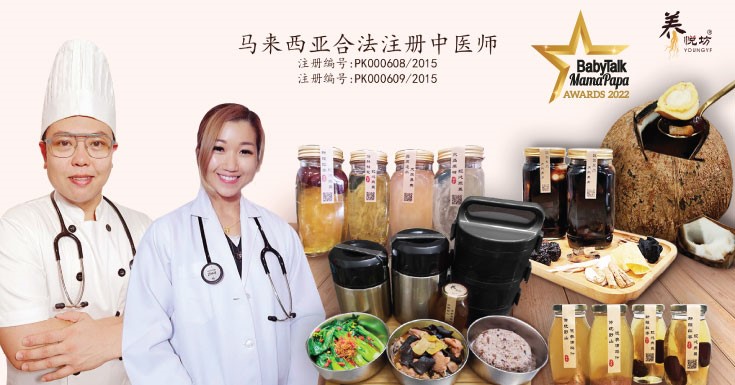 Confinement meals are special meals eaten by mothers during their confinement period while they heal from the after-effects of giving birth. The Chinese have been following confinement traditions for centuries, but it can be tough to adhere to many of the habits handed down by our ancestors in our busy modern day lives.
The mother, who has just given birth to a child, is very weak and cannot consume any type of food thoughtlessly. She needs to be given food that is suitable for her stage of confinement. As such, confinement meals should be prepared to meet the needs of a new mother, and this is something that Youngyf specialises in.
Nourishing and Medicinal Confinement Meals
Located in Ipoh, Perak, Youngyf offers an efficient confinement meal delivery service for new moms who choose to undergo their confinement period in the comfort of their own homes. The service includes carefully prepared meals that are delivered to the doorstep.
Youngyf's confinement meals, created by professional traditional Chinese medicine (TCM) practitioners, nutritionists, and chefs, combine traditional and modern wisdom to ensure that mommies not only enjoy delicious dishes during the confinement period, but also improve and enhance their physique for better health and beauty.
The meals prepared by certified TCM physicians for the various stages of the mother's confinement period are nutritionally balanced. The nourishing meals consist of nutritious soups and stews, protein-, iron-, and calcium-rich foods, and healthy fats. This ensures that the mother's physique will improve, her uterus will be restored, and she will be brimming with vitality at the conclusion of her confinement period.
Convenience for New Moms
At Youngyf, they understand that new mothers and their family members may not have the time, energy, or support to prepare healthy meals daily throughout the confinement period. This is why they offer their convenient home meal delivery service that delivers two delicious and wholesome meals to your doorstep every day.
All of their meals are prepared with fresh ingredients and less oil, salt, and MSG, and they are delivered in thermally insulated lunch boxes with multiple layers to keep food hot and fresh. In additiion, they guarantee that their lunch boxes are leak-proof, hygienic, and safe, so you can enjoy your meals without concern.
There are many benefits to ordering your confinement meals directly from Youngyf rather than going to a confinement centre or hiring a confinement lady. Their meals are more convenient, and they offer a variety of confinement meal packages, including 7 days, 14 days, 28 days, and 42 days of nourishing confinement meals.
Youngyf has recently garnered the BabyTalk MamaPapa Awards 2022 in the Confinement Food Delivery (Perak) category.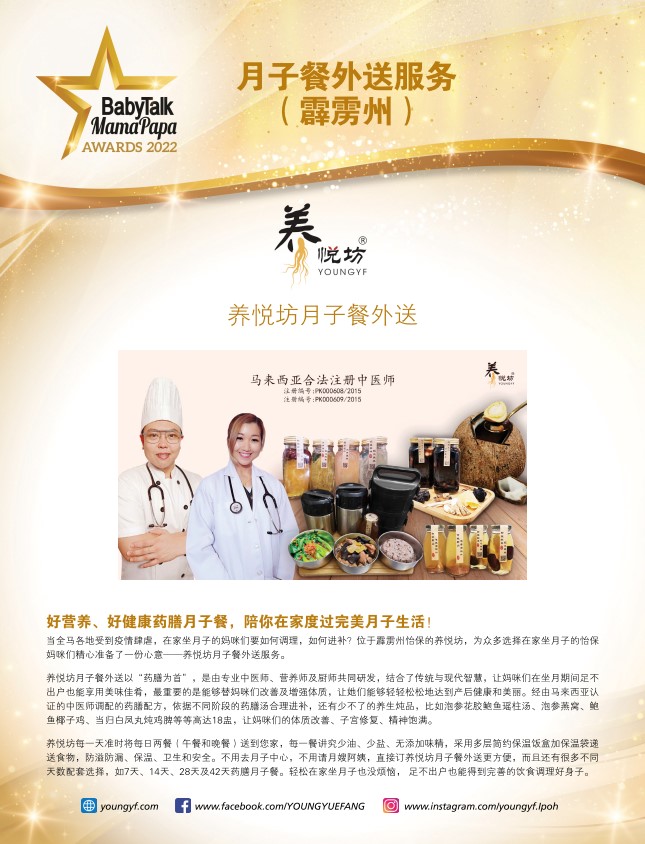 Good nutrition and health are essential during confinement. A well-balanced diet will facilitate the ideal confinement experience for new mothers. With Youngyf's confinement meal delivery service, you can get all the necessary nutrients without leaving your home.
For more information, visit their website, Facebook and Instagram pages.