Why Every Home Needs OFFEN Antibacterial Disinfectant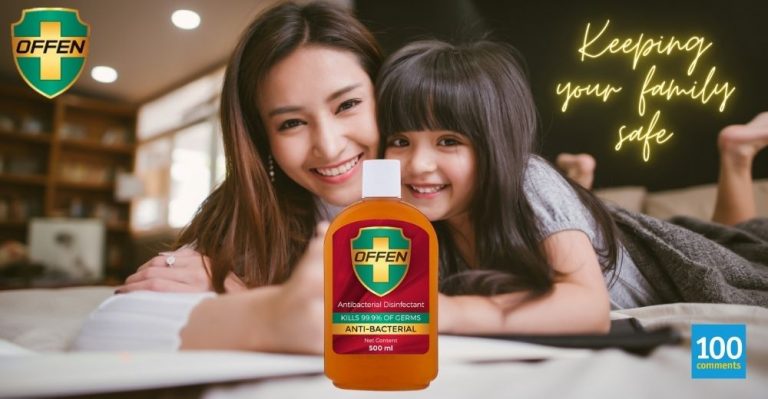 Now, more than ever, every home should not be without a reliable and effective antibacterial disinfectant. Medical-grade disinfectants like OFFEN Antibacterial Disinfectant are vital in curbing the spread of harmful bacteria and viruses. Prevention is indeed better than cure, especially when no cure can be found in the case of viruses. Thus, it is crucial to halt infectious in their tracks by the proper use of disinfectant products, and the routine disinfection and sterilisation of home surfaces and frequent touch points to keep our family safe from pathogens.
How often should disinfectants be used?
Microorganisms like bacteria, fungi and viruses exist in any home environment and can cause infections. To ensure that your home surroundings are safe from germs, it is recommended to use disinfectants regularly to clean housekeeping surfaces such as the floor and tabletops when spills occur and when these surfaces are visibly soiled. Surfaces that are frequently touched, such as doorknobs, telephones, staircase railings, water faucets, light switches and such must also be frequently disinfected, preferably several times a day.
However, it is important to use a disinfectant that is proven effective to combat the toughest of germs. This is when you can consider opting for OFFEN Antibacterial Disinfectant, which effectively kills 99.99% germs. Here are some great reasons why every home needs a bottle or two of OFFEN Antibacterial Disinfectant:
Effective on 99.99% of viruses
OFFEN Antibacterial Disinfectant's formulation is tested and proven to kill 99.99% viruses and bacteria, including the H1N1 virus, and the Staphylococcus aureus, Escherichia Coli and Klebesiella pneumoniae bacteria. The 0.05% Benzalkonium chloride is a key agent that is proven to kill the coronavirus. The active content of Benzalkonium chloride is more than 0.5%, which is 10 times more than what the Singapore National Environment Agency recommends.
Leaves the home clean and pleasantly scented
The multipurpose disinfectant can be used in daily household cleaning, cleaning of toilets, washing the laundry and mopping the floor. It does not leave unwanted residue nor damage the surfaces when applied to them. It exudes a pleasant odour reminiscent to the pine wood scent.
A little goes a long way
Just a small amount of the antibacterial disinfectant is more than enough to disinfect most of your home surfaces. This makes it cost-effective as you only mix 1 part OFFEN Antibacterial Disinfectant to 50 parts water e.g., 500ml water to 10ml (or a capful of) OFFEN Antibacterial Disinfectant.
The most important thing to remember is to ensure that the surface area that is being disinfected should stay wet after cleaning and disinfecting for at least 10 minutes to give enough contact time for the disinfectant to kill as many microorganisms as possible.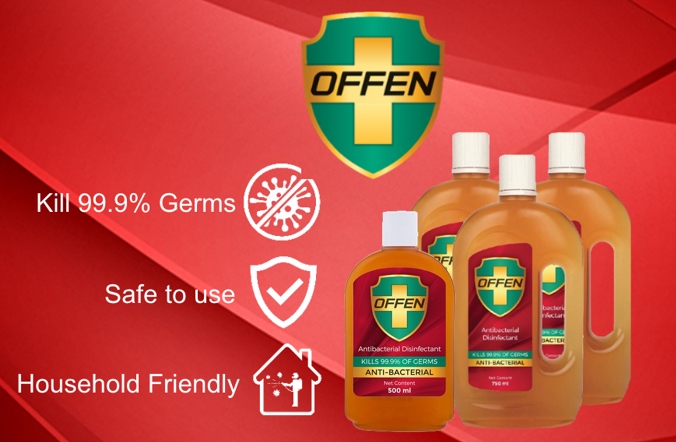 OFFEN Antibacterial Disinfectant comes in a variety of sizes, ranging from 500ml to 5 litres, which is great for small to large households.
If you love OFFEN Antibacterial Disinfectant, review it here. For more info, visit their Facebook page at www.facebook.com/OffenMalaysia.