When Kids Speak Up with Confidence and Flair: IGS English Kids' Public Speaking Programme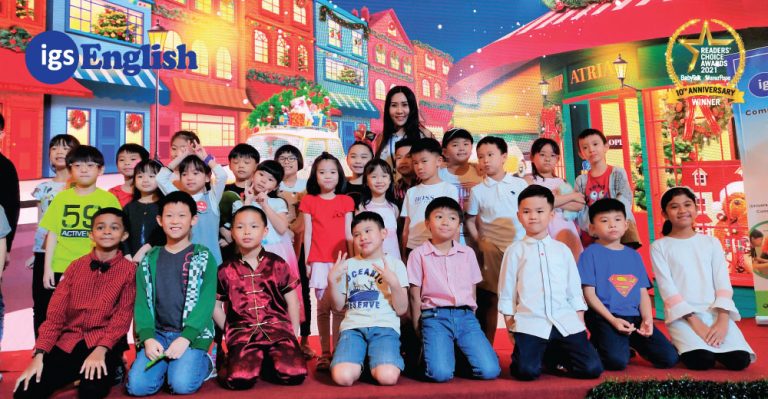 It is a fact of life that communication is a vital part of everyday life. When a child converses with others, you can gauge how proficient he or she is in self-expression. As a parent, doesn't it make your heart sing when your child is able to communicate well with you as well as with others?
And what of a child's personality – how does that tie in with communication skills? Well, the fact is, they are interlinked closely. Think about it; if a child is extremely shy, will he be able to express himself well to others? Or, if a student lacks confidence in herself, will she be able to hold a debate in class, even if it's on a subject close to her heart? Parents are usually able to pick these up when their children speak, especially to others outside of their household.
So, is your child shy? Arrogant? Bashful? Timid? Aloof? It's always good to evaluate, be it a positive or negative aspect of your child, for then only will there be clues on which areas of the child that needs working on so that they can communicate well and have a more satisfying schooling life, as well as working life in the future.
Many parents, upon realising that their child has issues in communication, take it into their own hands to do something about it.  This may turn out to be a daunting task as you are probably not trained or equipped with the skills and tools to teach your child skills such as public speaking, for instance, which will be an excellent talent to build and develop to overcome children's communication issues. While it's always a good idea to help your child in any way you can, a much better way is to let him or her learn with the professionals who are trained for the task.
Kids' Public Speaking Program @ IGS English
As an award-winning English Language School, IGS English is already acknowledged as the best establishment for children to acquire proficiency in the English Language. IGS English was founded by Madam Florence Tee way back in 2012.  As a mom, educator and also NLP trainer, Madam Florence feels that instead of asking themselves if their child's English is good enough, they should be asking themselves if their child can read, write and converse in international standard English, for nothing less than that will open the right doors for them in their near future.
Today, situated in an affluent shopping mall in Petaling Jaya, IGS English is attended by about 400 eager students, each a high achiever in their own right, having received the best English language lessons available in the city today. Some come from quite a distance to acquire brilliant skills in every aspect of the English language: communicating, reading, writing, discussing, debating and reasoning.
For the past nine years or so, IGS English's Kids' Public Speaking Program has been helping children overcome their fears and speak up boldly and with self-assurance. Through intensive, fun-filled courses, children are expertly trained in the proper use of body language, voice projection, eye contact, and audience gauging. They grow more poised to have discussions, talk to audiences, and debate in appropriate English as they participate in role-playing, story-telling, presentations, and public speaking activities.
The IGS English Kids' Public Speaking Program has been chosen by parents as the best program to help kids in building public speaking abilities like confidence, oratory skills and reading the audience, as reflected by the award it has picked up from BabyTalk Malaysia, namely the Readers' Choice Award.
More and more parents today are coming to terms with the fact that their children's ability to speak naturally, clearly, and with sanguinity in English is crucial if a bright and prospective future is what they wish for. The award-winning Kids' Public Speaking Programme offered at IGS English will always be at the forefront in helping to propel children to new heights in overcoming their insecurities and speaking out confidently and with self-assurance.
IGS English has emerged as the winner in three categories in the recent BabyTalk Readers' Choice Awards 2021, namely English Language School, Kid's Public Speaking Programme and Enrichment Centre (Reading and Writing).