What makes a father special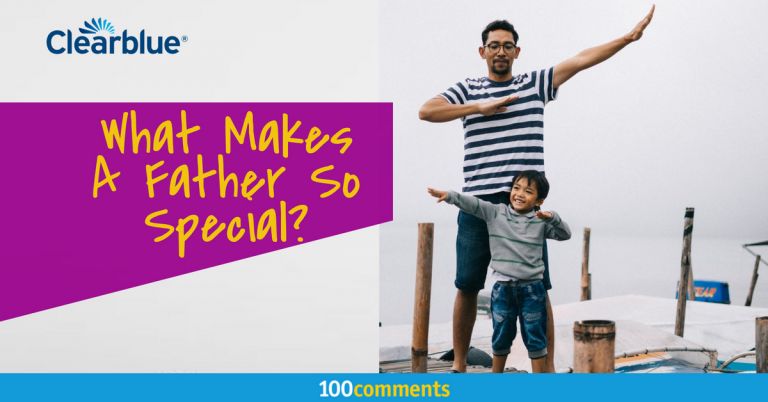 What makes a father special? Though mothers often get the credit for birthing children, a good father takes top marks in raising them with the mother. It's a team effort all the way until the child becomes an adult. With Father's Day is around the corner, it is only fitting to pay tribute to the amazing dads in our midst. Truly, there is nothing like the love of a father.
If we could summarise what it means to be a father, it would be these traits:
Being There Since Day One
It is the little things that mean a lot. Especially when it is consistently done since day one.
"One of my fondest stories of my late father is him rushing to the hospital from work upon receiving news that my mom has given birth. He came bearing my mom's favourite foods," recalled Yean, a Clearblue fan. "He was not a demonstrative person, so for him to drop everything to greet me meant the world to me." His trait of showing up when it mattered, be it her first interview, cooking a storm for her friends in celebration of her 21st birthday to rushing her to the hospital when she was violently ill left an indelible imprint in her life long after he passed on.
Though there are no photos to commemorate that special moment in Yean's life, we can imagine it must have looked something like these:
Playful Moments
Some dads play the disciplinarian role while some others just, well, play! After all, fatherhood has loads of fun moments and being silly with your child is one of the perks. Some dads even make it a daily pre-bedtime routine like Eugene below:
Knowing You've Got Their Back
We all know what a tough place the world can be. But anything is bearable if we know we have someone who will hold us close when the rest of the world falls away. Our dads are the first people to demonstrate this in our lives. It is no wonder that we sometimes refer to good dads as being the solid anchor in our lives, the one certainty that never wavers. They are assured that you will be there for them when they make mistakes and help them learn from them. This gives us the basic trust on which to forge solid connections and relationships with others and resilience to withstand life's challenges.
Seeing The World Through Their Eyes
There is no toy that can replace the joy of wandering through a garden and see the world through the eyes of your child. It's amazing how the simplest things can make a child cry out in delight and to listen to their 'rational' explanations of how the clouds are formed. When a child knows that you can listen without judgement, it forms a bond so strong that can't be broken.
Different Priorities
A good dad knows that he's living for more than his own self now and it shows. It could mean working harder so that you can provide for your growing family. It could also mean shaving a few hours off work or time out with the guys just to spend more time with your child. It is the thought and motive behind the actions that count. And when it is well-communicated to your child, they will know that you have made sacrifices so that they won't have to.
Instead of watching the football game at the mamak with the guys or staying late at work, you decide to do this instead.
Or this:
And when your kids look up to you like you're their favourite Superhero, you just want to shout your joy from the rooftops!
To all the awesome fathers out there, Happy Father's Day! And to all aspiring fathers, be sure to check out Clearblue Digital Ovulation Test to know the optimum date for conception. It is a sophisticated and efficient method to accurately monitor ovulation by measuring the change in Luteinising Hormone (LH) levels in a woman's body, which rises about 24 to 36 hours before ovulation occurs. The Clearblue Digital Ovulation Test will quickly analyse your partner's urine stream to give her a 99% accurate reading on the two best dates to conceive.