What Every Parents Wants in a Baby Bathtub: Skip Hop Moby Smart Sling 3-Stage Tub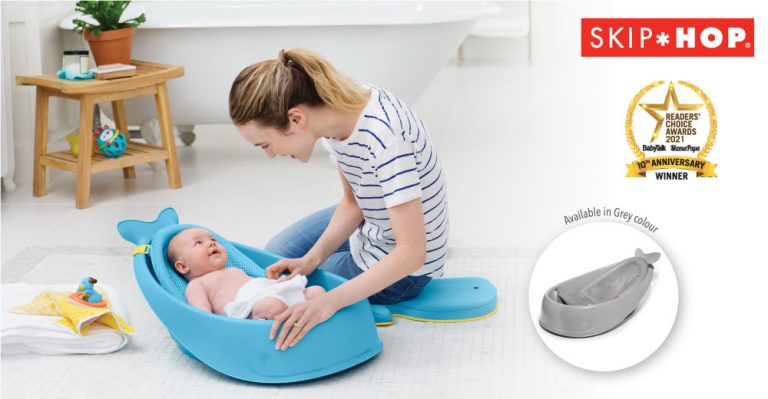 Temperature, check  ✔
Baby toiletries, check ✔
Bath towel, check ✔
Baby's clean nappy and clothing on standby, check ✔
Aah…  A little baby's first bath! What a joyous event that is, isn't it? However, as many new parents can attest, it can also be a nervous ordeal for newbies (and by this, we mean the parents, of course). It's natural to worry about all sorts of things during a baby's bath time, but we say that if you have the right equipment at hand, it should be a breeze!
Well, yes, as Asians, we have all heard of babies being bathed under the sink. Hey, who knows, maybe we ourselves were bathed that way when we were babies! Today, however, we live in an era of modernity where advanced solutions exist to help out new parents like never before. One of these solutions is a state-of-the-art bathtub from Skip Hop called Moby Smart Sling 3-Stage Tub.
This visually appealing, modern baby bathtub boasts an array of unique features to help you when giving your little one a bath. As its name suggests, it's a modular bathtub, meaning that it can be set up to cater to infants of different ages and/or growth stages. Shaped like a whale, your little one is surely to recognise it and anticipate all the fun-filled moments of getting cleaned up and of course, bonding with you! Whether the cute shape of this tub is an attraction or a distraction, it serves parents well, nevertheless!
Now, let's take a look at its 'stages'. Stage 1 is for newborn use. The Smart Sling, a dual-layered mesh, locks into its first ergonomic position, a higher one, for full body support because your newborn is not able to sit up yet. This special mesh sling cradles your baby from head to toe, offering comfortable support as you coo and coax your little baby throughout his bath time.
During the second stage, that is when your baby is learning to sit, but still needs support, the sling can be adjusted lower for that purpose. It is always wise for parents to be aware of their baby's capabilities when determining how to set up their baby's bathtub. This will ensure that the baby is comfortable (and safe!), and the parent is confident.
The Moby Smart Sling Tub comes with its own cute drain plug to allow you to unplug and drain out the water after use. And, it also boasts a swivel hook so that you can dry the tub at any appropriate spot. Rest assured that your investment in this outstanding baby bathtub is well worth it, for apart from all the features mentioned earlier, this product is also PVC-free as well as Phthalate-free, so that you can bathe your baby with some peace of mind.
The Skip Hop Moby Smart Sling 3-Stage Tub bagged the Best Baby Bath Tub category in the 2021 BabyTalk Readers' Choice Awards.
For more information, visit their website and 
 Instagram page.