WELLENESS and Support with Breast Specialist 4.0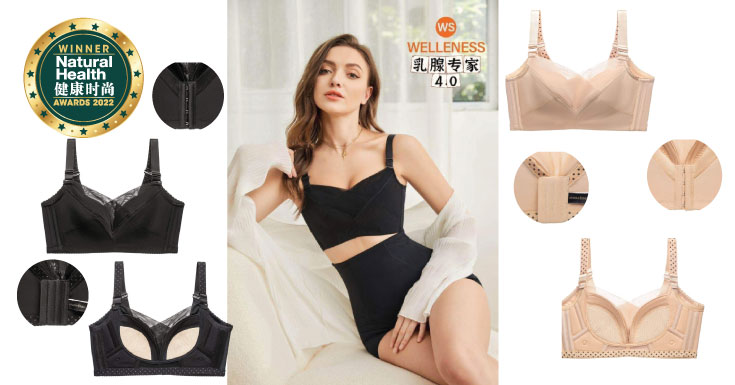 Founded in 2008, WELLENESS is a local brand of professional physiotherapy and health care adjustment products. Over the years, it has designed and developed a multi-functional bra, suitable for Malaysian women, based on the concepts of meridian science, human bone science, mechanics and fat freeing science. WELLENESS is committed to creating high-quality inner beauty with physical therapy and health care for women, which is unique in the market.
This exclusive Chinese medicine meridian health bra, uses innovative technology to help Malaysian women feel beautiful while contributing to their personal health. These days, there are too many choices of undergarment styles in the market, causing many women to wear the wrong type of bra without knowing. Wearing the wrong bra may cause breasts to be out of shape, flare out, sag, or even get abrasions. In addition, a poor-quality bra is more likely to induce breast diseases like breast cancer!
In order to help women in health and beauty, WELLENESS has innovatively developed a traditional Chinese medicine (TCM) meridian health bra specifically for great support. Known as Breast Specialist 4.0, this wonder bra is the breast armour that most women dream of. It is an all-round traditional Chinese medicine meridian health-preserving bra that is suitable to be worn during exercise, work, breastfeeding and even sleep time.
Breast Specialist 4.0 can help relieve rigidity of muscles by activating collaterals and promoting blood circulation. It can also prevent sagging, working as a 'push-up' bra with an anti-hunchback fit. At the same time, it provides a solution for the problems that all women face, such as out of shape and sagging breasts, as well as blockage of body meridians.
With more than 15 years of experience, Selina Shee (the founder), has created Breast Specialist 4.0 to meet the requirements of modern women, while keeping it cost-effective. It's certainly a welcomed change from the traditional non-functional, adjustable bra.
Breast Specialist 4.0 adopts a steel-free design, and is made of carefully selected and innovative Italian fabrics. It is rich in various natural active ingredients such as caffeine, vitamin A, vitamin E, fatty acids, and aloe vera. These nutrients awaken the vitality of the breasts and improve breast health. In addition, the two shoulder straps expel high-energy magnetic therapy, which can release magnetic energy 24 hours a day, contributing to health.
Try Breast Specialist 4.0, a Chinese medicine meridian health-preserving bra today, because every woman deserves good support!