WATSONS' GET ACTIVE FEST RETURNS EVEN STRONGER THAN EVER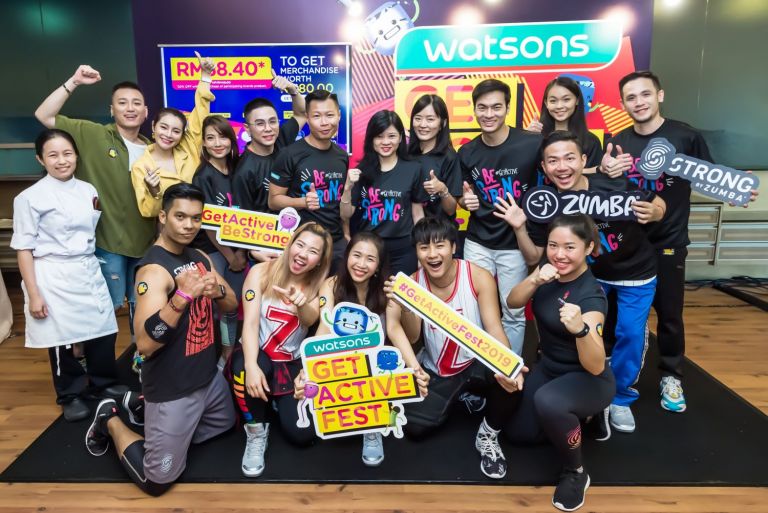 Kuala Lumpur, 7 August 2019 – Asia's leading health and beauty retailer, Watsons, will once again hold its annual Watsons #GETACTIVE FEST 2019 this 19 October at Sunway Lagoon Surf Beach, from 4pm right through to 11pm! The fitness festival is open to all, including kids, adults, families, teenagers and senior citizens. The #GETACTIVE fest promises to get you active and healthy, with many exciting health-related events and activities. Continuing the success of the previous year's Watsons Move Your Body Zumba event, which was the largest Zumba gathering in Malaysia, this year the event hopes to garner more Zumba lovers to join in the fun! This year introduces Strong by Zumba which is a is a revolutionary high-intensity workout using the tempo of the music to get your body into high gear. Think burpees, push-ups, and other high- impact moves – that's synced to specific music. After all, Zumba is all about the music.
Injecting the Zumba energy at the event will be Natalie Constanti, International Presenter for Strong by Zumba. A former Tae kwon-do champion, ex-professional dancer a physique fitness competitor, Natalie's interest in fitness has allowed her to explore many styles & disciplines, from dance, martial arts, bodyweight & movement training to bodybuilding where she placed top 4 at the European WBFF Diva Fitness Model competition. All forms of movement are her passion. At #GETACTIVE FEST 2019, Natalie is supported alongside with Sunny Cheong, Strong by Zumba's Malaysia representative.
Aside from Zumba Fitness & Strong By Zumba event highlights, participants will get their "refill" of energy at the food trucks zone, pamper themselves at the health and beauty bazaar, refresh their mind, body and soul at wellness workshops and have fun at the fitness arcade.
The Watsons #GETACTIVE Fest's objective is to promote an active lifestyle to Malaysians through physical exercises in a fun yet simple way for Malaysians of all ages, ethnicities and backgrounds. The festival is part of the Watson's #GETACTIVE campaign, a health initiative to further promote healthy living and positioning Watsons as the ideal healthy and beauty shopping destination, giving its customers an elevated shopping experience with a variety of brands and products. The event targets to draw in 10,000 participants this year.
"At Watsons we are always committed to promoting a healthy lifestyle and this is our sixth year in organising the Watsons #GETACTIVE Fest. Exercise is an agent of unity and brings together Malaysians from all backgrounds and ages. #GETACTIVE Fest is an opportunity for Watsons to create a platform to encourage our customers to get active and to promote awareness of self- health. We associated #GETACTIVE Fest with Zumba yet again this year, as it remains popular throughout the years and aside from its heart-health benefits, Zumba provides a workout for the whole body. The music is fast, upbeat and contagious, so you can't help but keep moving. And since it takes place in a group setting, Zumba is by far one of the best ways to get your family and friends in on your "exercise routine" said Caryn Loh, Managing Director of Watsons Malaysia.
Attending the event is Ms Caryn Loh – Managing Director of Watsons Malaysia, Mr Danny Hoh – Customer Director of Watsons Malaysia and Ms Foo Hwei Jiek – Head of Trading Watsons Malaysia. Watsons celebrity friends such as fitness model and actor Kit Mah, Sharifah Eleen, Zumba Jammers Alex Phang and Deno Au, Strong by Zumba Malaysia representative – Sunny Cheong, TV host, actress & singer Candy Ice, Monsterz Lee and last but not least Malaysia rhythmic gymnast gold medallist – Amy Kwan who shared their fitness regimes and also recommended healthy diet plans.
Get your tickets now at any Watsons store in the Klang Valley or purchase tickets online at RM38.40* (eligible for one ticket entry) to enjoy the full experience of the #GETACTIVE Fest activities, with a limited edition #GETACTIVE Fest Quick Dry Tee, RM10 cash voucher, water bottle, face towel & travel pouch.
For more information, visit www.watsons.com.my/promo-getactive-fest2019