Vital Early Learning For Optimum Child Development at Kindyland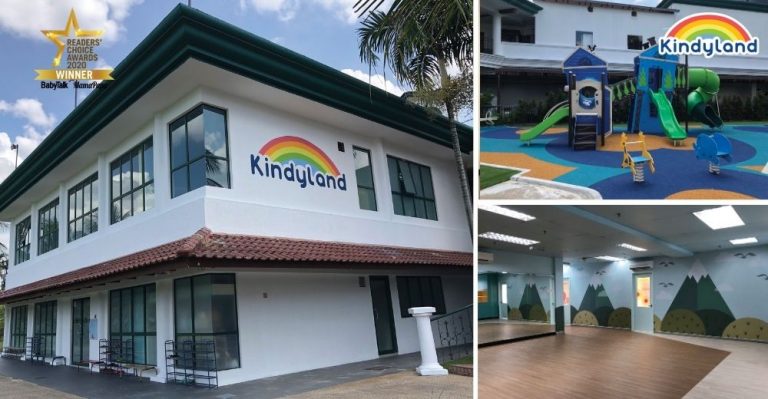 Kindergarten gives your child with an opportunity to learn different social, emotional, and problem-solving skills which they will use throughout their schooling. The development of self-esteem is one of the important goals of the kindergarten experience. For a wholesome kindergarten education, Kindyland Tropicana Kindergarten and Daycare stands out from the rest. This early childhood learning centre offers programmes for children aged 3-6, integrating academic practices of the National Curriculum Standard with other learning methodologies to introduce fun-based teaching concepts to stimulate children's interests. Kindyland has received numerous testimonies from happy parents of successfully educating well-mannered and all-rounded children.
Kindyland was founded in 2008 by a team of passionate educators who are dedicated to nurturing the minds of young students to discover their full potential as the future generation of leaders. They take pride in providing a safe and caring environment where children can comfortably develop, creating a strong foundation that will serve as the building blocks of their education.
The Kindyland family features many seasoned educators with over ten years of experience teaching at all ages levels. Their love for nurturing young minds translates directly into their teaching methods, creating a fun learning environment for their students. Their dedication to nurture and shape young characters is what makes Kindyland such a great place to learn.
In addition to its stellar academic programmes, Kindyland inculcates a culture of respect, honesty, inclusiveness, kindness and curiosity. Their classrooms embody these ideals as they are consistently executed on a daily basis. Kindyland strongly believes these values will help children form the habits, beliefs, and behaviors necessary to become loyal, loving, and productive members of society.
The centre offers a series of progressive age appropriate programmes to prepare little ones for all primary school types. Children are immersed daily in the 3 core languages used in Malaysia while picking up fundamentals of Mathematics and Science. Co-curricular activities help children develop their social and emotional skills. Classes are intentionally smaller in size for better observation and attention to pupils who are cared for by energetic and passionate educators. The level of attention to detail is never more evident in that the team carefully curates healthy meals that are freshly prepared for their students.
At Kindyland, children are ensured an enjoyable hands-on approach to learning. Their programmes promote learning while encouraging fun with academic subjects taught alongside music, art, dramatic play, dance, school events and field trips.
Kindyland has recently won the BabyTalk Reader's Choice Awards for Early Childhood Learning Centre.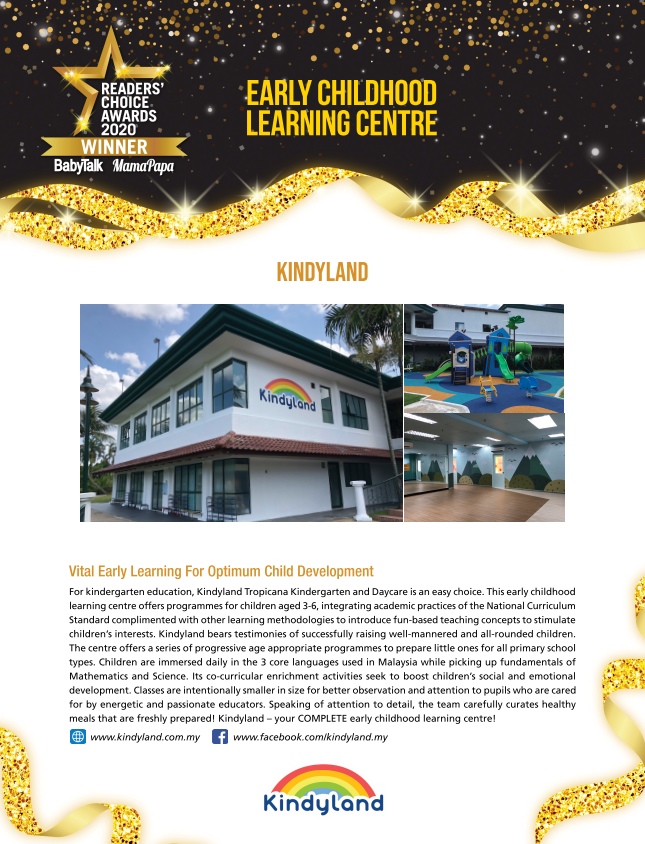 Parents, if you are looking for a complete early childhood learning centre, look no further than Kindyland!
For more information, visit their website at www.kindyland.com.my and Facebook page.