VA Digitech Sdn Bhd Partners with Jodoo to Lead Digital Transformation in Malaysia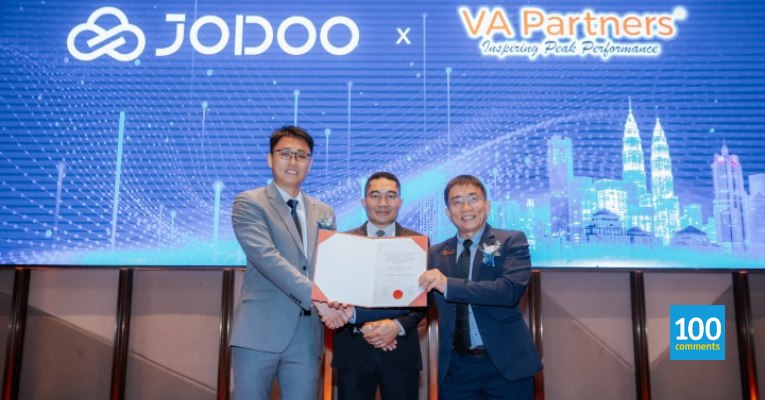 VA Digitech Sdn Bhd has joined forces with Jodoo, a leading global enterprise headquartered in Singapore, to launch a groundbreaking initiative in Malaysia's digital sphere. The launch, which took place at M Resort Hotel on 8 November 2023, was complemented by a Digitalisation Conference that set the stage for a new chapter in Malaysia's digital transformation strategies. VA Digitech and Jodoo are dedicated to advancing organisational growth through digital innovation in alignment with Malaysia's digital economic aspirations and the New Industrial Master Plan 2030. This commitment was echoed by Dr. Mohamad Norjayadi Tamam, Director, Delivery Management Office, Technology Section, Productivity and Competitiveness Development (PCD) of Malaysia Productivity Corporation (MPC), who graced and officiated the event.
VA Digitech, the main distributor in Malaysia, co-organised the event with Jodoo, the principal partner. The collaboration focuses on enhancing Jodoo's market presence, forging strategic alliances, and disseminating cutting-edge digital trends. The event targeted a diverse professional audience, including associations, C-Suite leaders, digital transformation leaders, diversity and inclusion executives, IT hardware providers, accounting software providers, and IR4 solutions providers, aiming to foster a collaborative environment for knowledge exchange.
Jodoo, an All-in-One Application Development Platform, stands out for its agility and user-friendly no-code approach, promising to expedite digital adoption for Malaysian organisations. The conference highlighted Jodoo's capacity to transform ideas into applications rapidly, promising significant efficiency gains such as integrating systems that can expedite decision-making by up to 80%.
The event also served as a networking hub, featuring experts from various sectors who shared insights into digital transformation practices. Jodoo's unique selling point lies in its tailored solutions for Malaysian SMEs, offering scalable and affordable pricing structures, including a complimentary version, which remains free indefinitely.
Prominent speakers who spoke at the event included Ms Carol Fung, Senior Manager of Business Digitalization, at Malaysia Digital Economy Corporation (MDEC); Mr Lam Kwai Soon, Tax Managing Director of Cheng & Co Group, Prof. IR. TS. Dr Tan Cee Fai, Deputy Vice-Chancellor & Professor, Infrastructure University Kuala Lumpur (IUKL); Dr Louis Ooi, CEO of MY CO2 Group Sdn Bhd; Patricia Chung, President of IIPCC Malaysia; Pek An Jon, Sales Director, Sandfil International; Will Cheng, Director, International Project Management, FanRuan Software Co., Ltd. and Ms Gooi Shiau Ying, Regional Sales Manager, Jodoo International Pte. Ltd.
Looking ahead, VA Digitech and Jodoo are planning a series of digitalisation seminars and international study tours to further catalyse digital progress for Malaysian businesses, marking a significant milestone in the nation's journey towards a digital economy.
For more information about Jodoo, please visit their website and Facebook page.