Usher in 2020 at CITTA Mall!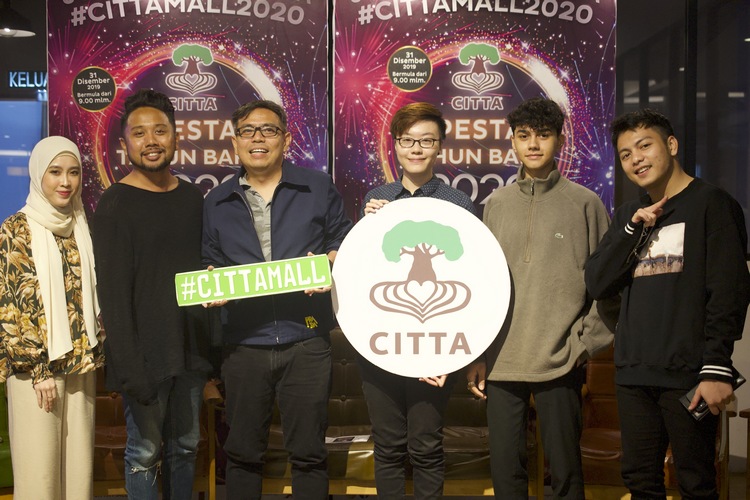 Looking for a place to chill this New Year's eve? Well, look no further than CITTA Mall to usher in 2020 with a bang. Here are 5 AWESOME reasons why you should!
1. AWESOME Location
CITTA Mall is easily accessible, and yet still a respectful distance away from the madding New Year's eve crowd and traffic jams, as compared to the others in the city. This makes for a stress-free journey to enjoying a night of entertainment amidst some of the best eateries in town. The good news is, a number of F&B outlets will be open till late, which would be a good pit stop for rumbling stomachs till the fireworks show which will happen later that night.
2. AWESOME Line-up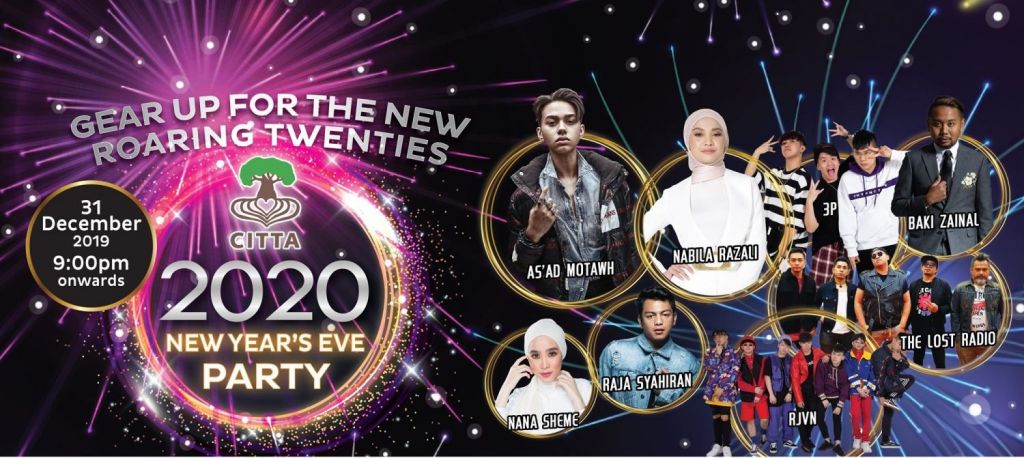 Get ready for a star-studded line-up including dance extraordinaire Rejuvenate Dance Crew, teenage idol As'ad Motawh, beatboxer Raja Syahiran, singer-songwriter Nana Sheme, Akademi Fantasia Season 10 born singer Nabila Razali and 3P. The party will start at 9pm on 31 Dec, Tues. As a nice complement to the youthful zest and energetic performances, there will also be a medley of songs from the 90s and 2000s performed by the Lost Radio to cater to the demands of some of CITTA's regular crowd.
Raja Syahiran revealed that he will perform his newly-released single for the first time in public this new year's eve at CITTA. Also, As'ad Motawh, Malaysia's very own Justin Bieber, declared his love for his fans coming to see him and said that he has a special performance just for them at CITTA and it will be amazing. We can hardly wait!
Here's a look at the detailed programme:
9:00pm Lost Radio #1
9:30pm Stage Games
9:50pm Raja Syahiran The Beatboxer
10:00pm RJVN #1
10:10pm Nana Sheme & Band
10:25pm Stage Games
10:40pm Lost Radio #2
11:10pm Nabila Razali
11:25pm 3P Chinese rap
11:35pm RJVN #2
11:40pm As'ad Motawh
11:55pm All artists + band on stage for the COUNTDOWN
12:00am Fireworks!!!
3. AWESOME Host
Returning for the fourth time as the beloved host of CITTA's New Year's Eve party, Baki Zainal will set the stage on fire with his witty charm and unforgettable presence. Incidentally, this means that Baki has been the host for every one of CITTA's NYE parties since it started four years ago. No wonder the fans keep clamouring for him to come back every year. The 38-year-old multilingual dude is a famed Chinese television presenter and Suria FM Radio host, with a wicked talent of making you laugh your troubles away. Can you think of a better way to celebrate the countdown than being entertained to the fullest? We think not!
4. AWESOME Crowd
This year, the mall expects about a 3,000-strong crowd, up from 2,500 folks last year. And most of them are friendly, family-oriented people who feel right at home in this community mall. The energy is super positive! You'll experience a warm feeling of being with a bunch of like-minded folks, looking to have a good time in a chill and safe environment.
5. AWESOME Fireworks!!!
What's an NYE celebration without fireworks? We have it on very good authority that CITTA delivers one of the most awesome fireworks show ever. Psstt… we witnessed it for ourselves last year and it was splendid! But don't just take our word for it. Every year, faithful patrons of CITTA Mall will wait with bated breath for the stroke of midnight to feast their eyes on the stunning fireworks display.
According to Allison Chan, CITTA's Assistant Manager of A&P, the fireworks display runs for about 3 minutes, which is quite long for a mall of its size, to the surprise of the spectators. "They are also able to view the fireworks up close and personal, though still at a safe distance, compared to NYE celebrations elsewhere," she added.
For now, you can drool over last year's fireworks display below. But do come on over to see the real thing at CITTA on 31 Dec, 9pm. For more info about CITTA Mall and to receive updates on its activities, visit its Facebook page at www.facebook.com/CITTAMall.