Unleash Your Child's Full Potential with Decode Talent DNA Test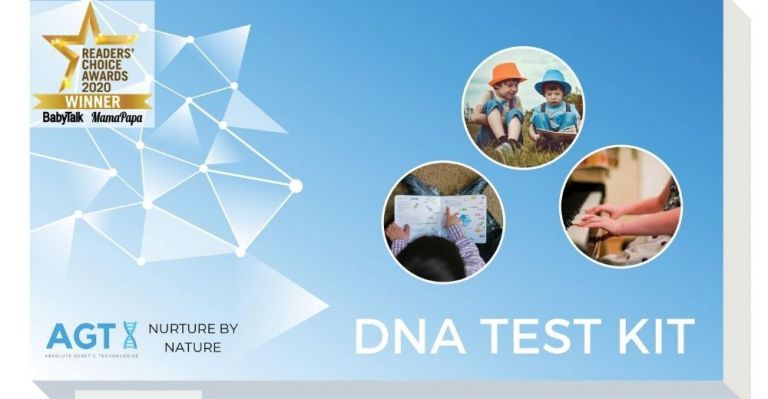 Ever wondered why one person has a natural grace or has no problems maintaining a svelte physique and aces difficult examinations without much effort? Most people would sigh and go, "Well, they won the genetics lottery!" They got it half right. We are shaped by our genetic background and environmental influences — a case of nature and nurture working hand in hand.
It is well-known that the inherited genes from our parents influence everything from height, eyes colour, hair colour and other physical characteristics, to intelligence, behavioural patterns and personality traits. Studies have shown that the interaction of both nature and nurture is a constant lifelong process. As such, parents, caregivers and educators will benefit greatly to understand the science behind our children's genetics in order to nurture them to their best and healthiest selves.
A child's development starts when the male sperm combines with the female ovum, whereby each sperm and ovum contains chromosomes that act as a blueprint for human life. Decoding your child's DNA is vital towards an in-depth understanding of their in-born abilities, so as to offer the proper environmental influences.
Benefits of decoding your child's talent DNA include:
Unleash Their Full Potential
By accessing your child's potential, you can craft the most suitable talent development plan without missing their sensitive and most effective learning period.
Boost Cognitive Development
The DNA report helps you understand the best way to boost your child's cognitive development. With strong cognitive skills, your child will experience the joy and ease of learning when they start school.
Develop Good Emotional Health
DNA talent testing offers a way to understand your child's inherited emotions. You can then help them to develop good emotional health by improving their environments of relationships and experiences early in life.
Encourage Positive Behaviour
By understanding your child's behaviour through DNA testing, you can better assist them to develop skills in managing behaviour. Behavioural problems can be preempted through the parent's positive support in the identified specific areas in early childhood.
The Best DNA Test for Your Child
Located in Kuala Lumpur, AGT (Absolute Genetic Technologies) offers the revolutionary Decode Talent DNA Test. It is a comprehensive and effective genetic testing kit designed especially to analyse a child's talent development traits, including IQ and EQ. With this knowledge, parents can then unleash the child's full potential, boost cognitive development, nurture healthy emotions, build positive behaviour and achieve wellness from an early age. Decode Talent DNA Test, driven by 'nurture by nature', enables a beneficial parenting strategy towards maximising a child's inner potential!
AGT specialises in the genetics of children development and boasts of professional scientists with over 55 years of collective experience in human genetic research. Using the most advanced US technology, their DNA testing results provide 99.9 % accuracy. Their Decode Talent DNA Test, analyses over 300 genes associated with talent, IQ, EQ and personality. The algorithm is based on 20,000 Asian reference data, which ensure highly reliable interpretation of Asian population. They are dedicated to offer the most comprehensive analysis and to deliver the most informative talent DNA report for your child. The basic Decode Talent DNA Test analyses 14 traits while the comprehensive version of the test analyses 46 traits.
AGT's Decode Talent DNA Test has recently won the BabyTalk Reader's Choice Awards for Best DNA Test for Children.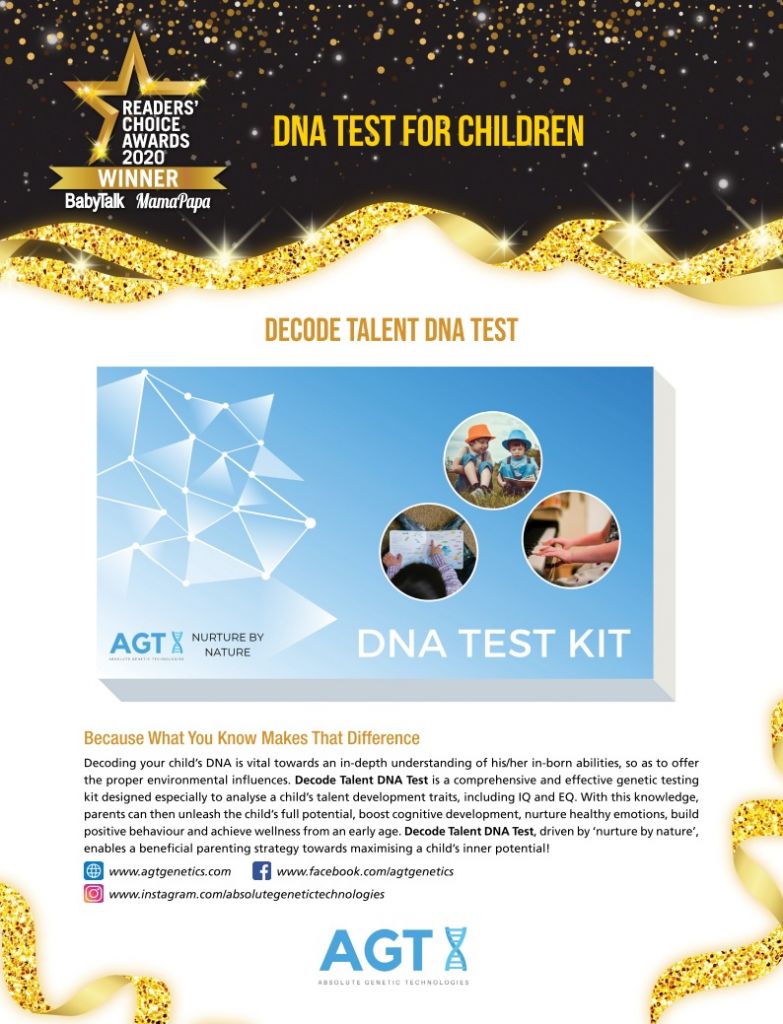 For more information, visit their website at www.agtgenetics.com, www.facebook.com/agtgenetics (Facebook) and www.instagram.com/absolutegenetictechnologies (Instagram).