Trust in the Healing Power of Aromatherapy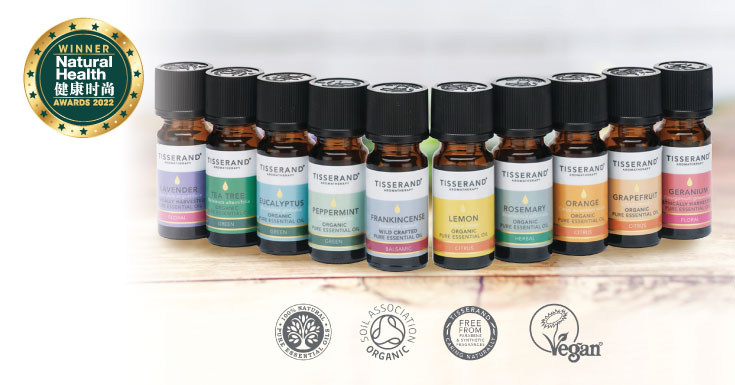 Essential oils are compounds extracted from plants. The oils capture the plant's scent and flavour, or "essence" and these aromatic compounds give each essential oil its potent and unique characteristic. They can be used in perfumes, cosmetics, soaps, air fresheners, for flavouring food and drink, and for adding scents to incense and household cleaning products.
Aromatherapy is a holistic therapy that harnesses the natural fragrances of the essential oils in aromatic plants to help enhance and balance your mind and body. As modern lives become increasingly stressful, living a natural and healthy lifestyle has never been more popular. Aromatherapy is a simple and easy-to-use therapy to help improve and balance you both emotionally and physically.
For over 49 years, award-winning Tisserand has been the #1 aromatherapy-based brand in the UK and can be found across Europe in 20,000+ stores – from integrative medicine, herbalist shops, and yoga centres, to many fine retailers. It is renowned for its quality, using only 100% natural pure essential oils, making it a precious elixir right to its last drop.
Tisserand Aromatherapy brings together a unique team of UK based experts, who source, blend and procure the finest quality essential oils from its offices in West Sussex, at the foot of the South Downs. Robert Tisserand, who is internationally renowned and acclaimed, has been practicing aromatherapy since the 1960s. He works closely with herbalists around the world, founded the Tisserand Institute, The International Journal of Aromatherapy, and wrote the first book on aromatherapy in 1977 – a definitive guide for the safe and practical use of over 500 essential oils and blends.
From sourcing raw materials to blending and producing, the expertise and integrity that goes into each bottle of Tisserand essential oil allows users to freely explore the healing powers of aromatherapy and its many benefits, without worry or doubt.
All Tisserand Essential Oils are either 100% pure organic, wild crafted or ethically harvested, and the brand works with responsible partners who meet its high ethical and quality standards. Each essential oil carries its own unique scent and a plethora of healing and restoring benefits. With Tisserand, you can trust nature to do the healing!