Top 5 Best Child Specialist Clinics in KL and Selangor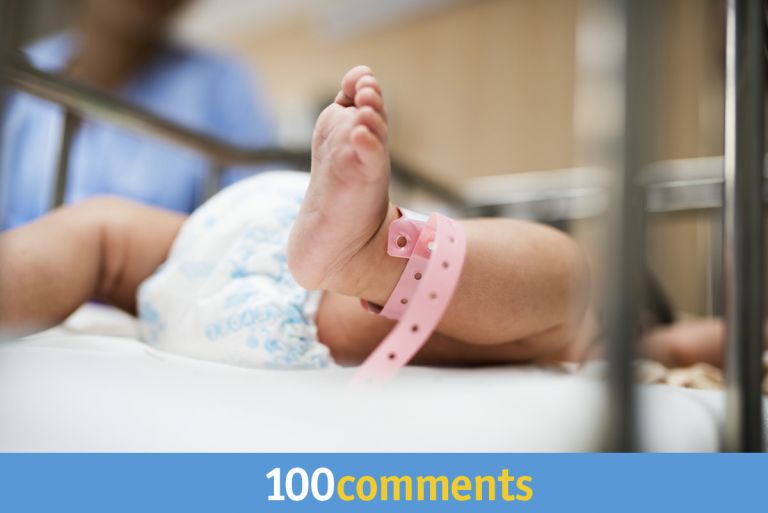 When it comes to your child's health, it's only natural to look for the best health care services available. Pediatricians are medical doctors who specialize in treating children. They are trained to not only treat sick children but also provide preventive health maintenance to keep your child from getting sick in the first place. Your family pediatrician plays an important role because they can help you to monitor and manage your child's physical, mental, and behavioral problems from a young age.
As such, it is crucial to find a pediatrician who is reliable and trustworthy. As a new parent, it's recommended that you look for one as soon as your child is born instead of waiting until your child gets sick for the first time. Getting in touch with a pediatrician early on is useful because there are several vaccinations that need to be taken within the first two years. Aside from that, a good pediatrician can monitor your child's progress and ensure that they're developing properly.
To help you out, we've put together a list of the top 5 child specialist clinics in KL and Selangor. These clinics all come highly recommended and are staffed by experienced and respected paediatricians who are happy to help with all your child health care needs.
Kiara Child Specialist Clinic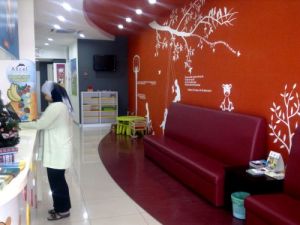 Conveniently located at Solaris Mont Kiara, Kiara Child Specialist Clinic provides specialist, professional, and personalized quality care within a child-friendly environment for the local communities of Mont Kiara, Hartamas, and the neighboring Bukit Damansara and Bangsar.
They pride themselves on offering high-quality medical care with short waits, prompt phone advice, and courteous service. As a one stop center for all your pediatric needs, Kiara Child Specialist Clinic offers services such as general medical consultations, childhood immunization, development assessments, and asthma and allergy management treatments.
Contact Number: 03-62037704
Address: No 8, Jalan Solaris 4, Solaris Mont Kiara, 50480 Kuala Lumpur
Website: http://kiarachildspecialist.blogspot.com/
Baby and Beyond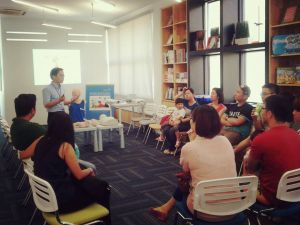 Created by parents for parents, Baby and Beyond are a group of professionals who strive to ensure that children and their families always come out of consultations with hope, a plan of management, and a realistic chance of substantial improvement in their well being.
As one of the most kid-friendly clinics in Kuala Lumpur, Baby and Beyond is part of a supportive child-centered community that shares reliable information and ensures that no parent has to feel alone. The clinic itself is located in a strategic area with easy parking and plenty of nearby restaurants and cafes for you to visit if you need to wait for a while.
In addition to the standard treatments, Baby and Beyond's team of professional and approachable pediatricians always practice good follow through; they'll make sure to fully explain each medications you're given and why. You're also welcome to call them at any time after the consultation if you're not sure about something.
Contact Number: 603-22829028
Address: 3F-5, Level 3, Bangsar Village II, 2 Jalan Telawi Satu, Bangsar Baru, 59100 Kuala Lumpur
Website: http://www.babyandbeyondclinic.com/
Clare Child Specialist Clinic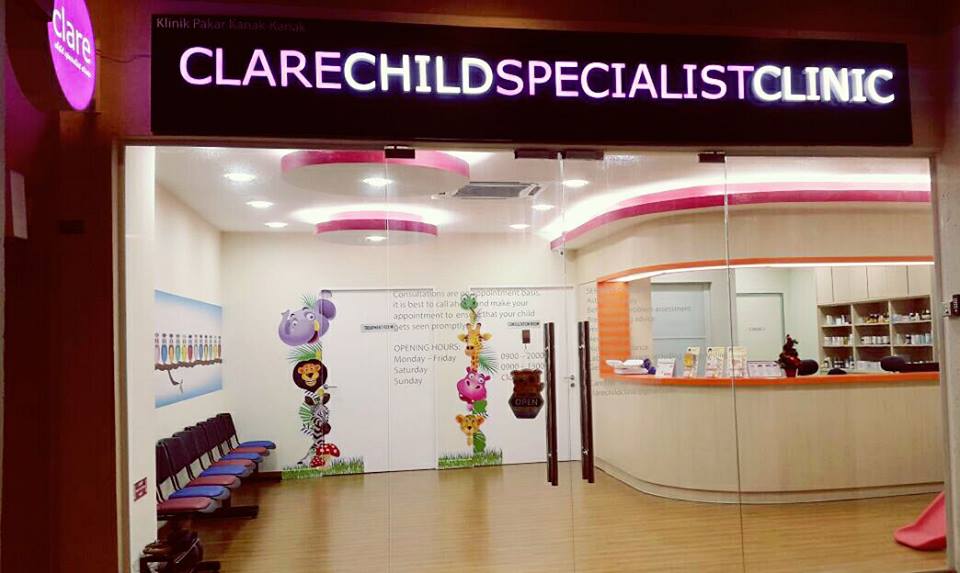 Providing an extensive range of services for both parents and children, Clare Child Specialist Clinic offers everything from general check ups, prenatal consultations, child development assessments, vaccinations, and even nutrition and breastfeeding education.
Their inviting, child-friendly office environment is open to same-day appointments for check-ups, sick visits, and urgent care, though walk-in patients are also welcome. Clare Child Specialist's resident pediatrician provides passionate and personalized medical care for every stage of your child's physical development from newborn all the way up to young adulthood. Should your child require a referral to secondary care specialists, you can rest assured that Clare Child Specialist works closely with a number of experts in all specialties and sub-specialties across the state.
Contact Number: 03-62621221
Address: FF – 15, First Floor, The Waterfront@ParkCity, No 5 Persiaran Residen, Desa Park City, 52200 Kuala Lumpur
Website: http://www.clarechildspecialist.com/
Tiny Tots Children Specialist Clinic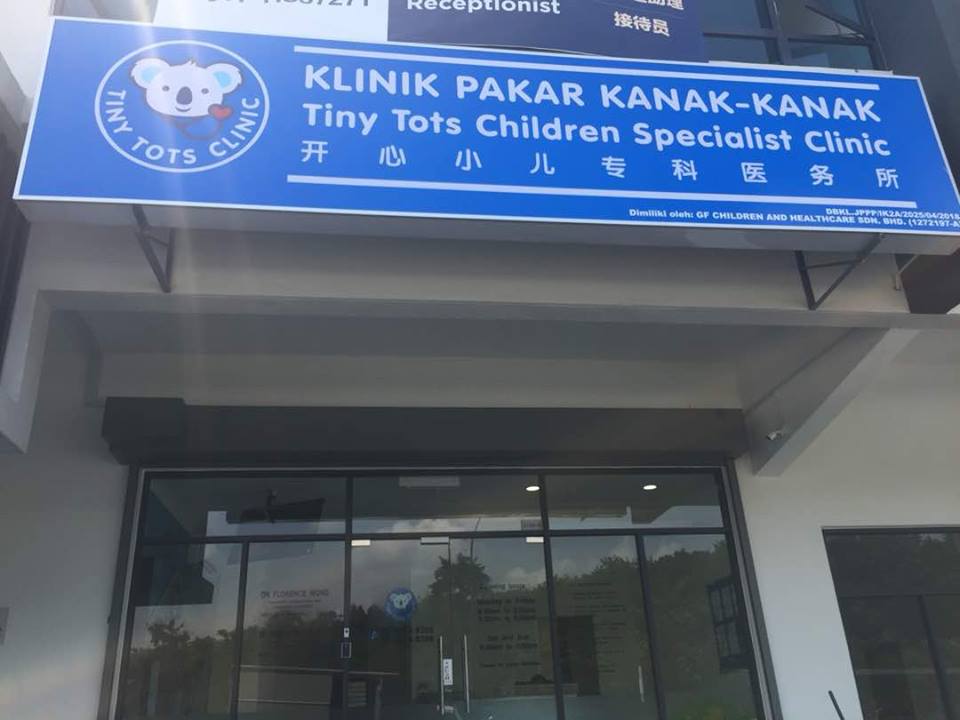 Established in the Bukit Jalil area, Tiny Tots Children Specialist Clinic is a pediatrician clinic that's known for its warm hospitality and friendly services.
With many years of experience in this business, Tiny Tots is passionate about providing quality health care to parents and children of all ages from infants to adolescence. Aside from their team of experienced pediatricians, Tiny Tots also has certified Lactational Consultants on hand to advise new and expecting mothers on how to breastfeed properly.
Contact Number: 03-86568388
Address: C-3A-G, Jalil Link 2, No 5. Jalan Jalil Perkasa 1, Kuala Lumpur, Malaysia
Website: https://www.facebook.com/Tinytotschildrenclinicjalil/
Dr. Chin's Child Specialist Clinic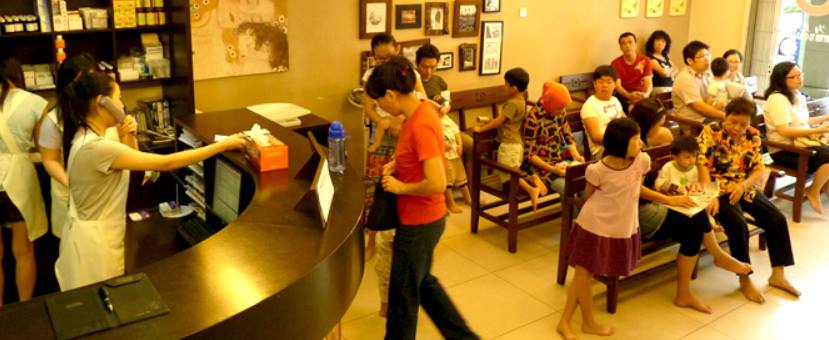 A pediatric clinic run by a permanent consultant pediatrician, Dr. Chin's Child Specialist Clinic cares for babies and kids from birth till 18 years old. They offer a wide variety of services catering to all types of children. Whether your child's problem is physical or mental in nature, Dr Chin's Child Specialist Clinic provides them with the treatments they need to enjoy a happy, healthy childhood.
In addition, Dr Chin's Child Specialist Clinic also strives to aid parents and care-givers by providing knowledge on proper baby care – especially for newborn babies. Their experienced pediatricians are also happy to give advice on any problem that your child or toddler may be experiencing.
Contact Number: 03-62743922
Address: 3-18, Jln Desa 2/2, Desa Aman Puri, 52100 Kepong, Kuala Lumpur
Website: http://www.chinchildcare.com/