Top 10 Caterers in Klang Valley for Your Event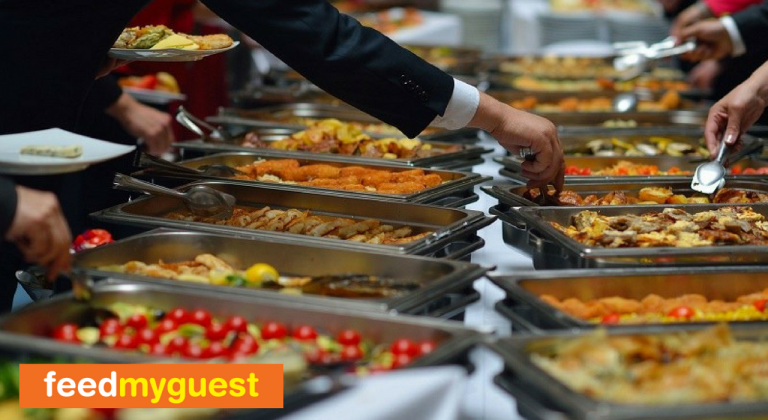 Organising an event, be it a large corporate function or your sister's baby shower, is no easy task. But let's not kid ourselves – while guests appreciate the decor, company and entertainment, they're really there for the food! So get ready to bookmark and sink your teeth into this delectable list of the top 10 caterers in the Klang Valley. If you spot the perfect buffet caterer for your event, book them via FeedMyGuest, a one-stop catering platform!
1. Tuk Tuk Catering
Why not break the monotony of events serving Malaysian and western cuisine with something from our neighbours to the north? Tuk Tuk Catering specialises in tantalising authentic Thai food combined with a sprinkling of local delicacies. Not to mention they serve halal buffet catering as well, whether it's banquet or buffet catering or in the form of box lunches. They also offer event management and premium gifts, so you're covered before, during and after your important event.
Click to see Tuk Tuk Catering's menu.
2. Teaffani Catering
Whether it's buffet catering or halal catering or both, Teaffani is a premium catering service perfect for those of us who love choice. Their buffet catering packages include Asian cuisine, western cuisine, canapes, morning and afternoon tea break sets as well as packed lunches, so you're sure to find the right one for your big (or small) event. Fun fact: not only do they supply food daily to some international schools here, they're also Malaysia's Dinner In The Sky official food provider!
Click to see Teaffani Catering's menu.
3. OTK Food & Catering
These guys are no stranger to serving up goodness for big events. They serve up a huge variety – Besides various serving options including buffet, high tea, BBQ and others.OTK is also a catering service that can help put together your event. Their event management service is top-notch and they'll even help with finding the perfect venue, photography and the furniture to go along with it.
Click to see OTK Food & Catering's menu.
4. Tasty Touch Catering Services
Finger foods seem to be Tasty Touch's specialty! They consider it a delicate art – it allows people to mingle freely at your event whether it's a small celebration or a corporate cocktail party. When it comes to their menu, Tasty Touch doesn't just rely on crowd favourites – on top of the usual suspects, you'll find hors-d'oeuvres, bento boxes and buffet, food bars for burgers, tacos and salads, and the list goes on. They're also a certified halal catering service.
Click to see Tasty Touch Catering's menu.
5. Perfect Match Catering
Led by an experienced chef with over 20 years of F&B experience, Perfect Match Catering knows what it takes to make good food and bring it to your event. They live by the words "good food brings people together" and strive for delicious, tantalising banquet and buffet catering at affordable prices. They do weddings, corporate events, as well as small-scale dos such as birthday parties and housewarmings too!
Click to see Perfect Match's menu.
6. Crudites Events
These self-proclaimed "Purveyors of Pleasure" specialise in high quality and customisable canapés, tapas and desserts for any event. Their menu would be great for meetings and corporate parties or even small social events – basically any happening that would benefit from delicious light refreshments. Armed with creativity and a passion for taste, Crudites Events is perfect for themed events, where they bring culinary delicacies to a whole new level.
Click to know more about Crudites's menu.
7. Nurul Izzah Catering
This Halal catering business not only serves up delicious food, but also provides an outdoor venue featuring beautiful landscaping and canopies. While Nurul Izzah Catering does serve a healthy mix of public, private and corporate events, this caterer is an especially popular choice for Malay weddings. They also have additional decoration options to help you elevate your event and make it look as good as it tastes. Plus, they just need a 24-hour booking in advance for the last minute peeps!
Click to see Nurul Izzah's menu.
8. Han Nam Fong HNF Catering
Han Nam Fong Catering, also known simply as HNF Catering, has over 30 years of catering experience. When it comes to food, they go for fresh and well-balanced, with a menu as extensive as it is delicious. Their BBQ menus serve up delectable meaty delights, sourced from reliable halal meat suppliers. But what's really a hit with the locals is their Stall Menu, which boasts yummy Asian street food – you'll find everything from lontong to briyani to dim sum!
Click to see HNF's menu.
9. Mix Mix Catering
Looking for buffet catering on the more affordable side? Then Mix Mix Catering is the prime candidate you've been waiting for. Their buffet packages start from as low as RM20 per pax and it's halal catering too, making them great for events with multicultural attendees. The business, which has been running for over 20 years now, has catered to some very impressive clients including Citibank, Genting, Toyota and Zalora.
Click to see Mix Mix's menu.
10. Bagus Catering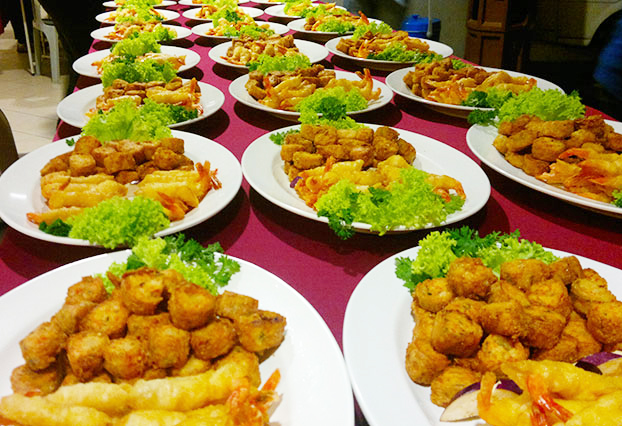 Another catering service that keeps things halal is Bagus Catering. What they offer is freshness, tastiness and friendly service – all very important aspects of any event regardless of its size. Bagus Catering also offers a full set service: food catering (buffet or sit down meals), canopies, PA systems, balloons, venue decoration plus setup. It's a pretty neat package for those who'd rather leave the event management to the professionals.
Click to see Bagus's menu.