Top 10 Best Cabinet Contractors in Klang Valley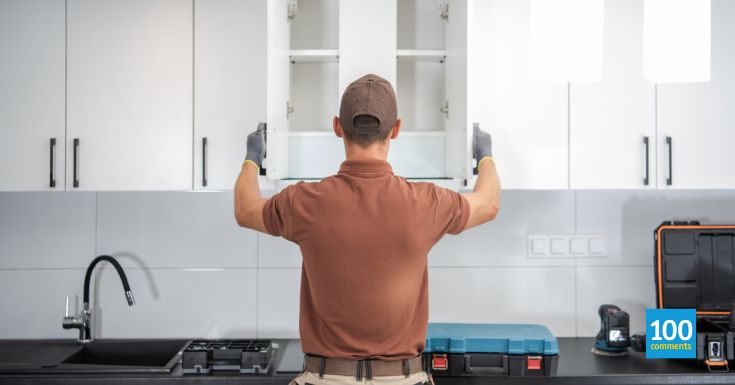 Cabinets are essential to keep a home looking neat and organised because everything can be stored away neatly or proudly displayed. Here are the top 10 best cabinet contractors in Klang Valley who can help you get the best value for your money while making your living space look great.
Alustil
Alustil is a kitchen design and installation company that has been in business since 1995. The company officially launched the brand "Alustil" in 2012, with the name derived from the combination of "alu," meaning aluminum, and "-stil," meaning style in German. Alustil specializes in designing and installing unique kitchen interiors and is known for incorporating aluminum elements into their designs. They offer a range of services, including planning, designing, project management, and customer support.
Website: https://www.alustil.com.my/
017-631 2296 / +606 9869 069
No. 128, Jalan Maarof, Bangsar, 58000 Kuala Lumpur, Malaysia
View In Cabinet Design Sdn Bhd
View In Cabinet Design is a kitchen design and construction company based in Kuala Lumpur, Malaysia. Founded in 2001, the company specializes in kitchen cabinets, wardrobes, and interior design. They offer a full range of construction services including renovations, additions, and remodels. View In Cabinet Design values honesty, integrity, and high moral values in their business practices and aims to provide competitive prices for their services. The company also plans to offer online purchasing as a service in order to reduce costs for customers and provide budget-friendly options. View In Cabinet Design is known for delivering excellent kitchen design ideas and products.
Website: http://www.viewincabinet.com/
+603-77731728 / +6012-6361128
12 & 14, Jalan 9/155, Bukit Jalil Integrated Business Park, 58200 Kuala Lumpur, Malaysia.
Ba Li Kitchen Cabinet Ampang
Ba Li Kitchen Cabinet is a company based in the Klang Valley that has been providing custom kitchen cabinets since 1996. They offer a wide range of design options and affordable prices for their products. Ba Li provides free site visits and instant quotations, and they have a variety of colors and styles available to choose from for their customers' dream kitchens.
Website: https://balikitchencabinet.com.my/
017-317-3070
G-17, Jalan Pandan Prima 2, Dataran Pandan Prima 68000 Ampang, Kuala Lumpur
Carpenter Lane
Carpenter Lane is a business that values its clients and puts their needs first. The company's guiding principle is to do what is best for their clients, which includes not taking shortcuts, keeping promises, and providing honest advice. Their priority is to always put the customer first.
Website: https://www.carpenterlane.com/custom-kitchen-cabinet/
603-84085577
15 Jalan PJU3/23B, Sunway Damansara, 47810 Petaling Jaya, Selangor
Mohd Noor Kitchen Cabinet
Mohd Noor is a company that specializes in creating custom cabinets, carpentry, and design for households. They have a team of skilled employees who have been with the company since its founding. The company is known for their high-quality workmanship and attention to current design trends.
Website: https://mohd-noor-kitchen-cabinet.business.site/
016-398 5257 / 018-263 8243
LOT 2290/1A lorong madrasah othmaniah kampung padang balang, Sentul 51100 Kuala Lumpur, Malaysia
Kuchemate Concept
Kuchemate Concept Sdn Bhd is a leading distributor and retailer of custom furniture, with a focus on kitchen and wardrobe systems. The company has been in the domestic market since 2005, supplying a range of furniture products and has since diversified into value-added products like kitchen and wardrobe systems. Kuchemate Concept Sdn Bhd offers modern and trendy kitchen, wardrobe, and built-in furniture designs with a focus on space management and design solutions. The company takes a personal engagement approach with clients and in-house designers, from concept and design planning to delivery of the final product. Kuchemate Concept Sdn Bhd has consistently invested in upgrading production lines to stay up-to-date with technological advances and strengthen their market position in the industry.
Website: https://kuchemate.com.my/
+6012-2154148
191-01-04, Wisma CKE, Jalan Lancang, Off Jalan Cheras, 56100, Kuala Lumpur, Malaysia
Lora Kitchen
LORA KITCHEN is a company specializing in kitchen cabinet design, founded by experienced designers in 2006. Their goal is to create customized and elegant kitchen cabinet designs that fit the client's lifestyle. The company believes that interior design is an important aspect of a home and aims to create kitchen cabinets that perfectly match the client's needs and preferences.
Website: https://www.lorakitchen.com.my/
+6013-373 0707
30, Lorong Dato Yusuf Shahbudin 44E/ KS07, 41200 Klang
Chan Kitchen Furniture
Chan Kitchen Furniture is a leading manufacturer of kitchen cabinets, wardrobes, and other furniture products. The company has a strong presence in the local market and has recently expanded into the Middle East. Chan Kitchen's products are known for their unique designs and customer-focused approach. The company also provides project services to contractors and continuously upgrades its production with advanced technology to maintain a strong market position.
Website: https://www.chankitchen.com.my/
+603-55258056 / +6016-3318025
IND-TECH Industrial Park, No. 15, Jalan Karburetor 34/25, Seksyen 34, 40470 Shah Alam, Selangor, Malaysia
AlphaKitchen
AlphaKitchen is a custom furniture and residential design company with over 20 years of experience in the industry. Originally a kitchen cabinet manufacturer, the company has evolved to offer a range of furniture and design services. AlphaKitchen's factories are equipped with the necessary technology to handle a variety of materials, including natural stones, to bring your design ideas to life. The company also supplies raw materials for large-scale projects and is known for its attention to detail in all aspects of its business.
Website: https://www.alphakitchen.com.my/
Lot G-4, Jalan Kenari 13B, Puchong Jaya, 47100 Selangor Darul Ehsan.
Bespoke Kitchen
Bespoke Kitchen Sdn Bhd is a kitchen cabinet manufacturer based in Puchong, Selangor, Malaysia. Founded in 2011 as Homemark Kitchen Cabinet, the company has served over 300 satisfied customers and has established a reputation for providing quality products on time and within budget. Bespoke Kitchen's mission is to manufacture high-quality modern cabinets tailored to the specific needs of its customers, and its vision is to be one of Malaysia's leading kitchen cabinet manufacturers.
Website: https://bespokekitchen.my/
017-218 6660/ 012-363 8919
24, Jalan BP 5/6, Bandar Bukit Puchong, 47100 Puchong, Selangor