Top 10 Best Air Conditioner Installers in Klang Valley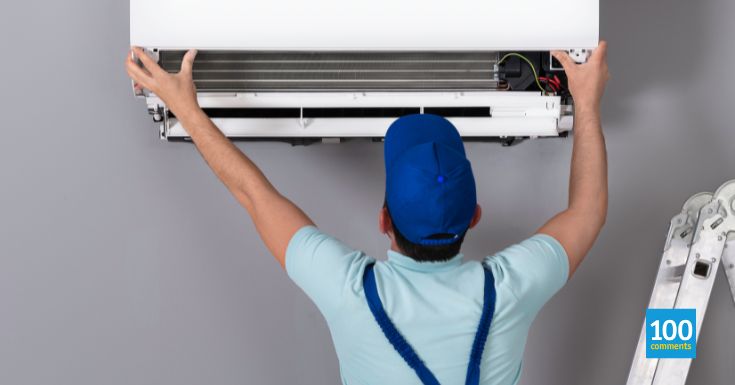 If you are in the Klang Valley and Malaysia in general, you know how hot and humid it can get here. This is where air conditioning installers play an important role. It can get overwhelming to know which ones to choose. But fret not, we have done the groundwork for you. The following list contains some of the top air conditioning installers in Klang Valley with their contact information so that it will be easier for you to choose the one that is right for your needs.
AirCon Master
The company is an air conditioning (AC) service provider with a diverse team of experts and a focus on providing high-quality service to both residential and commercial customers. They have a clear mission to provide a comprehensive AC solution for your customers and a vision to become the top AC service provider in Malaysia. AirCon Master's aim is to become the largest AC servicing company in the world by 2030. The pricing and service are transparent, with no hidden charges and a commitment to providing high-quality service. The technicians follow stringent SOPs on every task entrusted to them.
Website: https://aircondmaster.com/
+6011-6214-8196
11, Jalan Dayang 24/8, Bandar Mahkota Cheras, 43200 Cheras, Selangor, Malaysia
Cooling Solution Sdn Bhd
Cooling Solution Sdn Bhd is an air conditioning company founded in 2007 that provides a wide range of AC equipment and systems to wholesalers, retailers, and distributors. The company has a team of experienced aircon experts who have over 9 years of industry experience and are able to provide the best solutions for their clients' needs. Cooling Solution Sdn Bhd is committed to providing exceptional service and sells popular brands such as Sharp, Daikin, Mitsubishi, Hitachi, Fujiaire, and Panasonic. They are a one-stop solution for all AC needs.
Website:  https://www.coolingsolution.com.my/
+603-7981 3466 / 6012-320 0423
76, Jalan Kuchai Maju 13, Kuchai Entrepreneur's Park, Off Jalan Kuchai Lama, 58200 Kuala Lumpur, Malaysia.
iAircon
iAircon is an experienced air conditioning service company based in Kuala Lumpur, Malaysia. They have a team of skilled technicians who specialize in all brands of air conditioning systems and are dedicated to providing excellent and effective service to their customers. The company's technicians and staff are highly trained and committed to helping customers achieve optimal air conditioning performance and comfort.
Website: https://www.iaircon.my/
6012-736 5555
10-2 Plaza Usahawan Genting Klang, Jalan Danau Niaga, Taman Danau Kota, 53300 Kuala Lumpur.
Aircon Hero Sdn. Bhd.
The team at Aircon Hero Sdn Bhd is made up of experts with over 20 years of experience in the air conditioning field, using the latest technology to provide exceptional service to customers. They prioritize meeting the needs of both residential and commercial customers, with skilled technicians applying strict standard operating procedures to ensure high-quality service. The company's pricing is transparent and staff are incentivized to provide excellent service. The company's mission is to offer a comprehensive air conditioning solution to commercial partners, with a vision of becoming Malaysia's top air conditioning service provider and an aim to become the largest air conditioning servicing company in the world by 2025.
Website: https://www.airconhero.com/
016-299 2099
Aircon Hero Sdn Bhd, 28 Jalan PJU 5/20b, Kota Damansara, 47810 Petaling Jaya, Selangor
Fresh Cool Services
Fresh Cool Aircond Service is a company that has been providing air conditioning services, including installation, repairs, troubleshooting, and cleaning, to residential and commercial customers since 2002. Fresh Cool Aircond Service experienced technicians are highly trained and have expertise in all types of air conditioning units. They offer a full range of services and can be available anytime, any day. The company offer installation services for various brands of air conditioners and ensure proper installation to prevent malfunctions and defects. The services are backed by over 20 years of experience.
Website: https://www.freshcool.com.my/
18, Jalan PJS 3/46, Taman Sri Manja, 46000 Petaling Jaya, Selangor
Up Your Home Services Sdn. Bhd.
Our company is an accredited and trusted provider of air conditioning services, including installation, repair, and maintenance, for residential and commercial premises. We have been in the industry for 15 years and our technical team has extensive experience and is continuously trained in new technology. We are committed to providing high-quality, cost-effective, and professional services, and we strive to find ways to reduce the cost of engaging in a maintenance program without compromising the use of inferior products. Our technicians are also trained in interpersonal skills to meet the needs of complex customers. We aim to provide a professional and affordable air conditioning maintenance program for everyone, while also helping to reduce the burden on the environment.
Website: https://www.upyourhomeservices.com.my/
Level 7, Wisma HRIH Lotus, Lot 442, Jalan Pahang, Setapak, 53000, Kuala Lumpur, Malaysia
AirconPro
AircondPro is a company based in Kuala Lumpur, Malaysia that provides air conditioning servicing, repair, and installation throughout the country. With over 10 years of experience and access to the latest technology, we are able to deliver exceptional service to all of our customers. We prioritize customer satisfaction and aim to provide the highest quality products and services.
Website: https://airconpro.my/
+6014 338 1032
6-3-2, Diamond Square, Jalan Semarak Api 3 (Jalan 4/50), OFF Jalan Gombak, 53100 Kuala Lumpur.
Zaza Aircon Services
Our company's owner has 20 years of experience in the air conditioning industry, including expertise in residential air conditioning service and replacement, new home construction, light commercial, and agricultural systems. He has received extensive training in system operation, sizing, electrical and plumbing, and is able to accurately diagnose issues and prevent future problems. Customer service and reliability are our top priorities, and we strive to provide the best customer service from the moment you contact us until after the job is completed. Our technicians are chosen for their ability to provide exceptional service and we offer industry-leading guarantees and warranties for all our work.
Website: https://www.zazaairconservices.com/
+603-9174 7491 / +60193481903
R-G-42, Kompleks Permaisuri Q, No 6, Jalan Sri Permaisuri, Bandar Sri Permaisuri Cheras 56000 Kuala Lumpur.
Setia Air-Cond And Electrical Sdn. Bhd.
Setia Air Cond and Electrical Sdn Bhd is a Malaysian company that provides air conditioning and electrical services for public and private sectors throughout the country. Established in 1990, we have built a reputation for fast, friendly, and professional service, delivering tailored systems that optimize project quality, cost, and program objectives. Our team of experienced technicians has over 100 years of technical experience and is knowledgeable in the latest technology. We offer a range of services for projects of all sizes, from residential homes to factories, industrial lots, production plants, and high-rise buildings. We are a supplier of popular air conditioning brands including York, Carrier, Acson, Fujiaire, Samsung, Daikin, Panasonic, and Toshiba.
Website: https://www.setiaaircond.com.my/
+603 – 5633 8325 / +603 – 5631 8325
No. 4A (Ground Floor), Block H, Jalan SS13/1F, 47500 Subang Jaya, Selangor Darul Ehsan, Malaysia.
Aircond Guru
Aircond Guru is a top air conditioning service company based in Kuala Lumpur, Malaysia. We offer a wide range of services for residential and commercial customers and have a team of expert technicians available to assist with any problem. Our experienced professionals can install your air conditioner quickly and efficiently, and we have the latest equipment in the industry to handle any installation.
Website: https://airconservice.my/
6011-5985 4217
2352, Jalan E 3/10 Taman Ehsan, Kepong, 52100 Kuala Lumpur