"Too Good Duo" Emerged as Malaysia's Country Champions in The 3M Inspire Challenge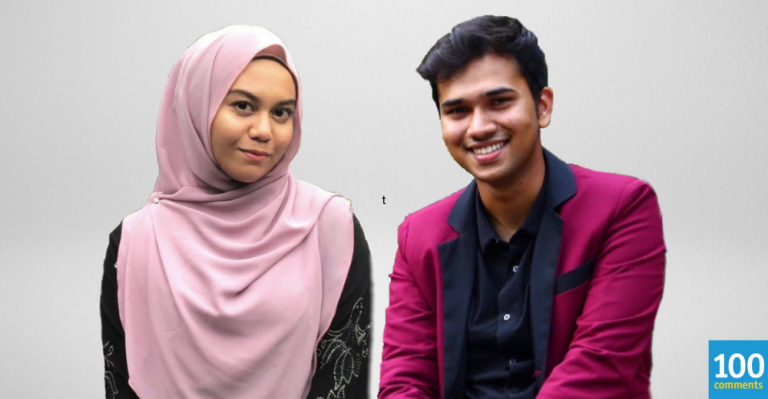 The team will present their Sustainability-themed solution in the Regional-Level Finals, and vie with five other regional teams for the top spot  
Two students from The National University of Malaysia  better known
as Universiti Kebangsaan Malaysia (UKM) emerged as Country Champions in The 3M Inspire Challenge, a regional case challenge by global science company 3M seeking solutions in Technology, Sustainability, and Innovation.
Comprising of Mohd Fahad Saleem and Nur Liyana Syasya Mohd Zamuri, both 24 and pursuing BSc. in Material Science (Hons), the dynamic duo beat 12 teams in Malaysia with their winning solution Smart Bandages, which aims to modify Nexcare™ Waterproof Bandages utilizing green nano composite to enhance and monitor wound healing. They also won USD$1,000, and an internship with 3M Malaysia Sdn. Bhd.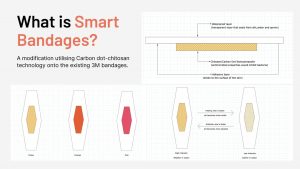 The other two shortlisted universities during the local semi-finals were The 3mblazers and The Dent Maker:
First Runner-Up Team name: The 3mblazers

Solution: Enhance the existing blockchain technology to accelerate 3M's digitalization approach
Team members:

Kua Jian Duo, Xiamen University Malaysia, 20
Li Lingxiao, Xiamen University Malaysia, 20
Wong Angus, Xiamen University Malaysia, 21
Li Nuohan, Xiamen University Malaysia, 20
Second Runner-Up Team name: The Dent Maker

Solution: Revolutionize dishwashing through an anti-grease, antimicrobial Surf-Ace spray
Team members:

Chua Hock Siang, The National University of Malaysia (UKM), 25
Saw Zhi Kuan, The National University of Malaysia (UKM), 24
Husna Fatimah binti Mohd Zamri, The National University of Malaysia (UKM), 24
Jonathan Yuen Jun Xian, The National University of Malaysia (UKM), 24
The semi-finals, which took place virtually on 24 August 2021, saw a panel of judges from the fields of science and technology, research and development, business management, transportation, and education sharing their opinions on the finalists' ideas. Key names include: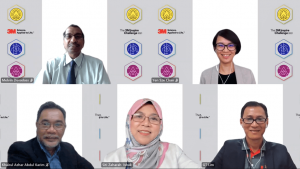 GT Lim, Country Leader, 3M Malaysia
Chan Yen Sze, R&D Operations Leader, 3M Southeast Asia
Melvin Devadass, Market Segment Leader for Electrical Markets Division, 3M Global
Khairul Azhar Abdul Karim, SEA Government Affairs & Markets Leader, 3M
Dr. Siti Zaharah Ishak, Deputy Director for Industrial Linkages & Commercialization, Malaysia Institute of Transport (MITRANS), Universiti Teknologi MARA (UiTM)
Country Champion team member, Mohd Fahad Saleem, 24, shared the group's inspiration for their solution: "Adhesive bandages are common items that can be found in many households as there has been an increased awareness in wound management over the decades. We came up with the idea of Smart Bandages to equip users with a product that can better monitor different stages of the wound healing process and providing an optimum condition for the skin and tissues to heal so that they can continue on with their day-to-day lives without worrying about their wounds."
Following the team's victory in the national round, the challenge continues. On September 21, they will proceed to the Regional-Level Finals where their team and five other hopefuls from Singapore, Indonesia, Thailand, the Philippines, and Vietnam will vie for the title of "Regional Champions" and USD$2,000 cash prize in a live judging panel.
As they gear up for the next stage of the challenge, the team will continue to enjoy access to 3M mentors who will help them sharpen their ideas.
"I'm very impressed by the participants' robust innovations and solutions," said GT Lim, Country Leader, 3M Malaysia. "These are critical in helping 3M elevate our business and solve challenges around the world. We are glad to offer platforms like this to support and empower the next generation of diverse leaders, thinkers and creators."
A heated battle to the Regional-Level Finals awaits
With a month to the final round of the challenge, the competition is getting heated.
The Regional-Level Finals will see a total of 21 students across six teams pitching their solutions to Southeast Asia's leading subject matter experts with diverse backgrounds in manufacturing and supply chain, research and development, sustainability, branding and communications, as well as business management. They include:
Kiyoshi Endo, Vice President, Plant Operations, Manufacturing & Supply Chain, 3M Asia Pacific
Chan Yen Sze, R&D Operations Leader, 3M Southeast Asia
Jun Lee, Sustainability Leader for Asia, Brand & Communication, Ethics & Compliance Leader for Korea, 3M
Napaporn Ratanasaenghirun, Southeast Asia Regional Business Group Leader, Consumer Business Group, 3M