These Top 5 Best Surround Sound Systems Will Make Your Home Feel Like A Movie Theater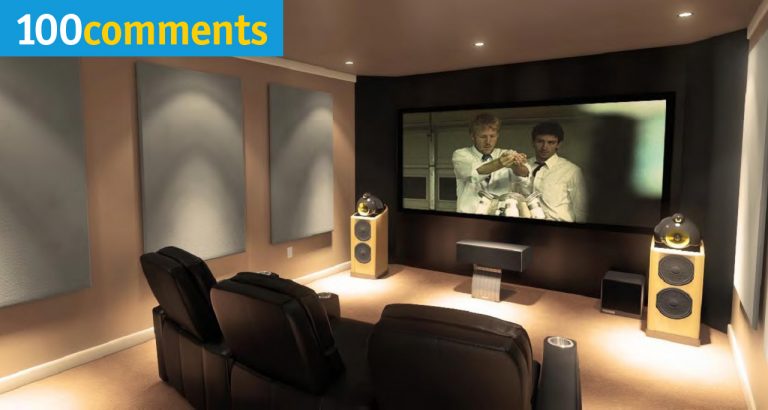 When it comes to home entertainment, many movie fans tend to focus on getting the largest screen possible. However, it doesn't matter how big your screen is if it doesn't have a good audio system to support it. After all, great sound is half the experience. While some TVs come with speakers that are decent enough for general viewing, if you intent to take your home viewing experience seriously, you're going to need something with a little more power behind it. Check out our list below to view the top 5 best surround sound systems available.
LG DH4130S – 330W 5.1ch DVD HOME THEATRE SYSTEM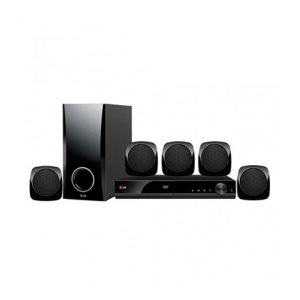 With the LG DH4130S – 330W 5.1ch DVD HOME THEATRE SYSTEM, you can not only play files stored on USB devices, but record CD tracks or FM radio programs on your USB while listening at the same time.
Enjoy high quality entertainment anytime with LG Audio's karaoke function. Play your songs back at full clarity with the full HD Up Scaling system. The LG Home Theater System also allows you to simply plug in and play your mobile devices (MP3 Player, mobile phone, etc.) with its innovative Portable-In system. The consolidation of HD video, audio, and data in a single cable enables high speed communication, providing you with the crispest, highest definition audio you've ever heard.
YAMAHA HOME THEATER 5PC SPEAKERS PACKAGE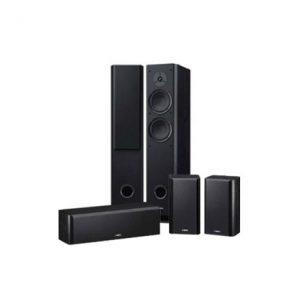 The Yamaha Home Theater 5PC Speakers Package is comprised of two separate types of speakers. The first type is the NS-F160 – a floorstanding speaker with powerful sound and beautiful design. These two 16cm cone woofers deliver extremely dynamic and deep bass, and a 1.4cm balanced dome tweeter ensures that the full-range sound is gloriously rich and smooth.
The second type of speaker in this package is the smaller but no less potent NS-P160. These two surround speakers and one center speaker deliver the high sound quality you expect from Yamaha speakers. All have 2-way acoustic suspension designs with one (surround) or two (centre) 8cm cones and a 1.4cm balanced dome.
ALL Series Micro Hi-Fi System SC-ALL5CDGJX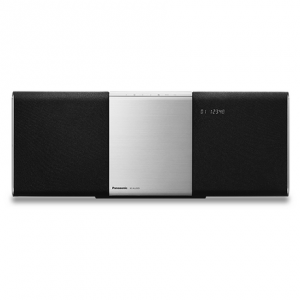 An all-in-one multi-room audio system with Qualcom AllPlay, the ALL Series Micro Hi-Fi System SC-ALL5CDGJX provides versatile playback of CDs, radio, online music services, and more. Enjoy dynamic sound and a stylishly slim design from a simple to control, easy to install sound system.
The state of the art wireless multi-room streaming technology means that you can effortlessly enjoy your favourite songs all over your home using a wide variety of sources – including CDs, radio, and online music services.
This home entertainment system allows you to enjoy pristine multi-room playback from your favourite CDs and radio stations by using cutting edge Bluetooth technolgy. Listen to what you want, where you want, when you want.
If your WiFi router can support WPS, you can literally set up a wireless ALL Series Multi-Room Speaker System at the press of a button. Even if your router doesn't support WPS, setting up the network is no more complicated then inputting your router's password.
Music never sounds truly great unless it's accompanied by deep, well rounded bass. With this in mind, the ALL5CD speakers are designed to cancel out internal vibrations while the material supporting the speaker diaphragm has been softened to permit greater and more fluid movement. In addition, the innovative LincsD-Amp manages to correct issues such as jitter and power supply noises that might otherwise cause audio distortion.
PHILIPS HTD3509/98 HOME THEATRE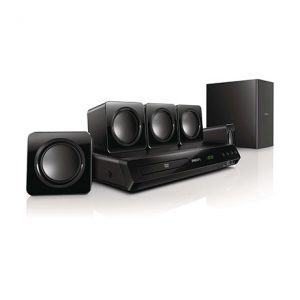 Pump up your home entertainment experience with the PHILIPS HTD3509/98 Home Theater System. The exposed speaker drivers offer 300W powerful surround sound and DVD video upscaling to 1080p via HDMI for near-HD images.
This home theater system makes use of Dolby Digital, the world's leading digital multi-channel audio standards. Due to how this system makes use of the way the human ear naturally processes sound, you experience superb quality surround sound audio with realistic spatial cues.
In addition, EasyLink lets you control multiple devices like DVD players, Blu-ray players, soundbar speaker, Home theater and TV's etc. with one remote. It uses HDMI CEC industry-standard protocol to share functionality between devices through the HDMI cable. With one touch of a button, you can operate all your connected HDMI CEC enabled equipment simultaneously. Functions like standby and play can now be carried out with absolute ease.
The Philips Home Theater System lets you play virtually any disc and any media devices you want – whether they be DVDs, VCDs, CDs or USB devices. Experience the unbeatable convenience of great playability, and the luxury of sharing media files on your TV or home theater system.
With DivX support, you are able to enjoy DivX encoded videos and movies from the Internet, including purchased Hollywood films, in the comfort of your living room. The DivX media format is an MPEG-4 based video compression technology that enables you to save large files like movies, trailers and music videos on media like CD-R/RW and DVD recordable disc for playback on your DivX Ultra Certified Philips Blu-ray or DVD player. DivX Ultra combines DivX playback with great features like integrated subtitles, multiple audio languages, multiple tracks and menus into one convenient file format.
Apart from that, the innovative Audio-in system allows you to easily play your music directly from your iPod/iPhone/iPad, MP3 player, or laptop via a simple connection to your home cinema. Simply connect your audio device to the Audio in jack to enjoy your music with the superior sound quality of the Philips home cinema system.
Logitech Speakers Z506 Surround Sound Speaker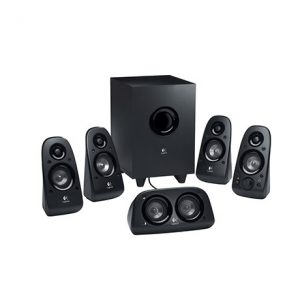 The Logitech Speakers Z506 Surround Sound Speaker produces an immersive 5.1 surround sound audio that brings your movies to life.
Enjoy an immersive theater experience in the comfort of your home. Place yourself in the middle of the action with this 5.1 speaker system that includes left, right and center channels, two rear satellite speakers and one subwoofer. The 150 Watts Peak/75 Watts RMS power system with down-firing subwoofer provides big bold sound to any seat in the room, giving you an audio experience you can truly hear and feel.
In addition, this versatile home theater system supports multiple connection options. Use your computer sound card to connect via six-channel direct inputs and enjoy true surround sound or connect other devices via either the 3.5mm or RCA inputs, creating 3D stereo surround sound from two channel sources. You can also connect up to two devices simultaneously. There is no need to disconnect when switching between these two audio sources.
The Logitech Surround Sound Speaker is also designed with simple, easy to use controls. You can easily access power, volume and the headphone jack on the right front satellite speaker. Customize your experience by tuning the bass with the dedicated subwoofer control knob.
Need More?
You can view many other types of surround sound systems here at 100comments.com.