The Ultimate Cheat Sheet for Spring Cleaning During MCO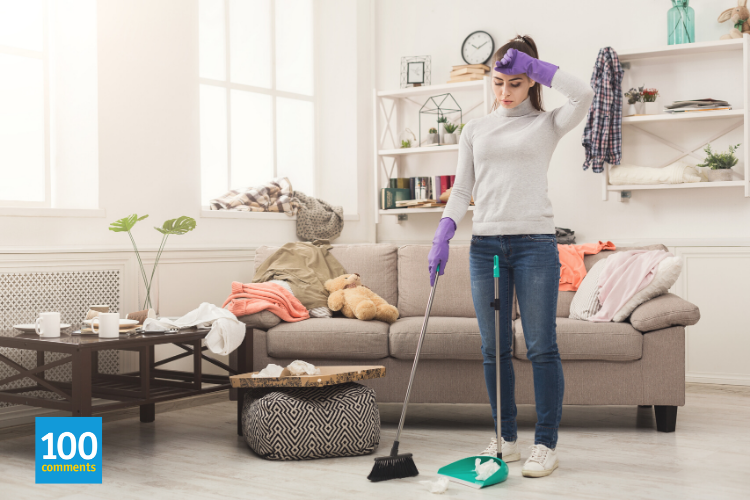 With the extension of the MCO, most of us will be spending a substantial amount of time at home. While being indoors at all hours might not sound like the most exciting weekend plan, this is a much-needed measure to flatten the pandemic curve and battle the virus.
Since we will be indoors longer,  we recommend utilizing this time by being productive and embarking on house organizational projects that have been on hold for long, starting with spring cleaning. Not only will this involve all house members, but having a clean home is a much-recommended measure, especially as we battle a pandemic where personal hygiene is a priority.
If you're clueless on how to get started, here is a 9-step walkthrough that can turn you into a bona fide cleaning expert.
Step 1: Protect Yourself
As you clean your house, you will come into contact with dirt and harsh chemicals which can roughen your beautiful pair of hands. So, before getting your hands dirty, equip yourself with an apron and a durable pair of gloves to protect yourself from all hazards that might come your way.
Step 2: Prioritize
Next, plan your spring cleaning routine ahead before plunging into a cleaning frenzy. Strategize by cleaning less-used rooms first, as they will stay cleaner longer. Then, tackle the bigger messes in the commonly used rooms.
Step 3: Clean from Top to Bottom
Also, make sure to always clean from top to bottom. Tackle the ceiling and fans first before moving on to cleaning the walls, windows and doors. When cleaning these higher areas, use a flat mop with a microfiber cloth that is extendable, to easily clean them without breaking a sweat. Then, move on to tackle the furniture followed by the floors. This way, you will not have to clean the areas that you have already covered.
Step 4: Eliminate All Dust
Most of us usually skip dusting because it can be a pain and simply go straight to wiping our furniture with a damp cloth. Using a damp cloth or feather duster is not as effective because water traps dust onto the surface and dust wiped by feather duster gets blown off into the air and falls onto the floor, leaving us with more cleaning to do. To quickly and easily remove dust, try using specially-designed microfiber cloths that can effectively trap dust, fingerprints and water within it.
Step 5: Practice Two-step Cleaning
Now that your house is free of dust, give it a shiny finish so it looks sparkling clean. To do this, get a cleaning cloth, soak it in a cleaning solution and start wiping all sorts of surfaces with it. Before you damp wipe, wring the cloth until it is almost dry to avoid damaging your furniture, and make sure to wipe in circular motions for best effect. If you prefer a natural alternative to chemical detergents, try using a mixture of vinegar and water to clean. Mixing 3 parts of water with 1 part white vinegar will do the trick.
Step 6: Thoroughly Clean the Floors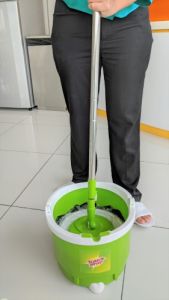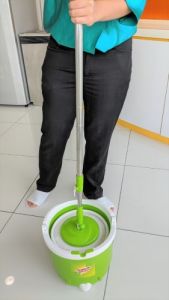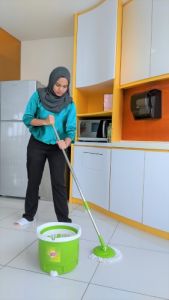 After thoroughly vacuuming the floors, make sure to mop them thoroughly. Move backwards from one end to the other when you mop to avoid stepping on areas you've already covered. After completing a small area, don't forget to rinse and wring the mop to get rid of dirty water. This tiring process is why people skip mopping altogether, so you need to look for a mop that lets you do without all the arm flexing involved. Look for one which allows you to spin dry and spin wash in one bucket and is designed to clean corners and hard-to-reach areas. It is also good to look for a mop that is made of 100% microfibre, so it can trap dust and absorb water better than a regular cotton mop.
Step 7: Clean Bathroom Fixtures and Accessories with Lemon
The bathroom is another area which you shouldn't neglect. Most bathroom fixtures and accessories such as the faucet, showerhead, and towel rack are made of stainless steel, which tend to look cloudy with water spots over time. Use a lemon to restore the shiny, sparkling look to your bathroom. Cut the lemon in half and rub it on the stainless steel to remove water stains and rust.
Step 8: Tackle Bathroom Tiles with Baking Soda
The sight of mold and mildew on the tiles are gross to see. To make sure that your tiles are squeaky clean, scrub them with a baking soda and water paste to effectively remove dirt and grime.
Step 9: Protect Your Furniture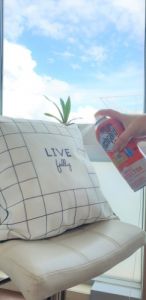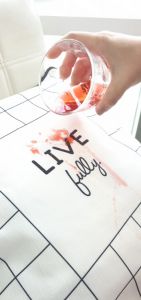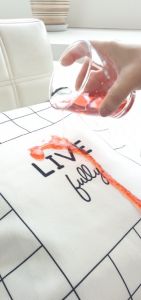 The last step to take is to protect your furniture, especially the ones made from fabric. With all that time spent at home, a few food and drink spilling incidents are sure to happen. To brace yourself, spray Fabric & Upholstery Protector onto your sofas, dining chairs, cushions and table linens to prevent the stains from seeping in. It protects your fabric by repelling liquids and spills to prevent it from staining. You can then just wipe the surface clean before the mess sinks in. But, in case the damage is done, a Fabric & Carpet Cleaner comes in handy for a powerful cleanup. It can remove stains through its deep foaming action and restore your fabric to its original look.
If you have carefully followed all of the steps above, your house will certainly be spick and span. You can now just sit back, relax and rejoice with your family.
These tips are brought to you by Scotch-Brite™. 3M Malaysia is holding a Kemas-Kemas Sinar Bersama Scotch-Brite™ 2.0 contest from 27 April to 10 May, where you stand a chance to win RM2000 cash prizes, Scotch-Brite™ products and Raya hampers worth more than RM2000. Visit https://bit.ly/2XZMIJt to participate and for more contest information. To get the Scotch-Brite™ products featured above, you can purchase online at our Lazada and Shopee stores.