The Top 4 Family Friendly Attractions that you can find in The Pavilion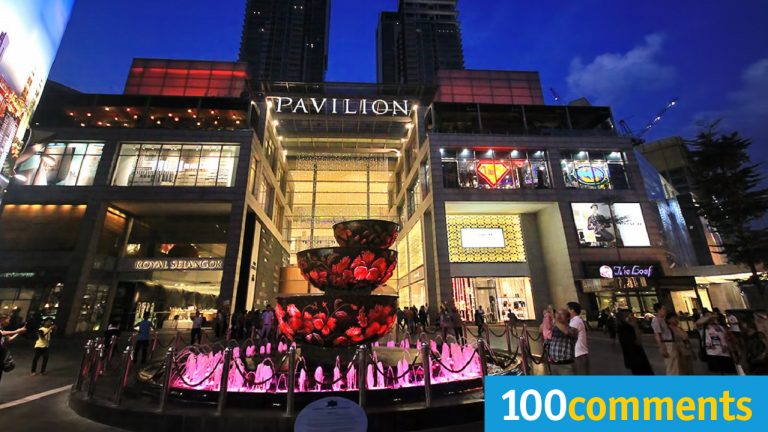 It's not hard to see why The Pavilion is one of Kuala Lumpur's most famous malls – this glamorous 1.37 million square foot complex rises above its neighboring malls due to a its extravagently luxurious selection of local and international brands. Visitors to this trendy mall are spoiled for choice with over 550 outlets containing everything from food to fashion to furnishings.
With its staggering size and haute couture design, the Pavilion is almost always packed with people drawn to its six shopping 'zones' and row of street boutiques. During the holiday seasons, the Pavilion's owners go all out to set up the mall's iconically extravagent decor. For example, its 2011 Christmas decorations included a Christmas carnival set up in its atrium, complete with a Santa's Workshop, 10 foot high pine trees, giant sleighs, and countless other baubles and gifts.
Those who're planning to bring out their families should be aware that the Pavilion does not contain extreme entertainment options like the nearby Berjaya Times Square. However, there are still a few interesting attractions that your kids will definitely enjoy.
Tokyo Street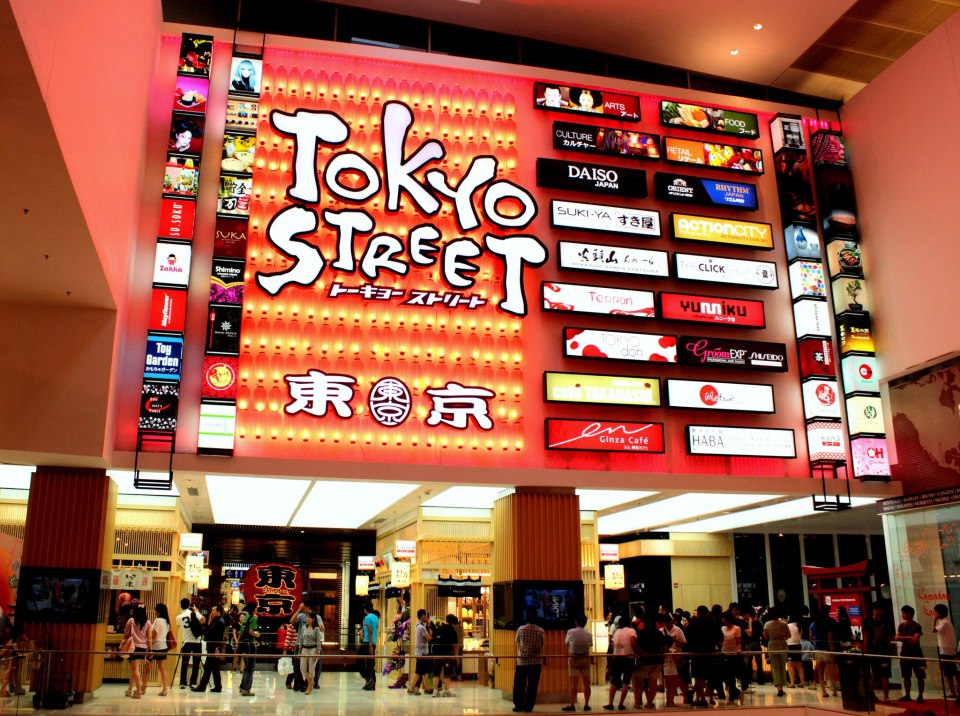 Inspired by the Asakusa district in Tokyo, Pavilion's Tokyo Street is a vibrant, must-visit section on the mall's sixth floor that contains a variety of Japanese brands and restaurants.
Stepping into Tokyo Street almost feels like you're entering another world. Visitors are welcomed with a giant lantern – a replica of the iconic landmark in Asakusa's own Senso-ji Buddhist Temple. The pathways inside are designed to look like traditional Japanese streets, complete with brightly colored lanturns and cute little stalls selling everything from umbrellas to ice cream.
Tokyo Street's stores are designed to bring you a taste of Japanese life. There are stalls selling traditional Japanese desserts, stalls offering imported miniature bonsai, and of course an anime DVD and merchandise store that anime fans are sure to enjoy.
Aside from that, Tokyo Street also houses some rather quirky stores. Minimalist Lab is the go-to place for personalized accessories – you can create your own customized accessories from the store's generous selection of brass or stainless steel designs. There's also Feuzu, an umbrella specialist store that offers high quality umbrellas in all shapes and sizes. They're so proud of their umbrella's quality, they even offer a one year warranty!
Food wise, Tokyo Street brings you the true taste of authentic Japanese food. Among the little streets, you can find stalls selling everything from mini Hanjuku cheesecakes to high quality matcha ice cream. The upscale restaurants here also offer a variety of perfectly prepared Japanese dishes that are sure to make you ask for a second helping. Just note that the crowds can get pretty thick during lunch and dinner hours – better come in early if you want to avoid the long queues!
Opening Hours: 10am-10pm
Website: https://www.facebook.com/TokyoStreetPavilionKL/
Contact Number: 03-2118 8833
DC Comics Super Heroes Cafe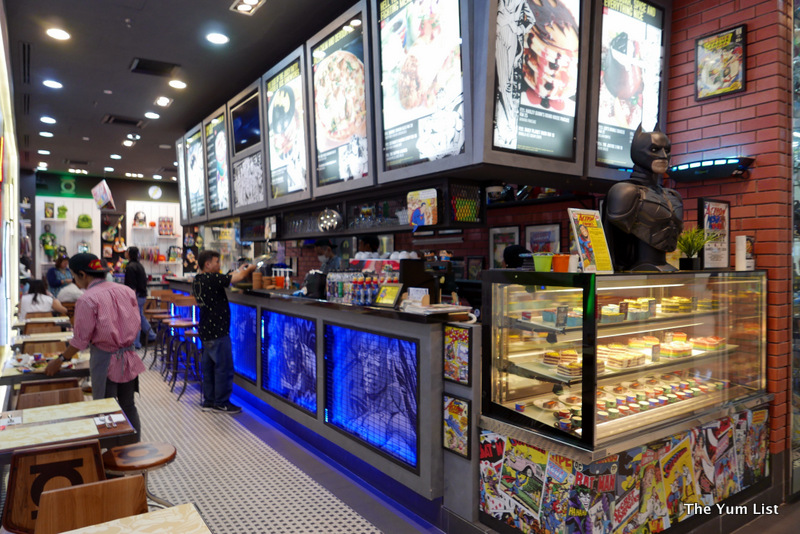 Calling all super heroes!
DC Comics Super Heroes Cafe is a relatively new joint that looks like it just jumped out of the TV. This super hero themed cafe is positively covered with comic book heroes and villains, but the theme doesn't end at vintage posters and cool costumes.
DC Comics Super Heroes Cafe has an entire menu inspired by iconic characters from the DC Comics universe. You might decide to sit back and enjoy a Batman burger, Green Lanturn Salad, or even Justice League themed cupcakes and desserts crazy enough to make The Joker proud. There are also a wide variety of refreshingly cold and colorful beverages with catchy names such as "Night Wing's Elixir", "As peachy as Supergirl", and "Lois' Crush".
Kids can read through comic books while waiting for their meals or have a look at the even bigger DC Comics Store next door. There are a lot of photo worthy spots, including superhero models and even a live size bat mobile (don't try to sit inside!).
If you're interested in trying out a Super-Latte (complete with Superman latte art) or digging into a truly heroic meal, drop by the DC Comics Super Heroes Cafe today and give your kids a meal that they're sure to love.
Opening Hours: 10am – 10pm
Website: https://www.facebook.com/dcshpavkl/
Contact Number: +603-2143 3882
Toy Garden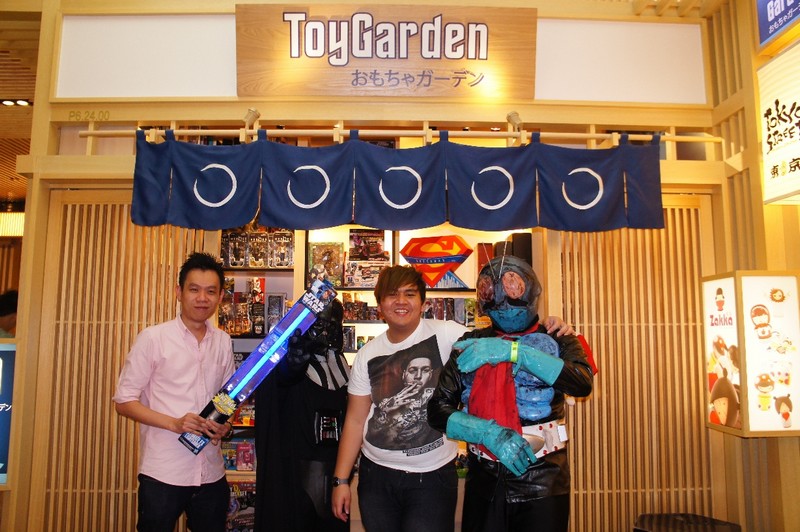 Established in 2004, Toy Garden offers a dizzying array of action figures and collectible toys. Serving boys and girls alike, their catalog includes toys from brands such as Hot Toys, Star Wars, Transformers Toys, Bandai, Takara Tomy, Medicom Toys, Japanese Anime Figures, Nendoroid, Figma, Chogokins, Revoltech, Marvel, DC Superheroes, Barbie Dolls, Blythe, Pullip Dolls, TV or Movie Action Figures, Collectible Statue or Prop Replicas, and LEGO products.
Toy Garden also has all kinds of rare toys and collectibles in their stock. If you can't find the toy you want in their stores, simply send them an email or call directly to see if they can have it delivered.
Opening Hours: 10am-10pm
Website: http://www.toywizard.net
Contact Number: +603-2110 2259
Jigsaw Puzzle World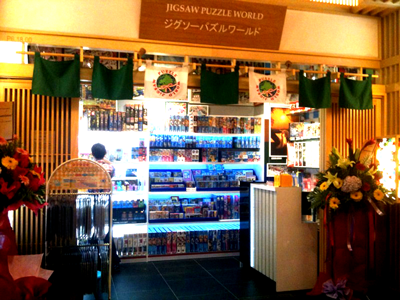 Offering an extensive collection of top international brand and customised puzzles, Jigsaw Puzzle World offers everything from simple child puzzles up to epic 4000 piece puzzles for those interested in a challenge. They have a collection of jigsaw puzzles that include Disney characters, traditional landscape scenes, fantasy art, and many more.
Apart from normal puzzles, Jigsaw Puzzle World also offers interesting products such as 3D Puzzles, LOZ Blocks, Nano Blocks, Crystal Puzzles, and more. Puzzles aren't just for kids, though – why not buy a big one so that the whole family can work together to put all the pieces in the right place? It's a great way to enjoy some quality bonding time, after all.
Opening Hours: 10am-10pm
Website: http://www.jigsaw.my/jigsaw
Contact Number: +603-21103849
Need More?
The attractions above are just a few examples of family friendly venues in the Pavilion Mall. For more information on these and other similar attractions, you can check out the Pavilion Mall's official website at http://www.pavilion-kl.com/.