The Recommended Moisturising Lotion for 2021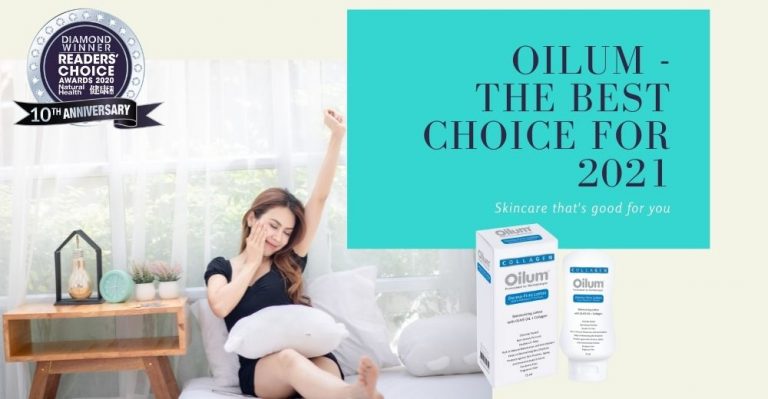 One of the questions that are asked most by those interested in the healthy lifestyle is "What is the best moisturising lotion that I can use to help protect my skin against aging?"
This is a good question as we will all need to be concerned with protecting our skin against the aging effect of the sun and harsh environmental conditions. Also, it is very important to keep your skin hydrated and moisturised, especially when we are in air-conditioned environments for hours on end. Moreover, those with dry, sensitive or eczema-prone skin as well as people who suffer from dry skin due to frequent hand sanitising and mask-wearing would greatly need hydration.
This is where Oilum Derma-Firm Lotion comes in to make 2021 your most beautiful skin year yet!
A Gentle Skin Moisturiser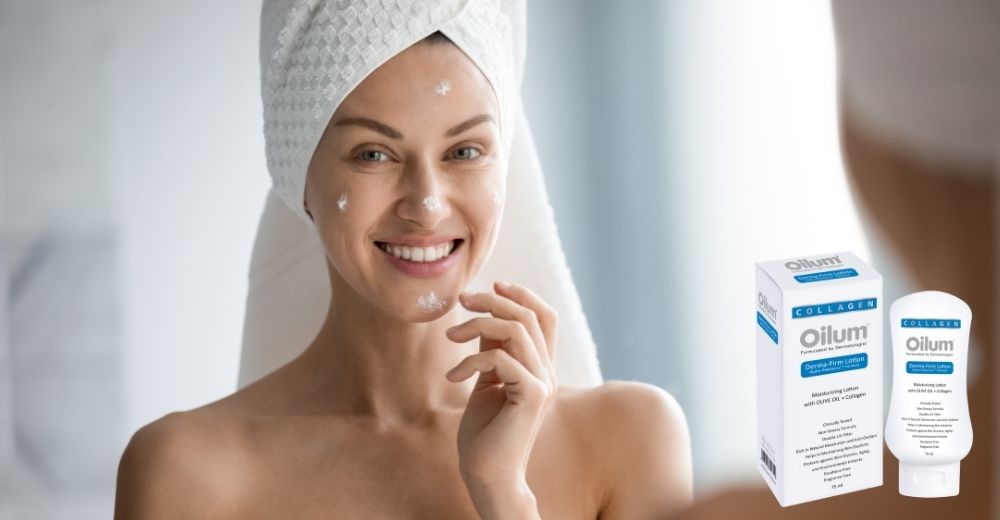 It is recommended to use moisturisers at least twice a day if you have normal to dry skin as an essential part of a healthy skincare regimen. Dry skin can cause itching, redness on your skin, and other skin problems. Oilum Derma-Firm Lotion, a multi-award-winning product that has been clinically proven to combat dry skin, will protect your skin and provide soothing relief from irritation and flakiness caused by dryness. Oilum Derma-Firm Lotion is a paraben-free lotion formulated by dermatologists that is rich in natural moisturising ingredients, including a nourishing combination of olive oil and collagen to improve our skin's natural moisture balance and elasticity.
Hydrated Skin for All
During the pandemic, many of us are using alcohol-based hand sanitisers more frequently than ever. While the sanitisers protect us from being infected and spreading viruses around, it also leaves us with dry hands as alcohol has a drying effect on the skin. This goes for frequent hand-washing too, which strips moisture from our hands. A great way to prevent dry hands is to liberally apply Oilum Derma-Firm Lotion after washing or sanitising your hands to keep them soft all day long.
With regular wearing of face masks and double masking, the top layer of our skin becomes abraded by friction causing water to be released. This results in our skin losing its natural moisture and become irritated by the mask leading to dry, cracked and inflamed skin. Applying a gentle moisturiser like Oilum Derma-Firm Lotion to your face throughout the day is the most effective technique to reduce friction between the skin and the mask, preferably every two hours. The lotion moisturises the skin and repairs the skin's barrier. Being non-comedogenic, it will not clog pores or create acne flare-ups.
Oilum Derma-Firm Lotion is suitable for those with sensitive skin because it is non-greasy and fragrance-free. This gentle lotion can be used on a daily basis to treat extremely dry skin while protecting it from environmental irritants. When you use Oilum Derma-Firm Lotion, you get the benefits of both an effective skin moisturiser and a sunblock in one for your face and body. Now, that is a true convenience!
Oilum – The Best Choice for 2021
Oilum Derma-Firm Lotion is the Diamond Winner of the Natural Health Readers' Choice Awards 2020 for the category Best Moisturising Lotion (Dry & Wrinkled Skin). This is a testament that Oilum is a known and trusted brand for years by Natural Health magazine readers.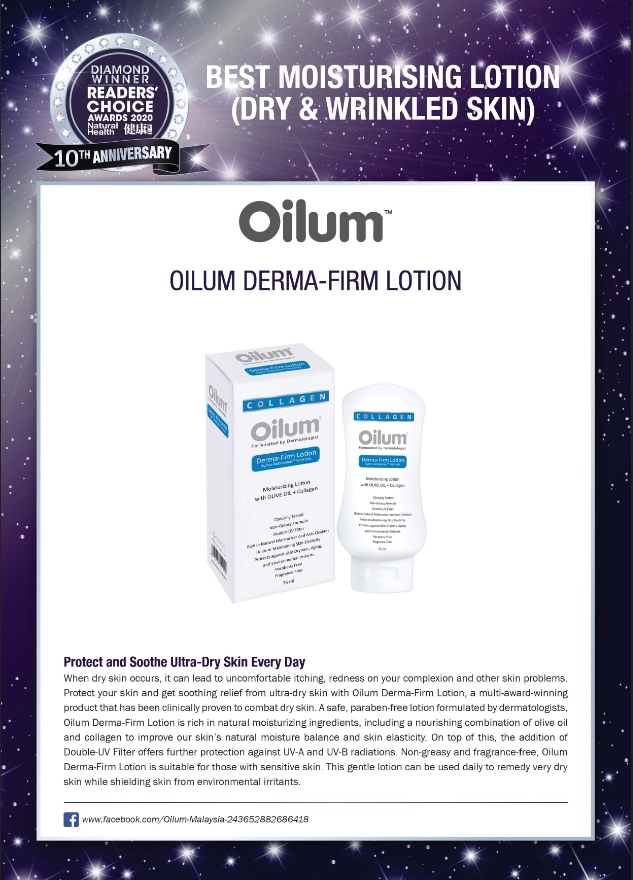 By using Oilum Derma-Firm Lotion daily, your skin will receive the nourishment it needs to feel soft and healthy, while being protected from the drying effects of hand sanitisers and mask-wearing. This is a great way to ensure that your skin stays soft and supple through the pandemic and beyond.
If you love Oilum Derma-Firm Lotion, leave a review here! For more information, visit Oilum's Facebook page.