The One-Stop Baby Store Klang Valley is Raving About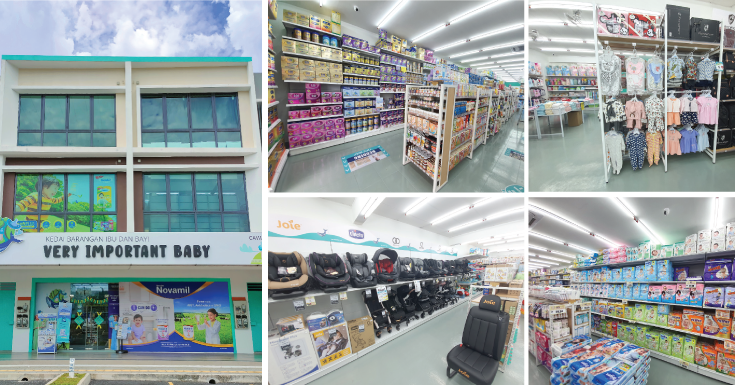 Parents of babies and young children undeniably have loads of shopping to carry out regularly. It is, after all, inevitable that they will run out of supplies needed to take care of their young ones and to give them a better quality of life. The usual stuff parents of babies and young children may need to purchase regularly may include baby formula, food stuff, diapers, toiletries, skin and hair care items, baby wipes, baby care equipment, clothing, travel equipment and accessories, and the list goes on. Families in Selangor and the Klang Valley are fortunate to have access to an acclaimed one-stop baby shop which carries everything they would need and more, in numerous brands too. That shop is none other than Very Important Baby (VIB).
Operating since 2018 and boasting 10 outlets all over Klang Valley, VIB is a registered brand trusted and loved by Malaysian parents for its quality products, exceptional service, and of course, its wide range of choices. The award-winning baby shop seems unstoppable in terms of growth and popularity amongst its customers with diverse needs and wants.
VIB represents a modern shopping environment offering a variety of baby and mother goods, including baby formula, food stuff, baby diapers, baby strollers, baby car seats, baby clothes, milk boosters, breast shells, breast pumps and a myriad of necessities for expectant mothers. Shopping for necessities is convenient and simplified at VIB, making parents feel welcome to pick and choose as they wish.
Shoppers appreciate it when they feel comfortable in a store as they browse and select what they need. Well-stocked and suitably organised to ease customers' shopping experience, and making it uncomplicated to find what they need, VIB maintains its appeal towards its customers by ensuring a relaxed, unpressured shopping vibe, letting parents be in control of their purchases. This is what VIB offers to its customers, and more
VIB also carries a wide range of products and items for mothers and mothers-to-be, such as nursing products, milk boosters, breast pumps and many more mother-care products which add value and quality to a family's life. Where there is VIB, most of what a mother needs for herself and her baby can be obtained under one roof! Confident that they are always receiving the best service and value from VIB, parents from all walks of life already recognized VIB as the No.1 choice of mother and baby shop in the Klang Valley. The store focuses on customer satisfaction and also strives to leave a lasting impression on customers by offering the best service.