The Nutritious MILO® that Kids Love, Now with More Calcium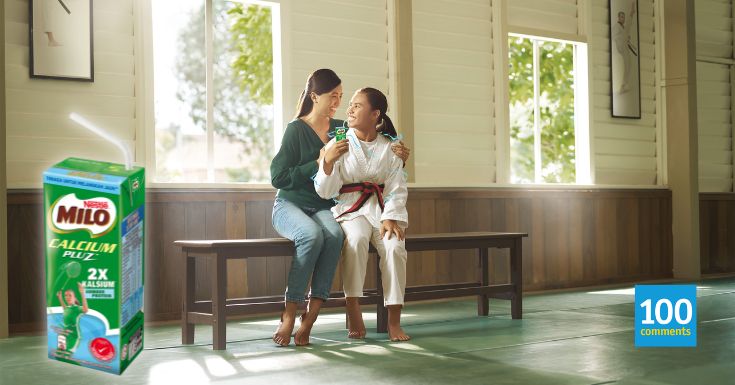 MILO® is introducing MILO® CALCIUM Pluz™, its new UHT variant which contains calcium and vitamin D per serve that is comparable to a glass of milk. Part of MILO®'s growing range of nutritious UHT offerings, MILO® CALCIUM Pluz™ provides mothers a convenient solution to help them meet the nutritional needs of their child to win the day in school.
Made from the goodness of milk, malt barley and cocoa, MILO® CALCIUM Pluz™ is packed with MILO®'s unique blend of key vitamins and minerals, including Vitamin B2 to unlock energy from food as well as vitamin D that helps the body to utilise calcium. With 2x calcium and more milk in a serving[1], MILO® CALCIUM Pluz™ is high in calcium which helps to develop strong bones and teeth.
"We are delighted to introduce MILO® CALCIUM Pluz™ in our effort to help mothers provide the best for their child. With school life returning in full force, mothers look to provide the right nutrition for their child to fuel their energy and achieve their passions in school. They want something nutritious and delicious that is comparable to the nutrition of milk. Having the right balance of essential vitamins and minerals, including a high calcium content, MILO® CALCIUM Pluz™ would be able to help improve nutritional intake   among children with the great taste of MILO® that they love, while energising them to go further in school, no matter what they set their minds to," said April Wong, Business Executive Officer – Ready-to-Drink, Nestlé (Malaysia) Berhad.
MILO® CALCIUM Pluz™ pairs well with a nutritious, balanced meal, especially one that is prepared according to the Malaysian Healthy Plate concept of Quarter-Quarter-Half – perfect for packed school lunches to assure mothers of the nutrition that can fuel their child's day.
Available in convenient single serve packs of 200ml, MILO® CALCIUM Pluz™ can be purchased from all convenient stores, mini markets, supermarkets and hypermarkets as well as leading e-commerce sites. To learn more about MILO® CALCIUM Pluz™, go to: www.milo.com.my/calciumpluz.
If you love MILO® CALCIUM Pluz™, leave a review here!
[1] Compared to the regular MILO® UHT.