The Gift of Learning: Why Janie & Joe Toys are the Perfect Presents for Your Child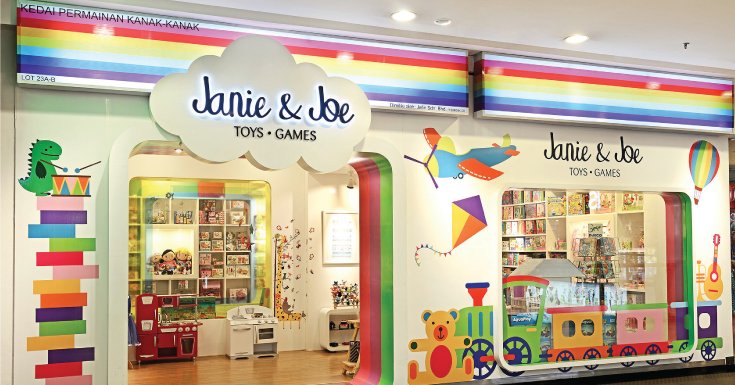 When it comes to toys, no one does it better than Janie & Joe.
Looking for the perfect gift that combines fun and education? Look no further than Janie & Joe, the go-to destination for parents, aunts, uncles, and gift-givers of all kinds. With their impressive range of high-quality toys, carefully curated for their education and engagement value, Janie & Joe is the ultimate choice for those seeking to foster meaningful parent-child bonds while indulging in hours of play. But that's not all—exceptional customer service and festive gift options make this toy store a standout choice for kids and nieces and nephews alike.
Quality That's Made to Last
At Janie & Joe, quality is the name of the game. Founded in 2013 by Kong Sue Foung, a mom of two who is passionate about bringing more fun and high-quality educational toys into Malaysia, their toys are handpicked to ensure they meet the highest standards of craftsmanship and safety. When you choose a toy from Janie & Joe, you're not just giving a gift; you're giving a piece of exceptional quality that will stand the test of time. No more worrying about toys that break or lose their appeal after a few uses. Janie & Joe's commitment to quality ensures that your gift will be cherished for years to come.
Where Education Meets Engagement
Janie & Joe takes playtime to the next level by offering a carefully curated selection of toys that are as entertaining as they are educational. They offer a curated selection of popular and award-winning toy brands, including Melissa & Doug, Educational Insights, Learning Resources, Jellycat, Djeco, and BrainBox Games, among others. These toys aren't just fun; they're designed to stimulate young minds, promoting cognitive development, creativity, and problem-solving skills.
From building blocks that encourage engineering marvels to science kits and STEM toys that turn learning into an adventure, Janie & Joe has it all.
Building Bonds Through Play
Parent-child bonding is at the heart of Janie & Joe's mission. Their toys are chosen not only for their educational value but also for their ability to bring families together. Whether it's a family game night with their wide selection of puzzle and card games or building epic adventures with their delightful pretend play sets, Janie & Joe knows how to turn playtime into quality time. The joy of discovery and exploration is shared between parents and children, creating memories that last a lifetime.
Service with a Smile
At Janie & Joe, customer service isn't just lip service; it's a way of life. The friendly and knowledgeable staff are always on hand to help you find the perfect gift. They understand that every child is unique, and they'll take the time to recommend toys that match each child's interests and developmental stage. And if there are any issues encountered in your online shopping experience, they will be quick to resolve the problems to your satisfaction. As such, shopping at Janie & Joe, be it online or at their physical stores, is not only convenient; it's a delightful experience where your satisfaction is their top priority.
A Gift for All Festive Occasions
Whether it's a birthday, holiday, or special occasion, Janie & Joe has you covered with a delightful array of festive gift options. From adorable stuffed animals and interactive learning toys for the little ones to challenging puzzles and creative art and craft sets for older children, you'll find something for everyone on your gift list. Janie & Joe makes the gift-giving process a breeze, so you can focus on celebrating the special moments with your loved ones.
Located at Bangsar Village Shopping Mall and The Curve, Janie & Joe easily catches the attention of shoppers with its appealing and welcoming ambiance that evokes a sense of child-like joy. No one can possibly miss its irresistible appeal. Additionally, Janie & Joe's online store is just as delightful and user-friendly, providing shoppers with an equally enthralling shopping experience.
When you choose Janie & Joe for your gift-giving needs, you're not just selecting a toy store; you're choosing a partner in creating unforgettable moments of joy, learning, and togetherness. Make your next gift-giving occasion extra special with a little help from Janie & Joe, where learning and fun go hand in hand.
For the past six consecutive years since 2018, Janie & Joe has been consistently recognised as the Best Toy Store in Malaysia by the readers of Baby Talk and Mama Papa magazines.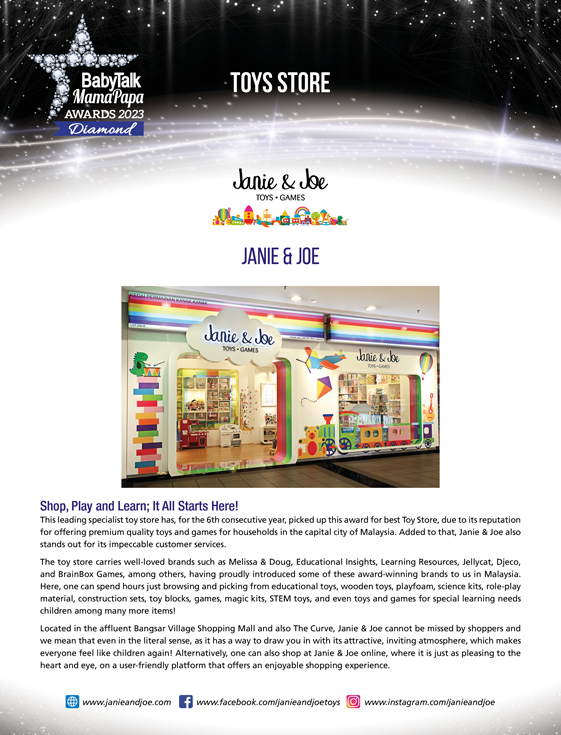 For more information, visit Janie & Joe at www.janieandjoe.com, www.facebook.com/janieandjoetoys and www.instagram.com/janieandjoe.