The Best 20 Malaysian Food You Must Not Miss Out On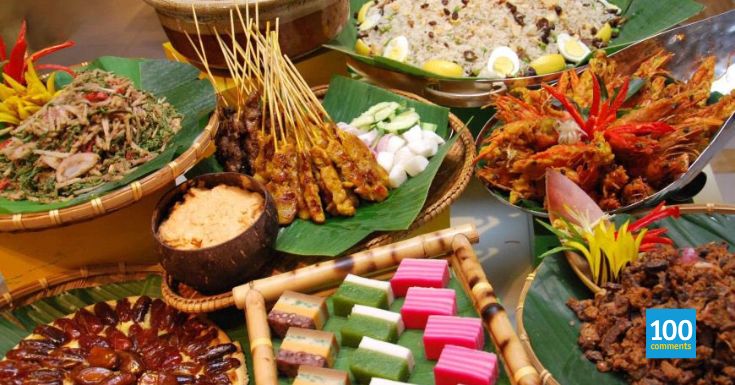 Malaysia is not only famous for its skyscrapers, beautiful white and crystal blue oceans, but it is also famous for its hospitality, its people, culture and food. Malaysian food is one of the best cuisines in the world that you should absolutely not miss the opportunity to try out. Malaysian cuisine has its own unique identity that reflects the multi-ethnic culture of the nation. The taste of the food is unique because it is a combination of the Malay, Chinese and Indian cuisines on top of its colonial era and other Southeast Asian influences. This diverse ethnic fusion in the food culture makes the Malaysian cuisine worthy of global reputation.
So, if you are interested in Malaysian food, you'll be glad to know that Malaysian cuisine is more flavourful than you can ever imagine. This article will bring you on a quick tour of Malaysian cuisine in different five food categories.
Hot and cold beverages
Teh Tarik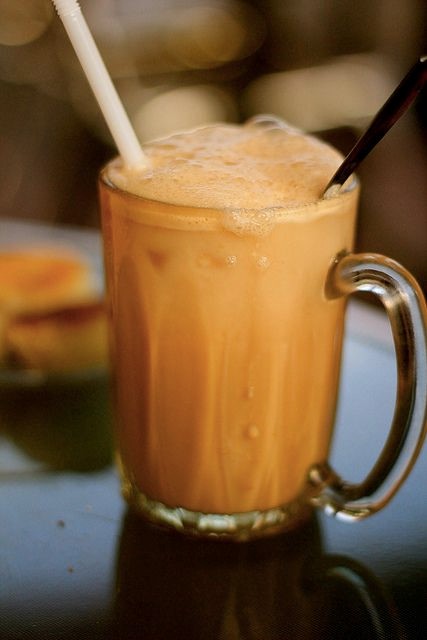 The unofficial national drink of Malaysia is "teh tarik," which means "pulled tea." It is simply hot tea, which is a mixture of strong black tea, condensed milk, and sugar. Teh tarik may seem like normal tea, but what makes it different and special is the way it is prepared. Once all of the ingredients have been combined, the tea is repeatedly poured from the pot into each cup to release the heat and create the foam. As the tea is poured from above, it gives the illusion of tea being pulled in the air, hence the name "teh tarik."
Milo Ais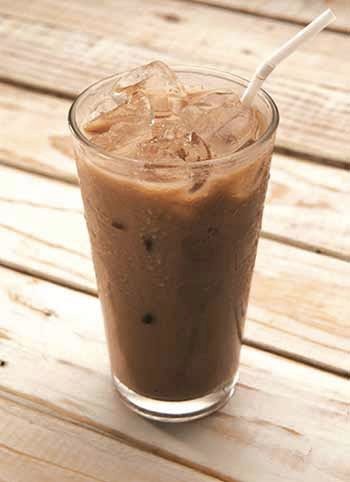 Milo has been integrated into Malaysian culture as "Milo Ais" and "Milo Dinosaur." In Malaysia, there are different ways of having Milo drinks.  Malaysians love Milo as a cold beverage with lots of ice, tonnes of extra sweetness, and condensed milk. Milo Ais is the name given to ice Milo. If you ever travel to Malaysia, this is one of the must-try drinks.
Sirap Bandung (Rose Syrup with Milk)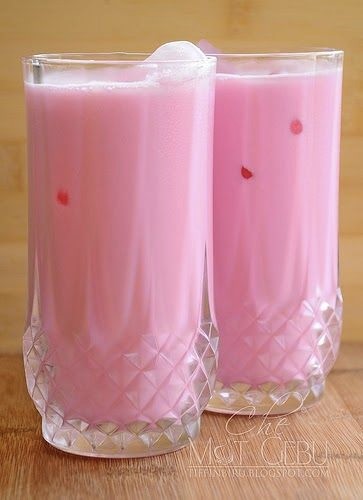 Sirap Bandung, or Rose Syrup with Milk, is a deliciously sweet and creamy drink that smells of roses and is a fun colour (pink). Sirap Bandung looks like the strawberry drinks in terms of color, but not in terms of taste. Sirap Bandung has its own unique taste that is worth trying.
Rice dishes
Nasi Lemak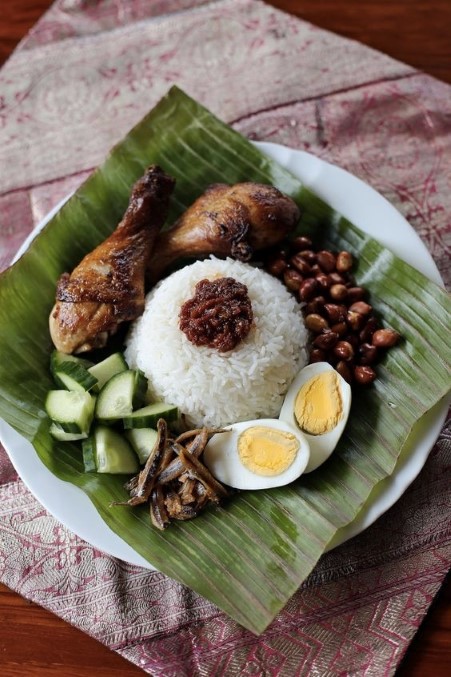 Nasi lemak is the Malaysian National dish which is a fully aromatic meal with coconut milk rice, served with sambal which is the Malaysian spicy sauce, fried crispy anchovies, toasted peanuts and cucumber. The dish is fully aromatic with the pandan leaves and some other herbs. As a side to eat together with rice, there are spiced fried chicken, hard boiled eggs, slices of cucumber and some peanuts. There are unlimited nasi lemak stores across Malaysia. Nasi lemak is traditionally the breakfast meal in Malaysia but now people eat throughout the day. If you are currently travelling to Malaysia, you should never miss out trying nasi lemak. If you are planning to visit Malaysia, take advantage of the opportunity to sample the best Malaysian cuisine.
Nasi Kerabu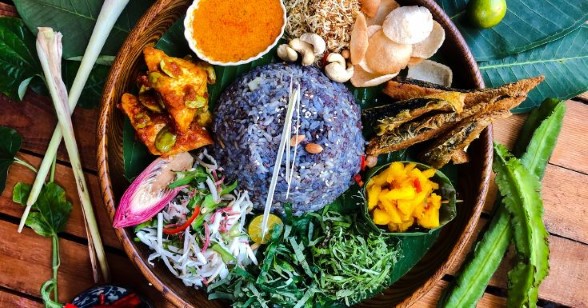 Nasi Kerabu originated from Kelantan; kerabu means Thai-style salad, usually eaten raw. The uniqueness of the nasi kerabu is the blue-coloured rice, which is nicely seasoned with the spices, colour, and fragrance. The rice adds to the dish's uniqueness; the rice is spoked in the purple-blue butterfly pea flower to give it a natural blue colour. Blue rice is eaten together with the fish, chicken, meat, salted egg, fish crackers, and raw vegetable salad. Nasi kerabu is different from other rice dishes in terms of colour, taste, and the attractiveness of the dish itself.
Nasi Kandar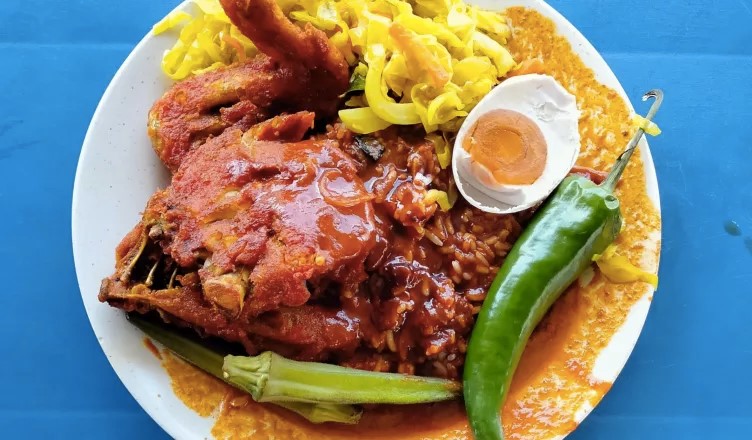 Nasi Kandar is a dish from Penang in Northern Malaysia that was introduced by Tamil traders from India. The meal is basically rice and curry. One can choose from beef curry, chicken curry, or seafood curry, and various types of vegetables and side dishes. Nasi kandar is always served with various side dishes and curry on one single plate, which is the traditional way of eating in India.
Nasi Goreng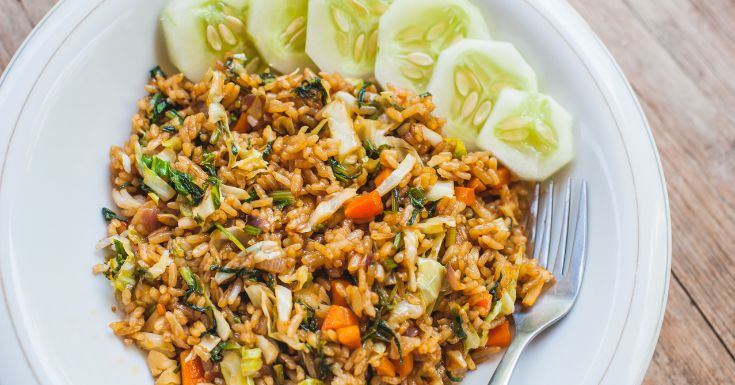 Nasi goreng means fried rice, which is a Southeast Asian dish from Indonesia, Singapore, Brunei, Thailand, Sri Lanka and Myanmar.  You can literally find nasi goreng all around the world. There is no single defined recipe for nasi goreng, as every fried rice dish with certain mixtures, additions, ingredients, and toppings could lead to another recipe of nasi goreng. What makes Malaysian nasi goreng special are the numerous nasi goreng varieties, which are listed below:
Nasi Goreng Ayam – fried rice with chicken.
Nasi Goreng Telur – fried rice with egg.
Nasi Goreng Udang – fried rice with shrimp.
Nasi Goreng Seafood – fried rice with seafood, such as squid, fish and shrimp.
Nasi Goreng Tomat – fried rice with tomato.
Nasi Goreng Biasa – fried rice with some sauce to add colour and flavour.
Nasi Goreng Cina – fried rice with scrambled egg and frozen mixed veggies
Nasi Goreng Mamak – fried rice with tofu, fish cake and instant noodle curry powder.
Nasi Goreng Kampung – fried rice with soy sauce, bird's eye chilli (very tiny but spicy), water spinach, blended shrimp paste, and anchovies.
Nasi Goreng Pattaya – fried rice wrapped in a thin omelette, drizzled with chilli sauce, and served with a few slices of cucumber.
Nasi Goreng Tomyam – fried rice with tom yam paste, lemongrass, fish sauce, and lime to give it that distinct Thai flavour.
Banana Leaf Rice

Banana leaf rice is a dish originating from South India. It has become a signature dish in Malaysia as the country has many Malaysian-Indians. The banana leaf rice is one of the dishes that shows the influences of Indian cuisine in the Malaysian food culture. The essential part of banana leaf rice is that all the rice and dishes are served on broad banana leaves. It is unique to serve with the banana leaf while all the serving is usually on the plates or bowls.
Nasi Biryani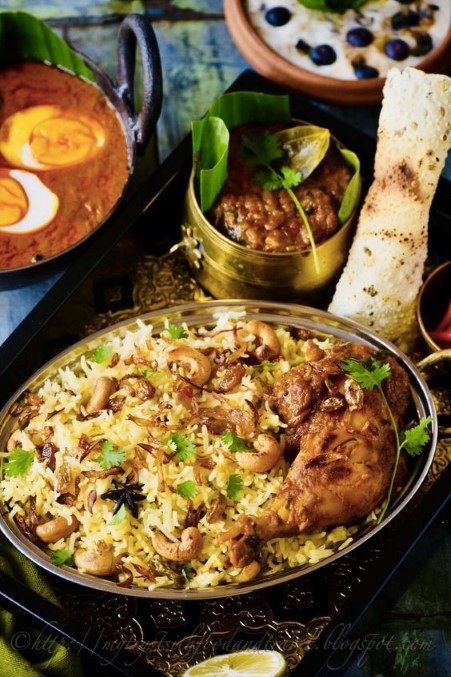 Biryani, also known as "mixed rice," is an Indian rice dish that consists of rice cooked with Indian spices, meat, and vegetables. It is an aromatic rice spiced with various Indian spices and mixed with chicken or meat. Biryani is not a Malaysian dish, but it is very popular in Malaysia; the locals call it Nasi Biryani. Biryani can be found in most Indian or Malay restaurants. Nasi biryani or briyani is often tinged with specks of red and yellow, which adds to its appeal.
Noodle dishes
Char Kuey Teow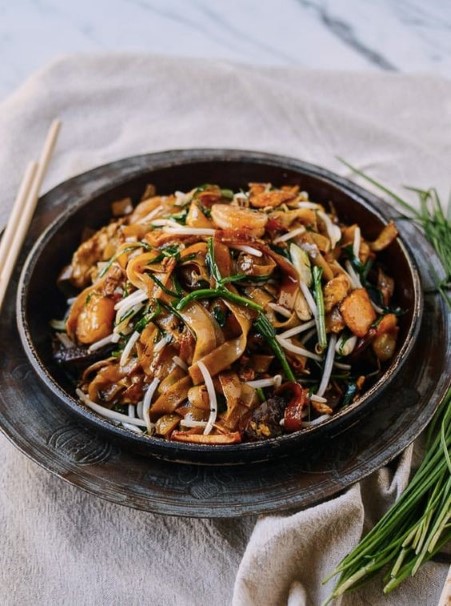 Char kway teow is a stir-fried rice noodle dish of southern Chinese origin. Char kway teow is a soft and chewy flat rice noodle fried in a sweet and salty soy sauce. This is one of the famous Malaysian rice noodle dishes you must try if you ever visit Malaysia. Char kuey teow is normally made with garlic, eggs, seafood, and crunchy bean sprouts. Char kuey teow is a distinct, delectable rice noodle that you should not miss out on.
Laksa Sarawak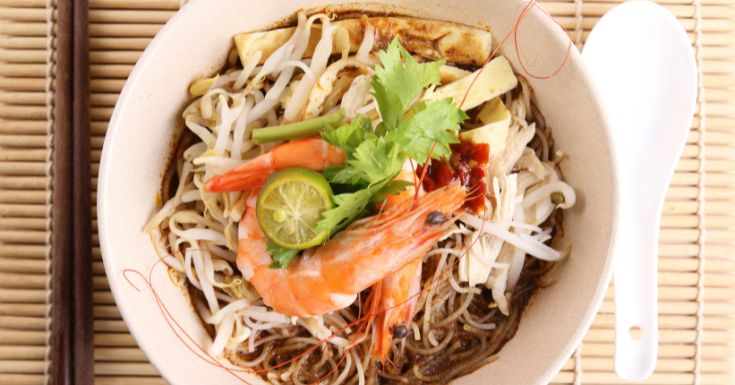 Laksa is a Malaysian noodle soup with a creamy, tasty spice broth made with coconut milk and laksa paste. Sarawak laksa is distinguished by its delicate, mild flavour and accompanied by vermicelli noodles, shredded omelette, cooked prawns, and shredded chicken. The flavourful laksa broth is comprised of a chicken or shrimp-based broth that is seasoned with a laksa paste that frequently contains more than twenty ingredients. If you enjoy trying different types of noodles, laksa is a must-try when visiting Malaysia. The noodle soup has rich flavours and is easy to enjoy. If you give the Malaysian Laksa a chance, you will undoubtedly fall in love with it.
Mee Goreng Mamak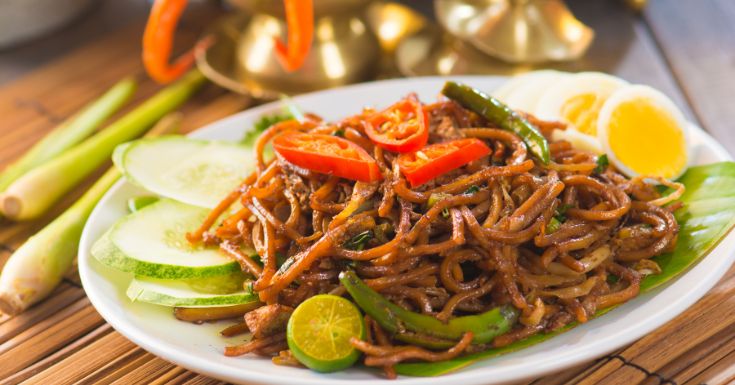 Mee Goreng Mamak is the fried noodle which is the dish that is normally made with the fresh egg, noodles, boiled potatoes, pan- fried tofu and sauce. Mee goreng mamak is a versatile stir-fry noodle dish that was first popularised by the Indian-Muslim population in the Southeast Asia region. The most typical toppings are lime juice, crispy fried onions, and red chillies. Mee goreng mamak is a popular dish in Malaysia and is available from sit-down restaurants to street vendors.
Snacks
Murtabak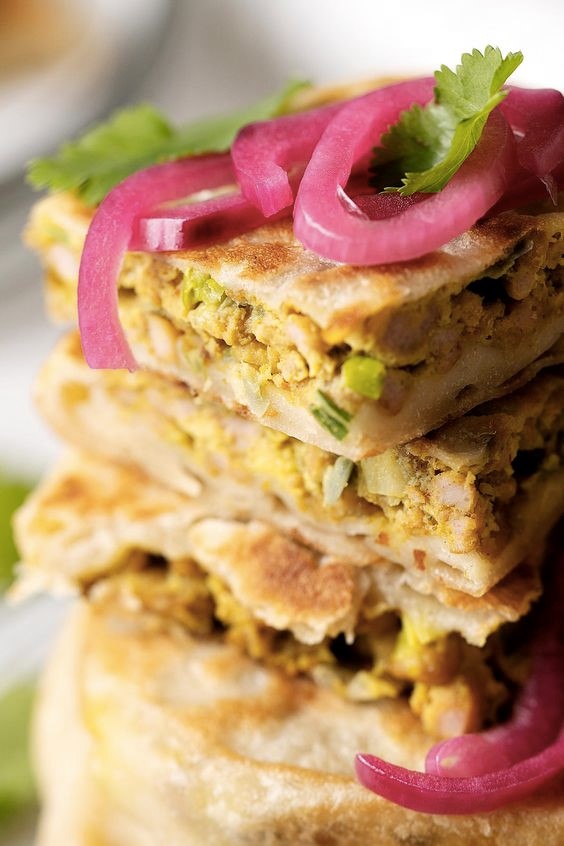 Murtabak is a pancake or the pan-fried bread which is common in Asia and Arabia. Murtabak is the mouth-watering meat fold over which can be found in Indian Muslim restaurants and street stalls. The classic Malaysian murtabak is a square pancake stuffed with minced meat, egg, garlic and onion, crispy on the edges but fleshy in the middle. The murtabak usually comes with a serving of curry or pickled onions to balance out the flavours. If you love pancakes, these are the definite snacks you should try before leaving Malaysia.
Satay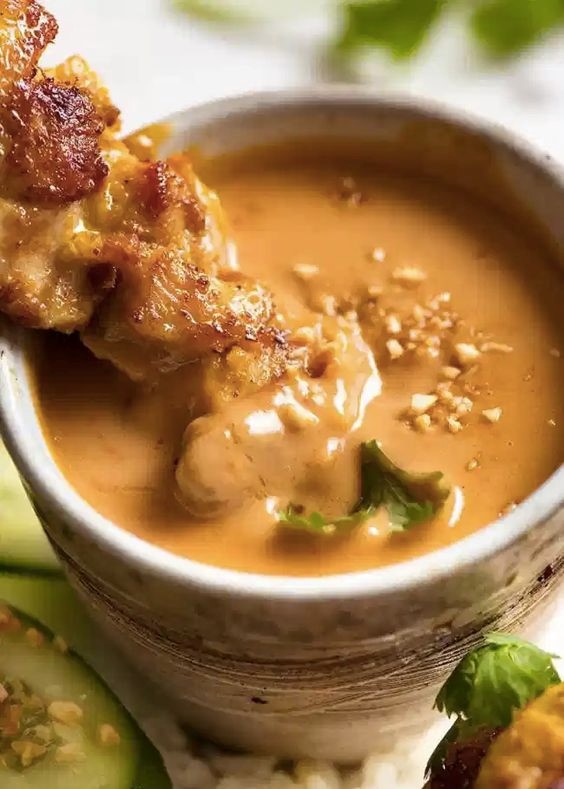 Satay is one of the Malay cuisines inspired by the kebab which originates from the Arab and Middle-eastern countries. Satay is grilled meat on a bamboo stick infused with a smooth paste made from blending shallots, lemongrass, garlic, and ginger together, and served with a delectable peanut sauce. This is one of the best street foods in Malaysia you should try out.
Keropok Lekor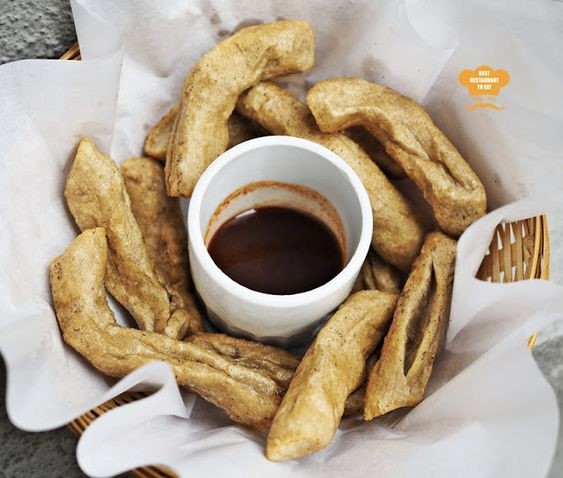 Terengganu's Keropok Lekor is a delicious Malaysian fish cracker snack that is similar to fish sausages. It is made with ikan tamban or ikan kerisi, which are combined with sago flour to form the long sausages. After boiling the fish sausages, they are then fried to make Keropok Lekor, which is a delicious street food in Malaysia. Keropok Lekor is typically accompanied by a chilli tomato sauce. If you are a fan of sausages, you definitely must try the Malaysian fish sausage.
Roti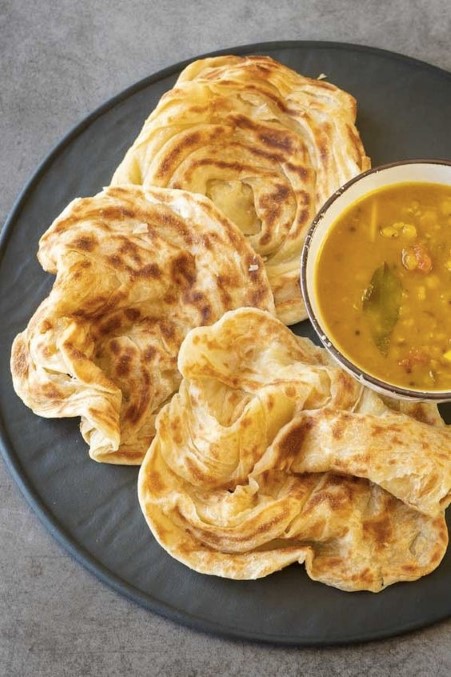 Roti canai is a traditional Indian flatbread which is enjoyed in Thailand, Malaysia, Singapore, Indonesia, Brunei, and Brunei. It contains flour, water, eggs, and fat (usually ghee or clarified butter), which are combined into a dough. Roti canai is made by continuously folding the dough, resulting in a finished product with a layered texture, a soft centre, and a crispy exterior. The delicacy is thought to have originated in India, where immigrants from the nation who came to Malaysia brought the recipe with them. It is typically served plain, in its classic round shape, as a side dish to curries.
Here are the different types of roti that you can find it at every mamak restaurant:
Roti canai – crispy, plain roti
Roti telur bawang – roti with eggs and onion inside
Roti pisang – roti caramelised banana within its folds
Roti cheese – roti with melted cheese inside
Roti sardine – roti with pieces of fish inside
Roti tissue – roti drizzled in condensed milk
Pisang Goreng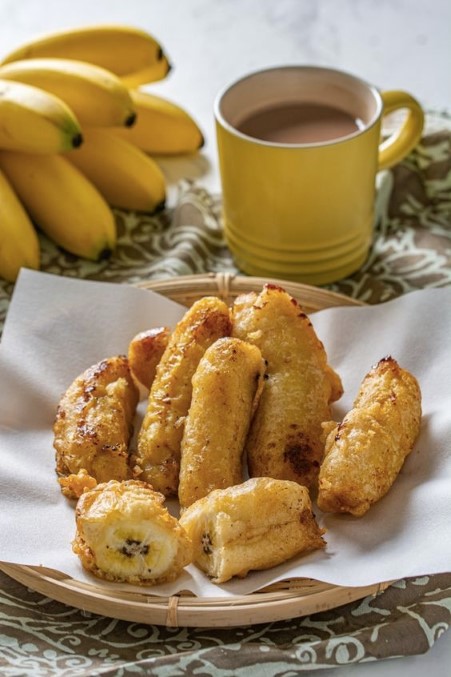 Pisang Goreng is a Malaysian sweet and savoury street snack that consists of deep-fried bananas dipped in butter with eggs and coated with flour. Coconut milk or vanilla or even cheese can be added to enhance the flavour.
Dessert
Mango Sticky Rice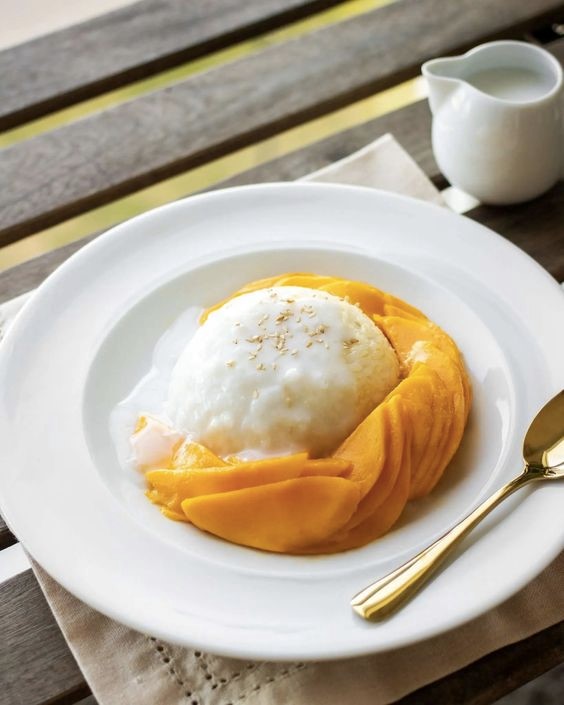 Mango sticky rice is a popular dessert in Thailand and Malaysia. It is made with steamed sticky rice, coconut milk, and mango. The taste is sweet and sour with a fresh mango flavor. If you are a fan of mango, you must try this dish in Malaysia.
Ais Kacang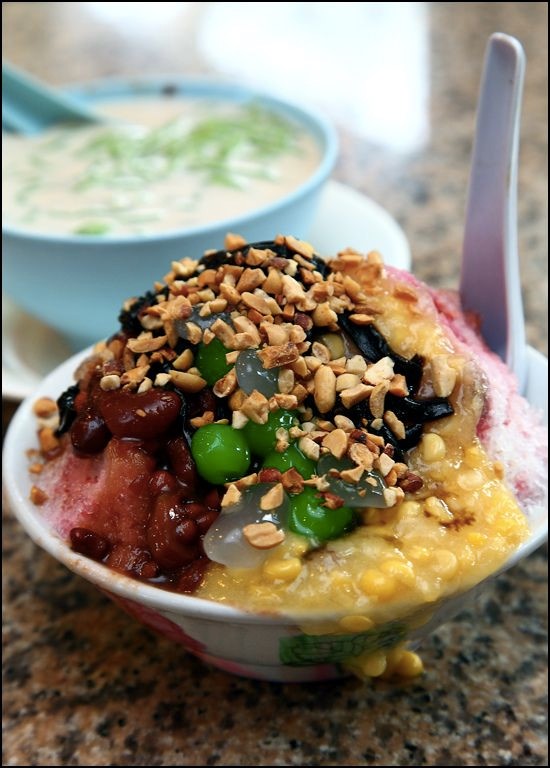 Ais Kacang, which is also called ABC, is a popular iced dessert in Malaysia. It consists of shaved ice with beans. Malaysia is a hot country, so this dessert is a refreshing way to cool down. If you love ice cream or other icy desserts, you'll definitely enjoy Ais Kacang.
Cendol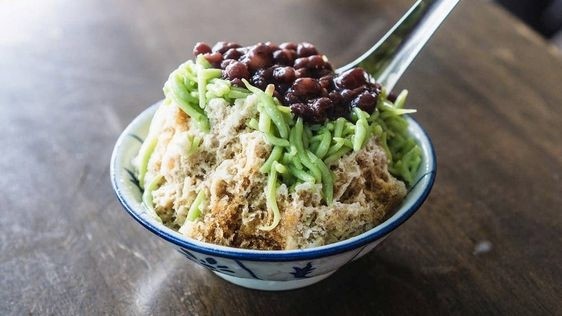 Cendol is a refreshing and cooling Malaysian dessert, traditionally made with green rice flour jelly, coconut milk and sugar syrup. Cendol is one of Malaysia's heritage foods, and you can find different types of cendol in Indonesia, Brunei, Cambodia and Myanmar. If you love sweet desserts, cendol is a must-try and is a refreshing treat after a meal.
So, there you have it, the 20 traditional foods you must try when in Malaysia. Malaysian cuisine is authentic and steeped in history and culture, with a multi-ethnic cooking style. When travelling in Malaysia, you'll be amazed by the uniqueness and deliciousness of the food and should make time to savour them.