Taste the World with Lay's: Iconic Limited Edition Flavors from America, Korea, and Mexico Arrive in Malaysia!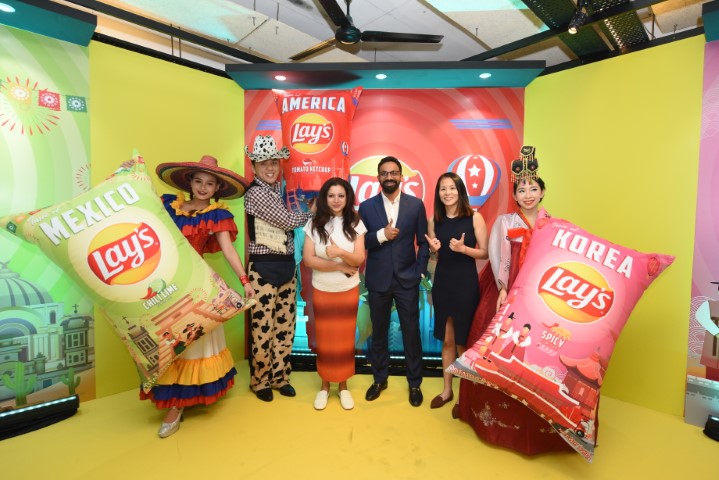 Lay's, the world's #1 potato chip brand* opened a world of flavors to Malaysians today with the launch of three New Limited Edition flavors featuring the sweet, spicy and zesty flavors that is iconic to Korea, America and Mexico. The new Lay's Spicy, Lay's Tomato Ketchup and Lay's Chili Lime are now available at all retail stores for a limited time only.
Aditya Ahuja, the Commercial Director for Pepsico Foods in Malaysia, Singapore & Pacific Islands, expressed, "Through these three exciting new world flavors, our aim is to not only bring more joy with each bite but also to offer our consumers in Malaysia a taste of Korea, America, and Mexico! Lay's Spicy draws inspiration from Korea's bold and fiery flavors, Lay's Chili Lime celebrates the rich taste of Mexico, and Lay's Tomato Ketchup embodies America's love for this classic condiment."
Lay's Spicy delivers a unique experience, inspired by a taste of Korean spice. Its deep, fiery savoriness adds a funky and unusual dimension to your snacking moments. Get transported to the vibrant streets of Korea with just one flavorful bite! Lay's Spicy also offers a spicy twist of texture – instead of the usual Lay's crunch as its chips, Lay's Spicy come in a ridged texture filled with that spicy flavor.
Meanwhile, Lay's Tomato Ketchup combines the tangy, sweet, sour, and salty taste of ketchup, making it a great companion for savory foods. Every bite of this flavorful chip will take you to a classic American diner or backyard barbecue, giving you the taste of satisfaction like dipping your snack in ketchup!
For a burst of zesty freshness, Lay's Chili Lime captures the colorful and vibrant flavors of Tex-Mex cuisine. The distinct zing, mild heat, and mouthwatering acidity takes you to a lively fiesta on a hot summer day. Snack your day's stresses away with each bite of your favorite chip!
In conjunction with the launch of #LaysSpicyKorea, #LaysKetchupAmerica and #LaysChiliLimeMexico, Lay's is taking Malaysians on an experiential journey around the world right here at Lay's Flavor Around the World – Hall of Flavor event happening at APW, Bangsar from 18-20 August 2023.
You can transport yourselves to America, Mexico or Korea at the World Photobooth, try your hand at the Giant Round the Flavor Wheel, or prove your Lay's loyalty with Guess the Flavor challenge.
#LaysSpicyKorea, #LaysKetchupAmerica and #LaysChiliLimeMexico along with all Lay's original flavors are available at leading supermarkets nationwide, and are also available on Shopee and Lazada. Lay's offers its new flavors and original variants in two convenient sizes. All flavors are available in the big 170g sizes, while Lay's Spicy and Lay's Tomato Ketchup are also available in 50g sizes for your on-the-go convenience.
Make a date with Lay's to escape on a global culinary journey with every bite as we #OpenAWorldOfFlavor to you. Log on to www.facebook.com/LaysMalaysia for more information on the new flavors and the Lay's Flavor Around the World – Hall of Flavor event.