Supercharge Your Feminine Health with V-Mina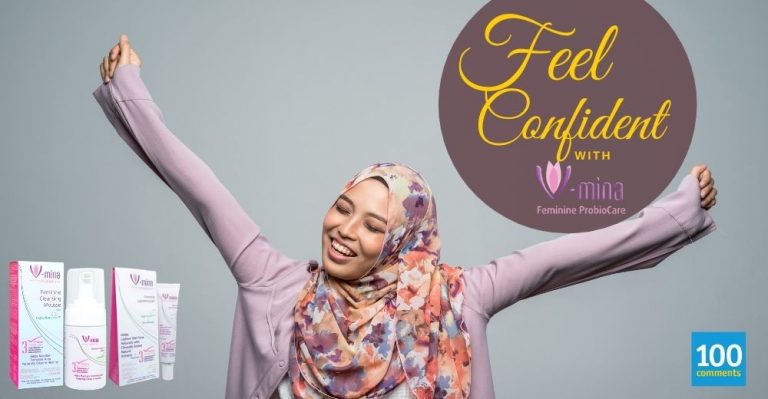 Most likely, your shower is stocked with a variety of body washes. However, while those cleansers are excellent for refreshing your underarms, legs, and feet, they are not suitable for your delicate vulva area. Though the vagina is a self-cleaning machine, you can clean the vulva, which is the exterior of the vagina, with a gentle feminine cleanser to get rid of dirt and grime. When choosing a feminine cleansing product, it is important to select a gentle one that would not throw off your pH levels which can lead to an infection.
The three vital features a feminine care product should have are as follows: the pH level should be between 3.8 and 4.2, it should be free of irritation and has a good micro-flora balance.
The good news is, V-Mina's range of feminine care products meet these requirements and more! The V-Mina feminine care products have been clinically proven to raise the pH of the V-area to the ideal 3.8-4.2 range, promoting a healthy V-area.
Normal body cleansers may also contain traces of harsh emulsifiers like SLES, SLS, or ALS, which will affect the area's long-term pH level and micro-flora, stripping it of its natural protective layer and resulting in dry, irritated skin.
The Power of Yoghurt Extract++TM
V-Mina products contain the powerfully potent YoghurtExtract++ TM, the functionally proven bioactive essence of Lactobacillus-cultivated yoghurt enriched with Prebiotic (L+Synbiotic TM ). YoghurtExtract++ TM helps to sustain the acidic environment (pH value about 4.0) which inhibits and controls the growth of pathogenic microorganisms (Figure 1). Additionally, YoghurtExtract++ TM assists in maintaining and restoring the beneficial micro flora of the V-area while stimulating the immune system.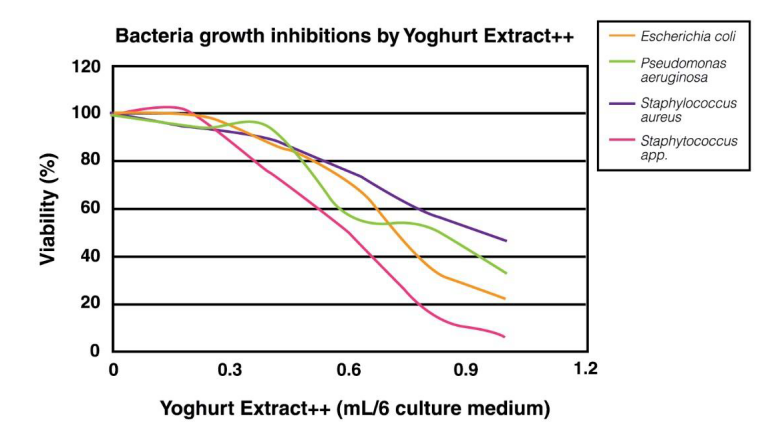 Figure 1: Yoghurt Extract ++TM inhibited the growths of all 4 test strains
Regular usage of V-Mina products have been shown to restore the pH of the vaginal tract to normal values as soon as 3 to 10 days of treatment (Figure 2).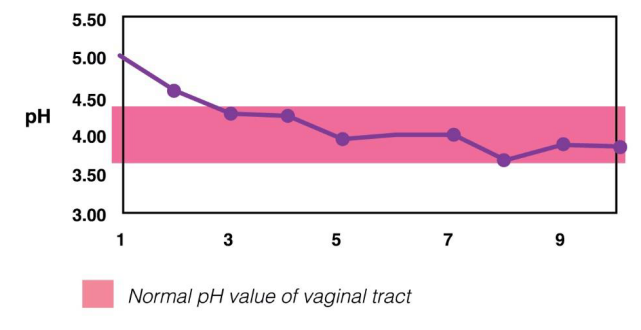 Figure 2: Variation of pH values in the vaginal tract after applying Yoghurt Extract++ TM
V-Mina takes on a vastly different approach compared to other feminine care products in the market. Many other feminine care products focus on the unnatural alteration of the vaginal environment through the excessive use of lactic acid to control pH levels. This causes a sudden pH adjustment that may lead to irritation. V-Mina has a more natural and gentle approach by utilising the power of natural probiotic extracts or metabolites to balance the vaginal microflora. It works faster and more effectively than probiotics alone (Figure 3).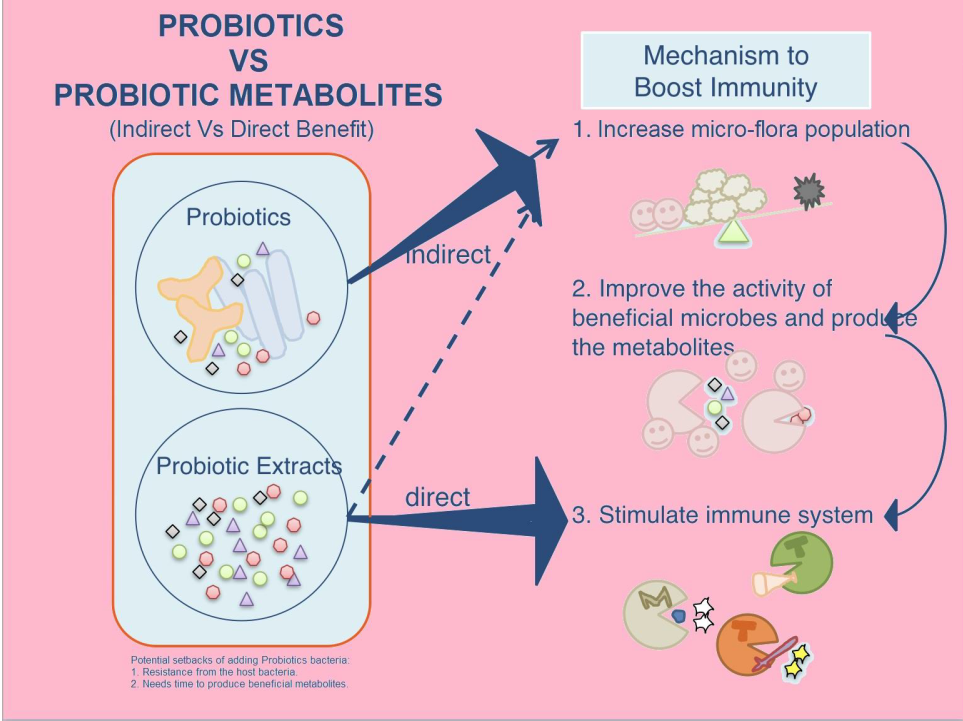 Figure 3: Probiotic extracts directly stimulates the immune system
Cleanse & Maintain Natural Vaginal pH Balance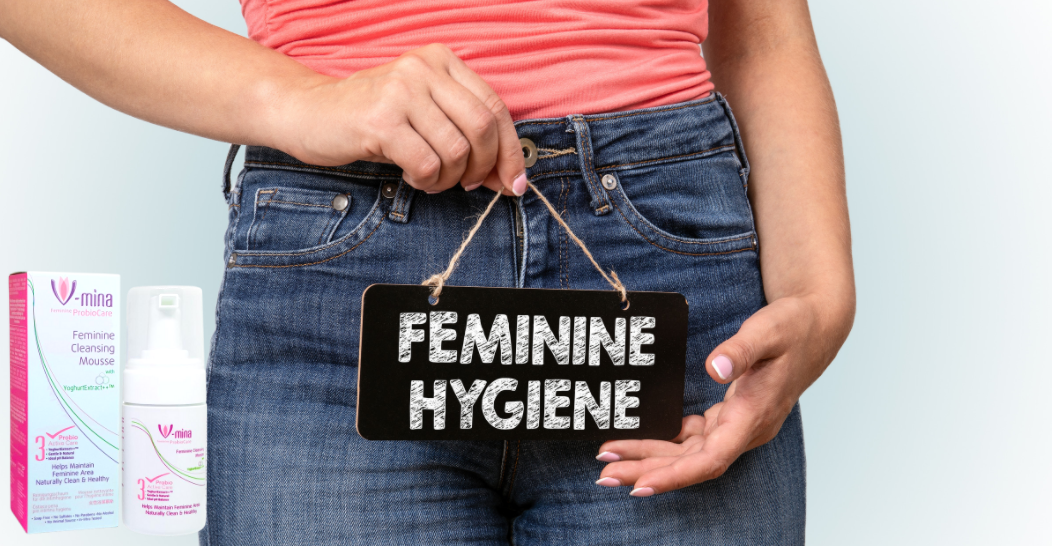 Healthy vaginal secretions that are white and not easily attached to the vaginal mucosa. The odour is unscented and the good bacteria observed under microscope is lactobacillus.
V-Mina Feminine Cleansing Mousse is a fresh, light and creamy formulation for gentle yet effective cleansing of the external feminine area, while providing natural PROBIOTIC protection and benefits from YoghurtExtract++ TM. YoghurtExtract++ TM is the functionally proven bioactive essence of Lactobacillus-cultivated yoghurt enriched with Prebiotic (L+Synbiotic TM ) and Vit B12, that utilises the Natural Probiotic Defense and Support Mechanism for a healthy micro-flora balance and ideal pH level.
Enriched with aloe extract that soothes and moisturises and Lactic acid which clears impurities and maintain healthy moisture, this cleansing mousse is perfect for daily use without irritation. The pH-balanced formula is free of soap, alcohol, and artificial fragrances, and is formulated to be gentle on sensitive skin.
It is easy to use, too. First, dampen the vaginal area. Then, shake the bottle and dispense 3 to 4cm of mousse on your finger. Apply the mouse gently and thoroughly to cleanse the external vaginal area, and rinse off completely. The foaming mousse cleanser is so lightweight and leave the V-area feeling clean and fresh!
Moisturise & Lighten Your Intimate Area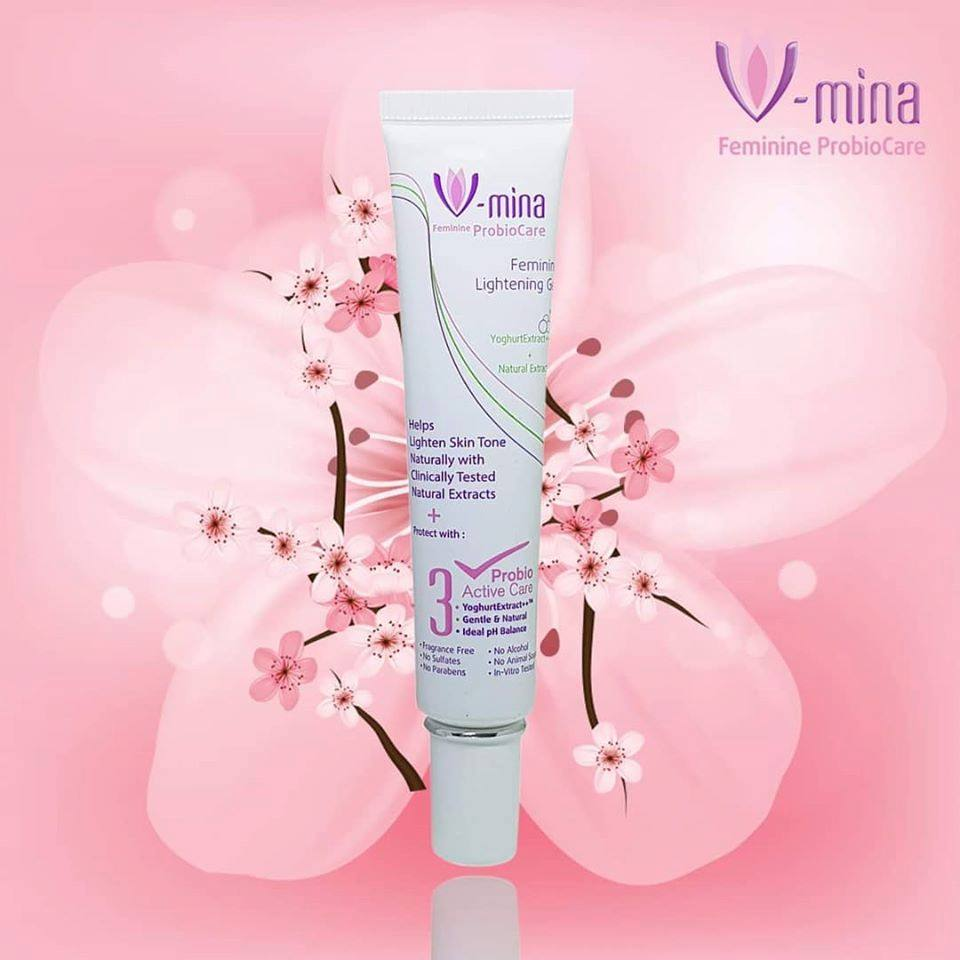 Are you bothered with having a dark area down there? V-Mina Feminine Lightening Gel lightens the skin on your V-area while maintaining good micro-flora balance and sustaining its natural pH levels. The colourless gel contains seven natural Swiss alpine plant extracts that clinically-tested for their natural skin lightening benefit and vitamin C that serves as the additional revitalising and anti-oxidant ingredient which helps rejuvenate the V-area. It is enriched with allantoin, ginkgo biloba extract, honey extract and lactic acid to help soothe and moisturise the V-area.
The lightening gel also contains yoghurt extract, which is derived from a high-quality cultivation of beneficial bacteria strains found primarily in the vaginal area.
V-Mina offers natural probiotic protection and benefits from YoghurtExtract++ TM. It utilises the functionally proven bioactive essence of Lactobacillus-cultivated yoghurt enriched with Prebiotic (L+Synbiotic TM) and vitamin b12 to give a natural probiotic defence and support mechanism for a healthy micro-flora balance and ideal pH level.
Use it as and when necessary to freshen up your V-area. As a bonus, it can also be used to lighten dark areas on your lips! Dr Lim Ing Kien of Medii Skin Studio & Clinic stated that V-Mina Feminine Lightening Gel's ingredients can indeed lighten the lips. In fact, his patients testified that their lips were lightened within a month of using the product. "If it is safe for the private area, it is safe for the lips," Dr Lim said.
Feel Confident with V-Mina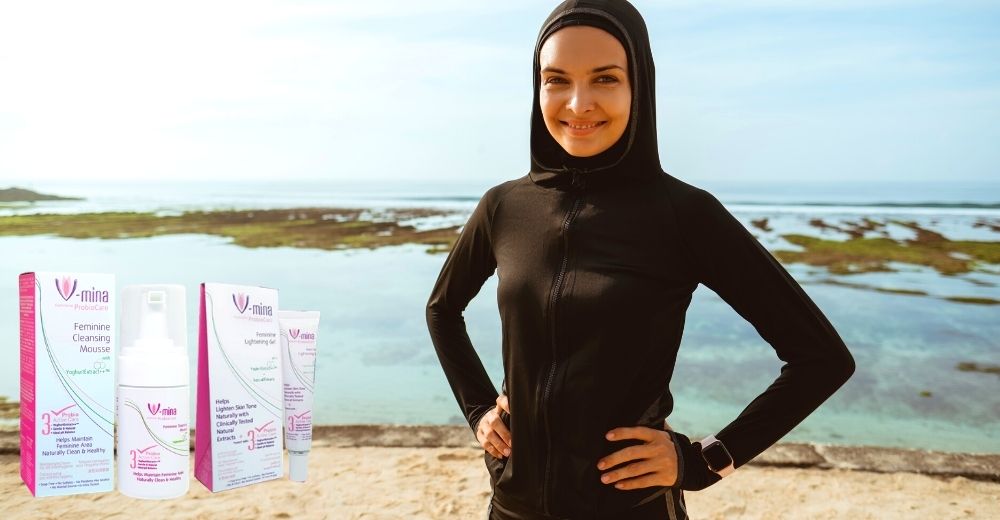 Great feminine hygiene helps you feel confident and ready to take on the many responsibilities in your life. Use V-Mina products as part of your daily hygiene routine to eliminate foul odour and discharge. Free from toxic chemicals, parabens, and sulphates, use them regularly to cleanse, reduce bad bacteria, and minimise odour. Feel healthy and smell fresh all day, every day with V-Mina!
If you love V-Mina, leave a review at V-Mina Feminine Cleansing Mousse and V-Mina Feminine Lightening Gel. For more information, visit V-Mina's Facebook page.