Super Laju Super Sedap Airfryer Recipes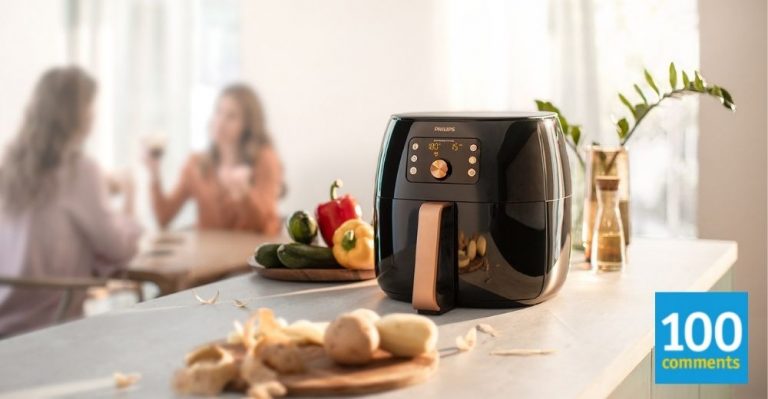 The holiday season is finally upon us as we say our last goodbyes to the year 2020. It has been a challenging time for many and there's nothing like bonding over a festive meal with the family. Even if you're not the best cook around, fret not, because all you need is one miracle kitchen gadget and that is the Philips Airfryer XXL with Smart Sense Technology.
Whether fried, sautéed, baked, or grilled – the possibilities are limitless with the Philips Airfryer XL that does the thinking and cooking for you. If you're craving for a wholesome festive meal, here are delicious Airfryer recipes to show you how to make the most of this extraordinary versatile kitchen tool for the holidays and beyond.
MAC AND CHEESE BALLS
It's the end of the year so New Year's Resolutions can wait. After the year you've had, you ought to give yourself a pat on the back and enjoy some delicious Mac & Cheese balls for starters. This recipe is traditionally deep-fried but we're going with a healthier and less messy option with the Airfryer that uses hot air instead of oil to cook. Thanks to the Philips Rapid Air technology that creates 7 times faster airflow* and up to 90% less fat**, you'll have crispier results and all the delicious flavour without the guilt.
*Compared to airflow measured in Philips Viva Airfryer basket with flat bottom
**Compared to fresh fries cooked in conventional Philips fryer
For this recipe, it's best to use leftover macaroni and cheese that's been left in the refrigerator overnight so that it's easier for the balls to roll and stick together. Take large chunks (approximately 2 tablespoons), roll into balls and set aside. In one bowl, add 2 eggs and 2 tablespoons of milk, and whisk to combine. Then, in another bowl, add breadcrumbs, salt and chopped bacon bits for that extra crunch.
Grab a macaroni and cheese ball and coat the entire ball in the egg and milk mixture, then coat it in the breadcrumbs and bacon bits, and then add to a lined parchment sheet. Repeat for the remaining balls and then place it in the freezer for 30 minutes. Once the 30 minutes are up, pop them into the Airfryer at 182°C for 10 minutes until golden.
ROASTED TURKEY LEGS
The holidays will not be complete without a turkey dinner with a side of sweet potatoes. Start by chopping up two sweet potatoes into cubes and seasoning them with a good amount of olive oil, a dash of paprika, garlic powder, salt and pepper. Pop it into the Airfryer at 175°C for 20 minutes.
While we wait for the sweet potatoes to cook, start preparing the dry rub for the turkey legs. You'll need a mix of smoked paprika, garlic powder, brown sugar, salt and pepper. Make sure to rub the seasoning under the skin to get that flavour all over the meat. Spray just a little bit of cooking oil on your turkey legs and it's ready to go in the Airfryer with the 'Drumsticks' preset. The Philips Airfryer XXL comes with Smart Chef programs designed by professional chefs, allowing you to enjoy perfect results in two easy steps – simply choose a food type and press the button to cook. Its Smart sensor automatically adjusts the time and temperature for amazing results every time.
Whether homemade fresh or frozen fries, drumsticks, fish or even a whole chicken – with just one touch, your Philips Airfryer XL will do the thinking and cooking for you, giving confidence to all aspiring chefs!
PUMPKIN PIE
Moving on to the best part: dessert. We're going with a classic pumpkin pie to satisfy your sweet tooth. Let's start with the seasoned pie crust. Mix 100g of butter in 225g of plain flour until it resembles coarse breadcrumbs. Then, add in a tablespoon of cinnamon, nutmeg and 25g of caster sugar. Mix it well and add a little water at a time until your dry pie crust is ready. Roll out the pie crust and place it in a tart pan.
Next, in a large mixing bowl, combine 3 large eggs, 450g of cooked pumpkin (make sure it's soft!), 250g of brown sugar and spices. With a hand mixer, whisk all ingredients together with 240ml of double cream until everything is well-blended. Pour the mixture into the pie crust and place it in the Airfryer at 180°C for 25 minutes. The Philips Airfryer XXL will have you smelling pumpkin in the air in no time thanks to its Instant Heat and Rapid Airflow Technology that cooks 1.5 faster than in an oven*. You don't even need to preheat your Airfryer – just turn it on and it's ready to go!
*Compared to French fries and chicken drumsticks in a conventional oven
Plus, you don't ever have to worry about baking multiple pies for your big Christmas dinner because the Philips Airfryer XXL is designed with the whole family in mind. The Airfryer XXL has the capacity to fit up to a whole chicken or 1.4kg of fries.
Cooking up some super laju super sedap holiday meals for the family becomes effortless with the Philips Airfryer XXL with Smart Sense Technology. The Philips Airfryer XXL is available at Philips-authorised retailers.