Sunplay Skin Aqua Physical Sunscreen SPF50+ Protects Sensitive Skin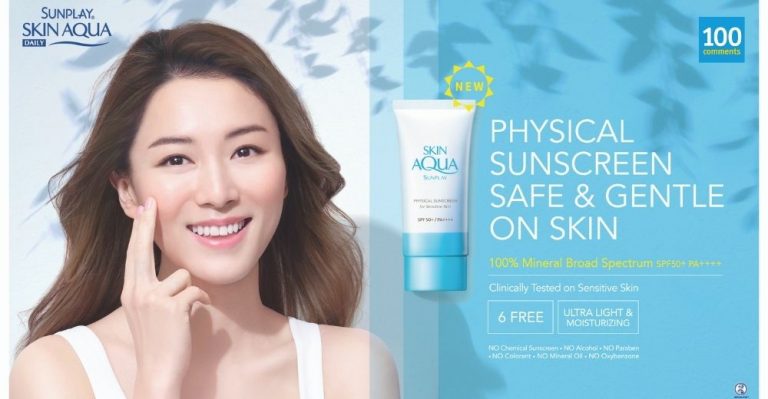 In our tropical country, we are blessed with sunny weather virtually all year. While it is wonderful to spend time outside and enjoy the sun, it is equally critical to remember to protect your skin from damaging UVA rays. According to research, excessive sun exposure causes photoaging, which results in premature skin ageing such as wrinkles, fine lines, and pigmentation. We may not be able to stop biological ageing, but we can decrease the effects of UV damage.
The quickest and easiest solution would be to apply sunscreen on your skin regularly that will act as a barrier to the ultraviolet radiation. Physical sunscreens usually sit on the surface of the skin and employ the use of mineral filters such as titanium dioxide and zinc oxide to block or scatter the UV rays. In contrast, chemical filters work by absorbing the UV rays, breaking them down and releasing them as heat.
Physical UV filters are proving to be more popular than chemical filter sunscreen nowadays as they are less irritating on sensitive skin. However, the texture of ordinary physical sunscreens tends to be heavier and thicker compared to chemical sunscreens, leaving your skin feeling sticky and uncomfortable after application.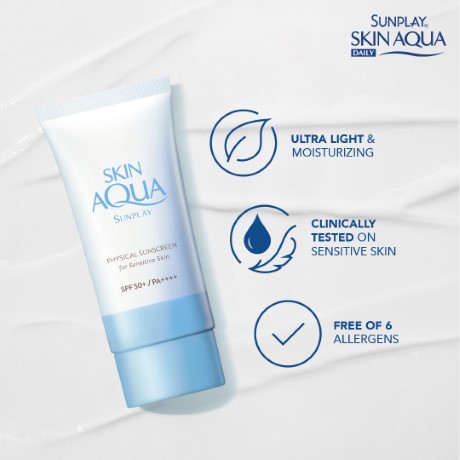 Leading Japanese sun care brand Sunplay has introduced Sunplay Skin Aqua Physical Sunscreen SPF50+ to protect your skin effectively while you work and play. Thanks to its innovative InvisShield Technology, the ultra-lightweight non-greasy texture of the sunscreen spreads easily and is absorbed into the skin without leaving any residue or white cast.
Sunplay Skin Aqua Physical Sunscreen SPF50+ provides 100% broad spectrum SPF50+ PA++++ with UVA and UVB protection suitable for sensitive skin. It contains ceramide and natural botanical extracts to strengthen skin's natural barrier for better hydration, soothe redness and prevent dryness caused by sun exposure to ensure your skin maintains its radiance and youthful appearance.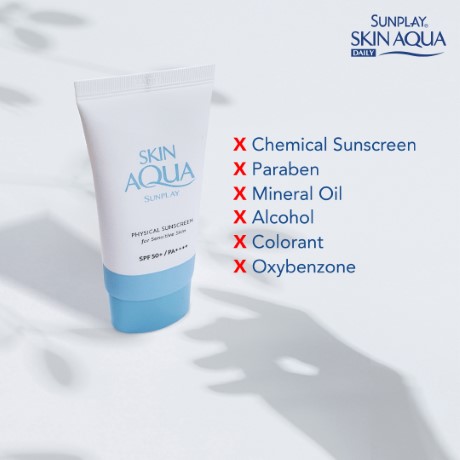 Another factor to consider is the long hours of mask-wearing these days which may cause skin irritation and under these challenging conditions, Sunplay Skin Aqua Physical Sunscreen SPF50+ is the best choice as it is designed to be safe and gentle for even the most temperamental skin. Sunplay Skin Aqua Physical Sunscreen SPF50+ is free from 6 key irritants; it is alcohol-free, paraben-free, colourant-free and oxybenzone-free, and has no mineral oil or chemical filters.
Now you have no excuse to forget your sunscreen when you go out! Sunplay Skin Aqua Physical Sunscreen SPF50+ is suitable for all skin types, and has been clinically tested on sensitive skin. Retailing at RM78.90, it is available at leading pharmacies and supermarkets.