Stroll-Along These 6 Beaches In Selangor As Your Weekend Leisure!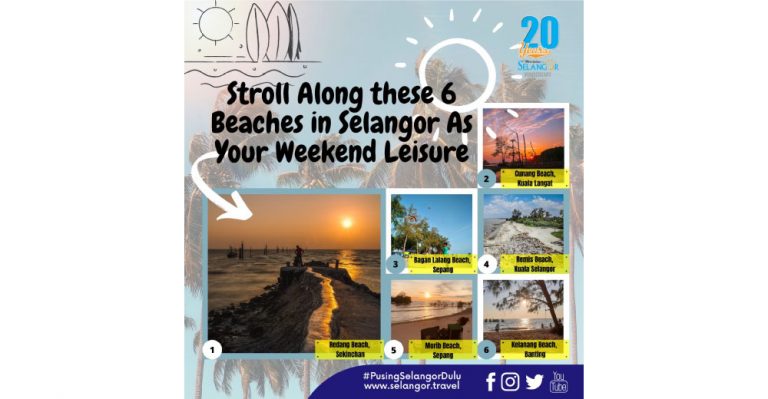 Relax and Enjoy Sea Breeze and Views
with Your Loved Ones!
The State of Selangor has finally entered Phase 3 of the National Recovery Plan. Certainly, many of us are currently looking for a holiday destination to visit with our friends or family members, particularly to satisfy our longing to witness the beauty of a sunset. Individuals who have completed two doses of the COVID-19 vaccine are allowed to engage in tourism activities in the State of Selangor. Plan your weekend getaway by visiting the beaches listed below!
1) Remis Beach, Kuala Selangor
Remis Beach is a 20-kilometer stretch of land in Kuala Selangor's Southern District, located in the Jeram mukim. Following the announcement of the State of Selangor's admission into Phase 3, it is reported that Remis Beach is "back in business". Remis Beach is one of the most popular eco-tourism destinations that is increasingly-favored by the public. Remis Beach is often crowded with visitors who want to enjoy fresh seafood such as grilled fish, and boiled and grilled mussels while relaxing with family members and friends.
2) Kelanang Beach, Banting
Let us explore what makes Kelanang Beach so unique! The beach is located not far from the Morib Beach. Kelanang Beach offers you a breathtaking view of the Straits of Melaka sea surrounded by the mangrove and ru trees. The beach also offers stunning sunset views accompanied by the roar of cool breeze, ideal for flying a kite high up in the air. If you are taking your children with you, do not worry as the facilities such as the playground is available here for your children's fun-time.
3) Cunang Beach, Kuala Langat
Probably not so many people are aware of the existence of the Cunang Beach; a relatively-hidden but very spectacular beach located at Tanjung Sepat. Cunang Beach with its mesmerising white sand which runs along the mangroves area, is run and managed by the indigenous community of Mah Meri. It has recently-turned into one of the most popular tourist destinations in Selangor, where it is complemented by traditional houses, colourful decorations and handicraft shops. In addition, you can also do various activities such as fishing and cycling on this beach.
4) Bagan Lalang Beach, Sepang
Located about an hour's drive from Kuala Lumpur, Bagan Lalang Beach is located in Sepang District. It is a holiday destination well-loved by families with children, and youngsters. Do not miss the opportunity to take a walk on the shore up to 400 metres in distance during low tide. This is the best time to take your little ones to see roaming baby crabs on the sand. Apart from that, the beach is also very popular with volleyball, beach soccer and barbecue activities. It is undoubtedly a must-visit beach to those who love to enjoy the peace which the oceans bring.
5) Redang Beach, Sekinchan
If you are in Sabak Bernam District and want a switch from the scenery of the famous paddy fields here, why not take experience from the lifestyle of the fishermen community in this area? What's more fun is, Redang Beach is conveniently-located to several seafood restaurants, where you can enjoy a wide variety of fresh seafood! Recreational facilities are also widely-available to visitors such as benches and gazebos.
6) Morib Beach, Banting
Did you know Morib Beach has a coastline of about 3 kilometers? Morib Beach is located in Kuala Langat District,  about an hour's drive from Klang District. Beach activities such as beach soccer, volleyball, and kite-flying are highly popular at the beach. Alternatively, you can also pick up shells or baby crabs that roam around while waiting for the ocean's water to to creep-up the shore. It is indeed a very ideal destination to visit with your loved ones.
Who says Selangor does not have amazing beaches? Spend your weekend at one of the above-mentioned beaches. Not only can you enjoy breathtaking sunset views, but you can also utilize the facilities available on the beach or enjoy fresh seafood. So, if you are still unsure on where you want to head to this weekend; hit the beaches in Selangor!
However, it is to be reminded to always adhere to the standard operating procedures (SOPs) set by the Malaysian National Security Council, such as ensuring social distancing, wearing face mask at all times in public, and applying hand sanitizer regularly, especially when entering premises in the State of Selangor.
You may log on to Tourism Selangor's official website, www.selangor.travel for inspiration on your travel to Selangor, or follow Tourism Selangor's official soocial media accounts; Instagram, Facebook, Twitter, TikTok, and Tourism Selangor's YouTube channel to stay inspired! #PusingSelangorDulu!
For more information, please log on to the official website of Tourism Selangor at Selangor.Travel.