STRIP Celebrates its Sweet Sixteenth Anniversary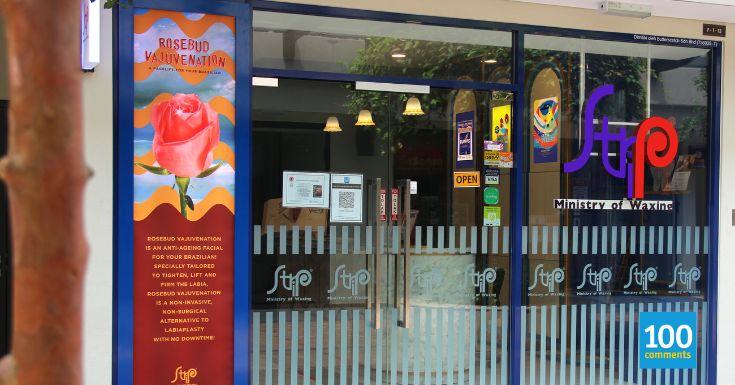 Pioneering innovative and complete intimate care in leaps and bounds
Sixteen years of delivering stellar intimate care services and taking the reins at keeping abreast of the latest in vulva care technology, are just some of many reasons for a celebration at STRIP. Being dedicated from the very beginning to quashing misconceptions surrounding the subject of vulva care and boosting consumer confidence in the empowering marvels that come with such ultimate self-care, to be the sweet sixteen vulva care specialist is nothing short of a triumph.
From the point of STRIP's arrival in Malaysia from Singapore where it was founded in 2002, the intimate care specialist brought about many firsts. This includes being the first dedicated hair removal salon in Malaysia, having uniquely designed outlets instead of a one-size-fits-all décor, being the first in this industry to practice the No Double Dipping rule and introducing the sealed personal STRIP Hygiene Pack. The latter two are part of STRIP's HSQ mantra – Hygiene, Speed, Quality – which remain at the core of how STRIP functions and its products, treatments as well as the dedicated training that the therapists undergo in efficiency and techniques. It has to be observed too that the nine spacious outlets, each with sizeable treatment rooms for both the patron's and therapist's ease, are befitting of the current climate which advises minimal closeness between persons.
Since then, it's no holds barred for STRIP in its quest to bring the latest and most advanced technology in its treatments. By pushing the boundaries, STRIP has revolutionised how women and men groom and care for themselves, not only to look good but beyond that, to moot self confidence and feel great. With a keen ear on what the industry needs and what the market wants, the years of expertise flourished and today a comprehensive range of services and products are available at STRIP to address intimate care needs.
The latest in technology is seen in the superior long-term hair reduction treatment, AFT (Advanced Fluorescence Technology), the first of its kind revolutionary vulva care, Rosebud Vajuvenation, and the body contouring treatment for the stomach, lower back, love handles, bottom and thighs, Thermal Shape; all of which use machines that are proprietary to STRIP and are comfortable, non-invasive, with zero downtime and effective.
To ensure that the thorough care and kindness to the delicate vulva skin goes even beyond the salon, the global authority in vulva care that is backed by 20 years of industry, has developed the world's first luxury intimate care brand, TWO L(I)PS, that can address various skin concerns. This skincare collection disrupts and redefines the intimate care space with cutting-edge products, is formulated by a dedicated team, are without sulphates and parabens, and they are dermatologically and gynaecologically tested. The debut product in this range is a clever statement in itself – Blackout – possibly the world's first activated charcoal mask for the vulva.
Not to be forgotten are STRIP's own blend of wax that incorporate skin-loving ingredients and intriguing scents, such as the Chocolate Berry, and the various seasonal wax such as Vanilla Cupcake, Strawberry, Desert Rose, Cherry, Gingerbread and Forest wax that were introduced over the years, to show that waxing can be a delightful experience.
"STRIP Malaysia is extremely proud to be marking our 16th anniversary, a significant milestone to achieve despite the immensely trying times that all of us experienced over the past two years. When we opened the first STRIP Malaysia outlet in July 2006, also the first STRIP outlet outside of Singapore, the hair removal scene here was almost non-existent. To establish a beauty salon that is fully dedicated to hair removal was a bold move for such times, and with the support from the team in Singapore, the fresh concept and treatments we introduced were well embraced," said Pua Lee Lan, Managing Director of STRIP: Ministry of Waxing, Malaysia. "It is particularly exciting to celebrate this anniversary as the future for our offerings in premium and hygienic intimate care continues to look bright. We also take this opportunity to thank all our patrons, from yonder years and now, for their steadfast trust in us."
Now sweetly and proudly sixteen, STRIP calls on both existing patrons and those desiring an introduction to the STRIP experience, to explore the many reward opportunities that are happening from now until 30 September 2022 as part of its birthday bash.
The treats are vast and varied. There's the crowd favourite Spin-The-Wheel conducted easily online to offer free treatments, discounts of up to 80% as well as one-off rock bottom prices. Sixteen marks the years, and so, the 16th of July, August and September will see believe-it-or-not one day deals at all the STRIP outlets. Believe it when these are announced on STRIP's online spaces ahead of the dates. Fancy a whole year's free Brazilian or Boyzilian Waxing treatments? With a minimal spend during the three months, entries to a 16th Lucky Draw will place chances at scoring this prized win, and there's three of this to be won when the draw is made in early October. These are just some of the celebratory rewards worth a total of more than RM750,000 that await everyone who is motivated towards reaping the benefits of STRIP's expertise.
Terms and conditions do apply for all the reward offers. Stay connected with STRIP and keep informed of the ongoing sixteenth anniversary deals on https://www.facebook.com/StripMalaysia/ and instagram.com/stripmalaysia, where announcements are being made randomly. Visit http://www.strip-my.com/ to learn more about STRIP's treatments and products.
To go down memory lane and experience how it all began sixteen years ago, the price of RM16 for one a la carte Waxing treatment is offered with a minimal spend, applicable during the anniversary celebration from now until 30 September, at any STRIP Malaysia outlets.
Enjoy the benefit of a STRIP experience by booking a treatment session with their Call Centre via:
WhatsApp: 012-9286 310;
Calls: 03-2201 6310 / 6311; or
Emails: info@strip-my.com.