Stars to Shine at Inaugural ACE Malaysia Squash Cup 2023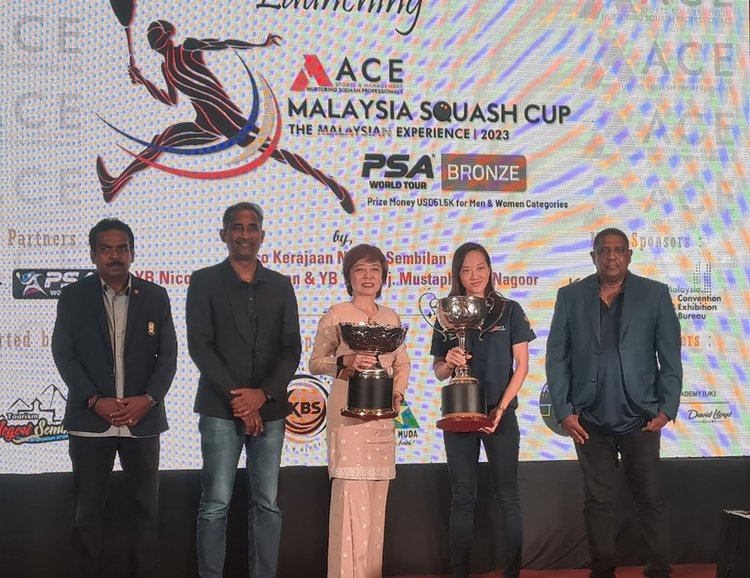 Squash fans are in for a thrilling showdown on the courts this November as the ACE Malaysia Squash Cup 2023 debuts. This Bronze Level tournament promises a five-day extravaganza featuring international squash sensations Mostafa Asal, Nour El Tayeb, and reigning World Junior Champion Amina Orfi.
Organised by ACE Sport and Management Sdn Bhd, the exclusive rights holder for the PSA World Tour Series – Bronze Level, this competition will firmly establish Negeri Sembilan as Asia's premier squash destination.
ACE Sports & Management CEO Chandaran Munusamy stressed the tournament's significance for local and regional players, addressing the challenges faced by aspiring professionals.
Chandaran stated, "The ACE Malaysia Squash Cup aims to bridge this gap by bringing international squash to Malaysian shores, starting right here in Seremban."
He emphasised, "This event is about shaping a new generation of confident, skilled professional players, giving them a chance to boost their PSA rankings. More importantly it will create the right ecosystem to nurture talent beyond the junior level."
Drawing players from over 20 nations, the ACE Malaysia Squash Cup 2023, will run from 6th to 10th November.
Simultaneously, the 13th leg of the PSA WSF Satellite Series Tournament will run from 8th to 10th November at the same venue, with an anticipated audience of over four thousand spectators for both tournaments.
The action-packed tournament unfolds at Negeri Sembilan's state-of-the-art squash courts at the Dato' Hj Mohd Said Sports Complex.
Both finals will be held on the new glass court within the state's modern squash complex.
Wednesday's event was launched by State Tourism Exco, YB Nicole Tan Lee Koon, at the Klana Resort, Seremban.
She envisioned the tournament as a catalyst for tourism and a symbol of sporting excellence and hospitality, anticipating global attention through broadcasts on Astro Arena and Squash TV.
"Sports is a wholesome activity which promotes a healthy lifestyle and an international event like this will garner attention to what our state can offer in sports tourism," said YB Nicole.
Spectators can anticipate a carnival-like atmosphere, and junior squash players will benefit from squash clinics offered by partners Faragallah Squash and Fitness Academy (FSA) from Cairo, Egypt.
The launch was also witnessed by His Excellency Ragai Tawfik Said Nasr, Egyptian Ambassador to Malaysia.
Malaysia's Low Wee Wern, ranked 62nd in the world, expressed enthusiasm about sharing the stage with promising young talents, especially in the satellite event.
"This is a unique opportunity for young players to shine alongside world-ranked players, especially those playing the satellite event," Low said.
Mustapha Nagoor, State Exco of Negeri Sembilan Youth & Sports, reaffirmed unwavering support, solidifying Negeri Sembilan's position as a squash hub in Asia. "We have the space, the facilities and the right people working to host these international tournaments. We will do our best to boost Negeri Sembilan squash."
The Bronze Level tournament with a prize money of USD 51,500 will be broadcasted on Astro Arena and Squash TV's online platforms, with a dedicated PSA media team covering the event on their website and social media.
For more information about the PSA WSF Satellite Tournament, please visit:
https://acemalaysiasquashcup.com/
and for live streaming of the matches, follow their social media links:
https://www.instagram.com/acesportsmgmt/
or