SRI KOTA LAUNCHES ITS FIRST-EVER KIDS CLUB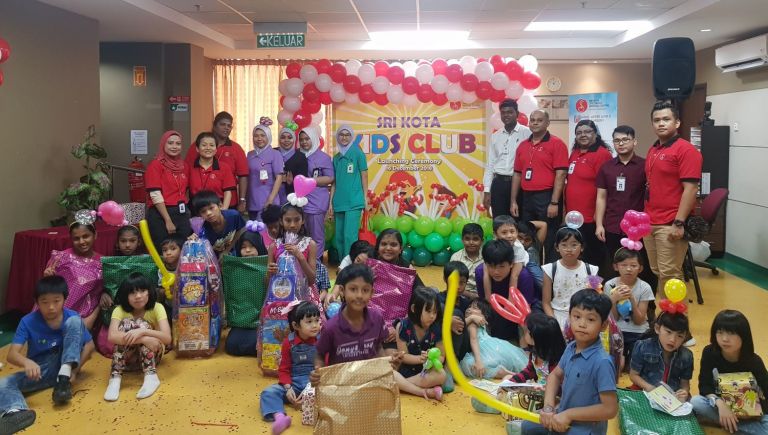 Klang, 16 December 2018 – Sri Kota Specialist Medical Centre opened their doors to a large number of young citizens today, as the hospital officially launched its Sri Kota Kids Club, where kids can go to learn and discover healthy fun every time they visit Sri Kota.
The fun-filled launch, officiated by Sri Kota's Hospital Director Madam Tan Suet Guan, together with the Consultants Pediatrician, Dr. David Foo & Dr. Diana Osman, and Consultant O&G Dr. Vidnodhini saw children bonding with their families through various activities. "In conjunction with our upcoming 20th anniversary celebration, Sri Kota is extremely delighted to present the Sri Kota Kids Club for our young patients, offering them the opportunity to enjoy exceptional benefits in our hospital.
"Playtime is one of the most powerful tools to inspire creativity. It will help in building a long-lasting and meaningful impression with today's parents and tomorrow's citizens, while creating memorable events and positive engagements with our hospital. Sri Kota aims to provide high quality play and care for our patients and their families beyond just a typical hospital visit", said Madam Tan, Hospital Director of Sri Kota.
Children aged 12 and below, who were born in Sri Kota, will be able to become members for the Sri Kota Kids Club, where they can redeem exclusive benefits. The Club membership benefits include inpatient discounts for room and hospital charges, outpatient discounts for Sri Kota's wellness screening program, medication, as well as, physiotherapy and laboratory services.
The joyous occasion also welcomed the children from Good Samaritan Home, a non-profit organisation that was set up to provide assistance and support for orphans, as part of Sri Kota's corporate social responsibility (CSR) initiative.
A carnival atmosphere was brought to life exclusively for the launch, where the children participated in entertaining activities including an exuberant aerobic exercise session lead by their very own physiotherapy team along with a clown act, magic show, face painting, colouring, balloon sculptures, sand play, as well as an interactively-educational hand hygiene demonstration. Parents also participated in informational health talks covering the topics of "Acute Bronchitis and Bronchiolitis in Children" by Dr. Diana bte Osman, Consultant Pediatrician &"Healthy Eating for Children" by Ms. Louisa Low, Dietitian. The day ended with a lucky draw, where exciting and exclusive prizes were up for grabs, and many more.
Sri Kota Specialist Medical Centre is committed to delivering the best healthcare services, through providing excellent customer-friendly personnel, invaluable service and the motivation to inculcate and nurture a healthy environment within the society. With the launch of the Sri Kota Kids Club, the hospital looks forward to organise exciting and sustainable activities for children and their families, making every visit to Sri Kota even more enjoyable and experiential.