Soothe Sensitive Skin with Ceradan Skin Barrier Repair Cream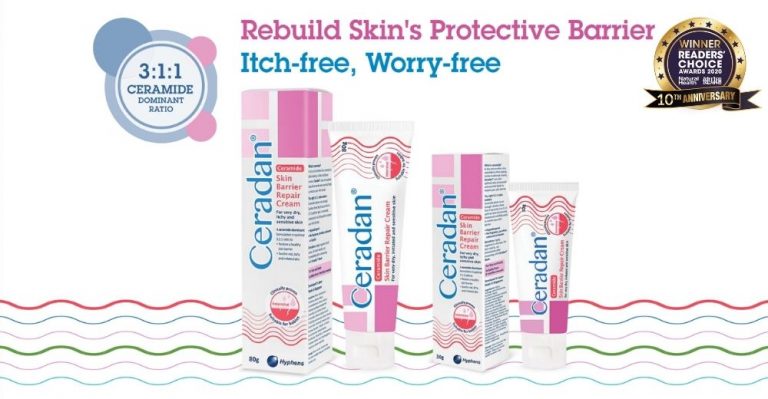 A person's skin can become sensitive for a variety of reasons. Common reasons range from external factors such as temperature fluctuations to internal causes like hormonal changes. While certain people are more susceptible to the skin disorder, it can strike at any stage in a person's life and appear at anywhere on the body. In short, dry, sensitive skin can happen to anybody.
Healthy skin has a natural barrier function that minimises water loss while also protecting the underlying layers from irritants. Dry, sensitive skin, on the other hand, has a weakened barrier. Symptoms of the sensitive skin include scaly, irritated, itchy, dry, or rough skin, accompanied by itching, tingling, burning, or a feeling of tightness.
If the symptoms are not addressed, they can cause skin to become excessively dry and rough. A lot of elements can cause skin sensitivity including hot showers, harsh body products, sun exposure, sweating, and air conditioning.
Even washing with soap and hot water or using alcohol-based hand sanitisers on a regular basis as everyone is doing during the pandemic can cause skin sensitivity. The frequent handwashing can disrupt the skin's pH levels and strip the skin of essential oils, compromising the skin's barrier. A compromised barrier can eventually lead to increased skin sensitivity, contact dermatitis, and dry, rough skin. Scratching the itchy areas would lead to further damage to the skin barrier.
Say Goodbye to Itchy, Scratchy Skin
Thankfully, there is an effective way to soothe sensitive skin. Ceradan Skin Barrier Repair Cream is a scientifically formulated ceramide-rich moisturiser with a 3:1:1 ratio of essential skin lipids (ceramide, cholesterol, and free fatty acids). Ceradan maintains this ratio to keep the skin moisturised while optimally restoring the skin barrier.
Ceradan® was founded in 2011 and has since grown to become a top Singapore skincare brand with a presence in ten Asian and Middle Eastern countries. Ceradan® is the #1 Top-of-Mind Moisturiser Brand among Singapore's private dermatologists and is trusted in many households.
So, if your skin feels itchy, dry, and flaky, then it is time to use Ceradan Skin Barrier Repair Cream. Clinically proven to rebuild the skin's protective barrier while protecting against irritants, this intensive repair cream is suitable for dry, and sensitive skin.
Studies have shown that a ceramide-dominant formulation with the proper balance of vital lipids, combined with the use of topical anti-inflammatory or steroid creams when necessary, is a successful long-term management strategy for dry and sensitive skin. As sensitive skin frequently occurs in young children, using Ceradan Skin Barrier Repair Cream may aid in minimising reliance on steroid-based treatments.
It is recommended to use Ceradan Skin Barrier Repair Cream twice daily on all areas of the body, including your face to prevent further damage from skin-drying factors and speed up recovery time. This cream quickly penetrates into the skin and helps keep your skin moisturised all day long.
Ceradan Skin Barrier Repair Cream has recently won the Natural Health Reader's Choice Awards for Skin Repair Cream (Sensitive Skin).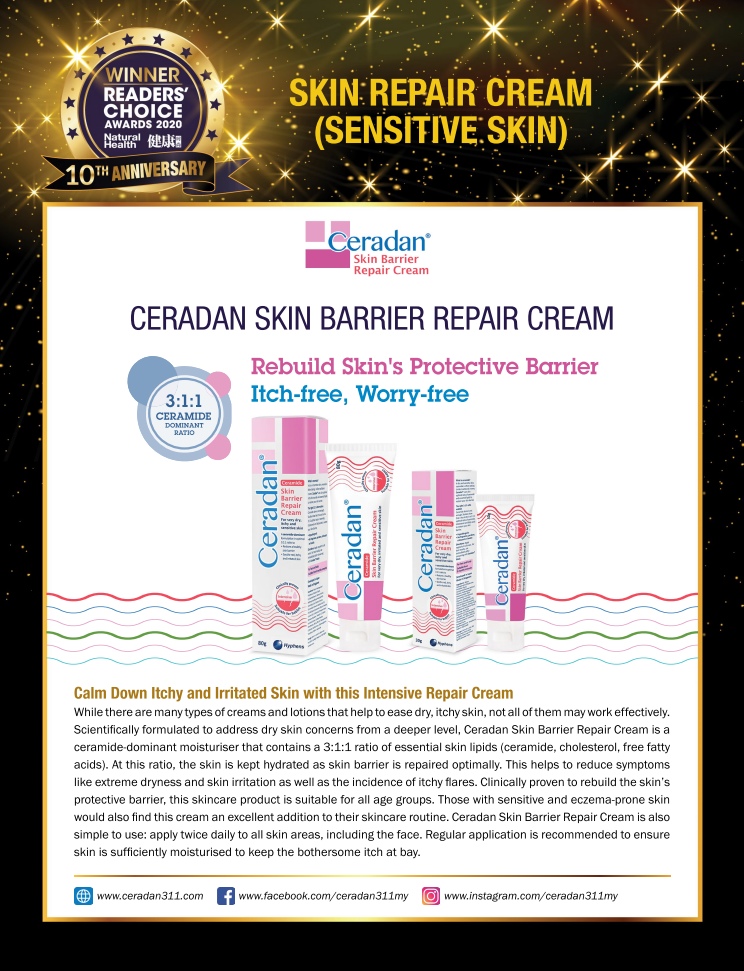 If you love Ceradan Skin Barrier Repair Cream, leave a review here. For more information, visit their website, Facebook and Instagram pages.