Sensitive Skin Care All Year Round With derma365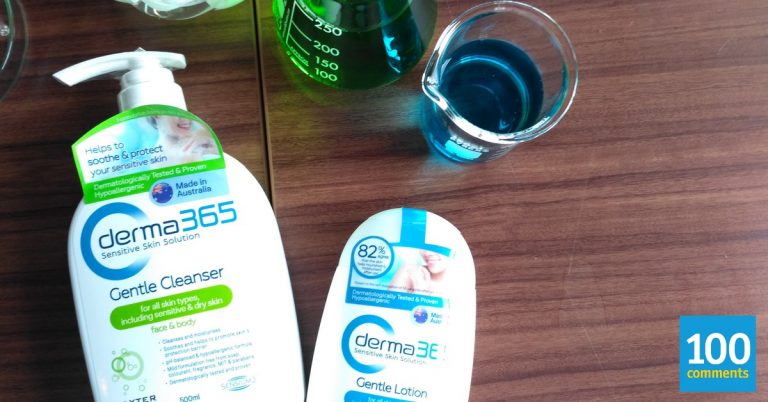 We battle with environmental factors day in and day out, be it air pollution, drastic temperature changes from dry air-conditioned spaces to the hot and humid outdoors. Coupled with the lack of hydration, our skin can become sensitive, showing signs of tightness and dryness. Thankfully, the new derma365 line by Guardian Malaysia comes to the rescue, offering a Gentle Cleanser and Gentle Lotion that are suitable for all skin types, including dry and sensitive skin.
Clinically Tested & Dermalogically Proven
derma365 is specially formulated as a tested and proven solution for daily sensitive skin care for the whole family. The derma365 Gentle Cleanser and Gentle Lotion are pH-balanaced and hypoallergenic to soothe the skin and protect it from environmental damage. All derma365 products are gentle to the skin and are free from soap, colourant, fragrance, MIT, parabens, lanolin, animal-derived ingredients, mineral oil, SLS and SLES. They are suitable for daily use, 365 days a year.
In the media launch event, we tested the pH levels of these amazing products and saw that they are indeed pH-balanced as compared to liquid soap and bar soap which are very alkaline, and therefore drying to the skin.
The derma365 range is developed by Baxter Laboratories in Australia, which is known for its superior knowledge and commitment to unique skin needs. All the products are formulated according to a strict charter and quality standards.
Combining The Best of Nature & Science
derma365 combines the power of nature and science with Sensium 2, a multi-benefit complex that helps soothe and protect sensitive and dry skin. It also contains organic Colloidal Oatmeal and Trimethylglycine that helps to promote skin's protection barrier and protects it from the harsh external environment.
Trimethylglycine helps to control water balance in skin and helps to guard against dehydration for soft and smooth skin. Colloidal Oatmeal has been used for ages as a soothing agent to prevent dehydration. Its high concentration of starches and hydrocolloid β-D-glucan form an occlusive water-binding barrier that holds moisture in the skin. It also acts as a buffer system, helping to restore the normal pH of the skin.
Safe For Daily Use
For best results, consumers are advised to take lukewarm baths or showers using derma365 Gentle Cleanser, followed by the application of derma365 Gentle lotion to the still-damp skin to moisturise the skin.
derma365 is available exclusively at Guardian from March 2018. derma365 Gentle Cleanser is priced at RM48.90 for 500ml while derma365 Gentle Lotion is priced at RM34.90 for 200ml.