Say No To Puffy Eyes With These 10 Phenomenal Eye Cream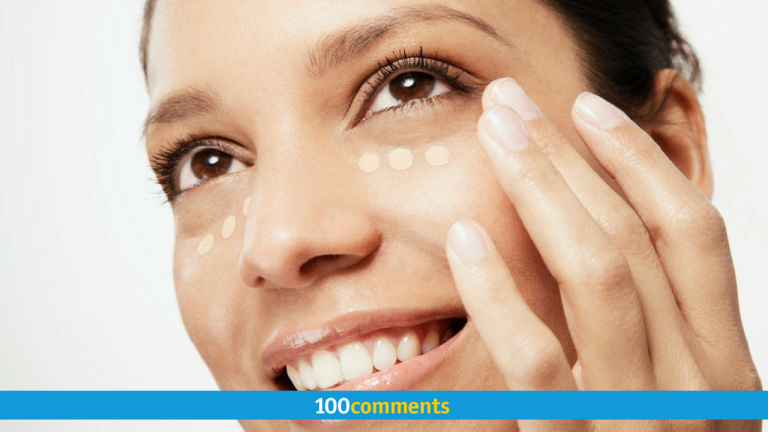 Puffy eyes or dark-circles are girls' biggest enemy. There are certain reasons why you get puffy eyes such as sleep disorder, period cycle, perfume, sugar intake, diet habit and sometimes medications. You can try various ways to reduce puffiness around your eyes and the simplest remedy is by drinking more water. Apart from that, you can undergo cosmetic surgery but it will cost you a fortune. Fret not, we have compiled 10 phenomenal eye creams that you can buy to get rid of puffy eyes.
1. LANEIGE Water Bank Gel Cream_EX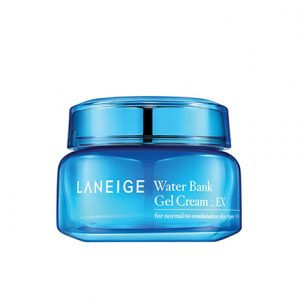 LANEIGE Water Bank Gel Cream_EX is a moisturizing eye gel that helps to reduce under-eye puffiness and soothe tired eye area by releasing stress and tension. Your skin can be moist at all times with the help of Water Bank. Hydro Ion Mineral Water contained in this eye cream helps reduce skin surface temperature by 2.4°C, supplying skin with moisture immediately upon application. In addition, polysaccharides extracted from cypress trees that grow in cold climates keep skin soft while the gel cream reacts to excess sebum to keep skin shine-free. For more info and reviews about this product, click here.
2. KOSE Sekkisei Eye Cream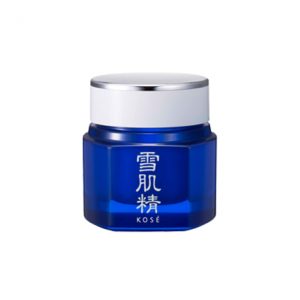 KOSE Sekkisei Eye Cream is a highly concentrated eye cream containing a combination of oriental herbal extracts envelope and illuminates the delicate skin around the eye. Specially formulated concoction for the delicate eye area that boasts impressive anti-ageing and moisturizing properties. It also promotes blood circulation and gets rid of the dullness around the eyes. Plus, KOSE Sekkisei Eye Cream reduces fine lines and firms the skin from within. It has a high-affinity with skin and penetrates deep into the skin to keep it hydrates. Click here to read reviews.
3. Cosrx Honey Ceramide Eye Cream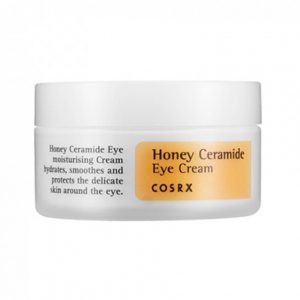 Using all-natural ceramides and Manka honey as key ingredients, the Cosrx Honey Ceramide Eye Cream is made to replenish moisture around the eyes while restoring firmness without the heaviness of a generic eye cream. It has a smooth, silky texture and is great for sensitive and dry skin as well. This cream works to hydrate, moisturize, and strengthen the moisture barrier of the sensitive skin around the eyes. This lightweight, the silky formula also brings anti-aging ingredients to stimulate cell growth and reduce wrinkles while restoring firmness. Need more information before buying this product? Read here.
4. Murad Renewing Eye Cream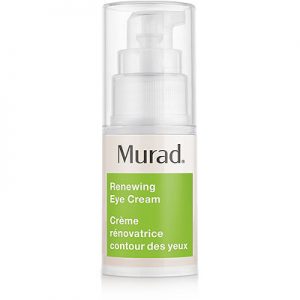 Murad Renewing Eye Cream firms, brightens, and hydrates to minimize signs of aging at the delicate eye area. Youth-building peptides and retinol support natural collagen and reduce the appearance of medium to deep wrinkles. Formulated with an eye-brightening complex that helps reduce dark circles and under-eye puffiness while illuminating the eye area to refresh skin's natural glow. Phytoestrogens, including iris root extract, improve elasticity and help smooth skin. Have you tried this product before? Share your personal feedback here.
5. Clinelle Eye Bright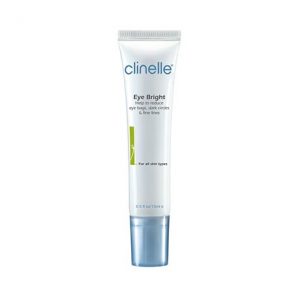 Clinelle Eye Bright is an oil-free hydrating fluid formulated with botanical ingredients to instantly improve skin hydration while reducing fine lines and wrinkles. Contains superior hydrating ingredients to intensively restore and maintain optimal hydration in skin. This multi-function eye cream repair, refine and reshield your eyes. Packed with borage oil to restore moisture and repair dry skin. Bio Phytex, on the other hand, soothes and protects the skin from damaging environmental aggression. Read more reviews from other shoppers here.
6. Jurlique Herbal Recovery Eye Cream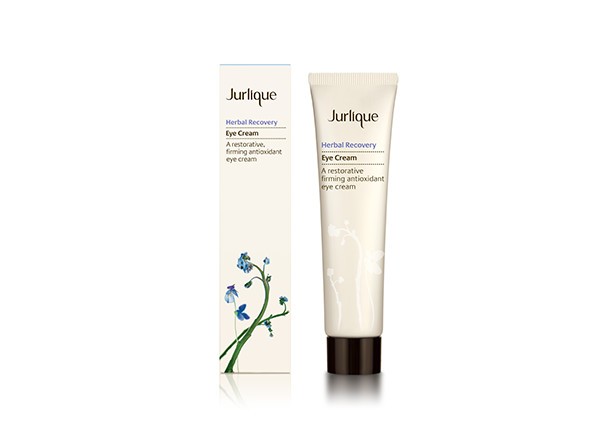 Jurlique Herbal Recovery Eye Cream is a lightweight cream that works to brighten, hydrate and revitalise the delicate skin around the eye area, while improving firmness and nurturing and protecting the eye area from free radicals and environmental aggressors. The cream is ideal for tired eyes, because of its instant cooling effect. It contains arnica extract, cucumber extract as well as natural antioxidants and Australian native flowers such as grevillia speciosa, banksias errata and anigozanthos manglessii. Click here to read reviews.
7. The Body Shop Oils Of Life™ Intensely Revitalising Eye Cream-Gel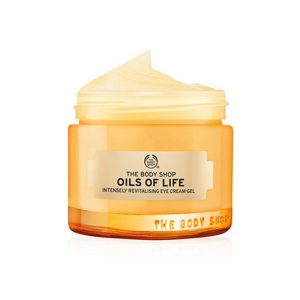 By infusing three precious seed oils known for their revitalising and repairing properties into an ultra-light and airy smoothing texture, The Body Shop created Oils Of Life™ Intensely Revitalising Eye Cream-Gel to revitalise the eye contour and visibly reduce signs of ageing. It helps to make your eyes looks smoother, diminish dark circles, lift your eyes and reduce wrinkles. This amazing eye cream works wonder with a consistent application. Click here for more reviews.
8. Clarins Super Restorative Total Eye Concentrate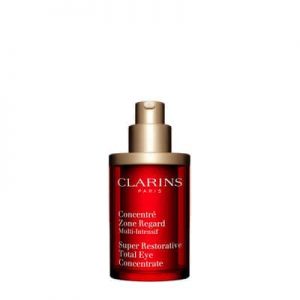 Clarins Super Restorative Total Eye Concentrate powered by organic harungana, a powerful regenerating properties which encourages reforestation by colonizing barren soils in Madagascar and Africa. The orangey-red sap of the plant is used to soothe skin conditions. It perfectly works on all visible signs of skin-aging, from deep wrinkles, crow's feet, puffiness and dark circles. Packed with Albizia, a bears silky feathery flowers to protect the walls of blood vessels to promote firmness and radiance. Read more reviews from those who have tried this product before by clicking here.
9. Skeyndor Lift Definition Eye Contour Cream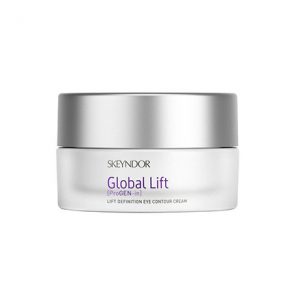 Skeyndor Lift Definition Eye Contour Cream is an eye contour cream based on anti-age technology [ProGEN-in], a combination of progressive firming active ingredients and agents that eliminate dark circles and eye bags. This Skeyndor eye contour cream is formulated with a combination of firming ingredients and agents that help minimize dark circles and under eye bags. It contains [ProGEN-in] technology, Alaria seaweed extract, buckwheat and reaffirming anti-wrinkle lipopeptide. A firming anti-wrinkle and decongestant treatment specifically for the skin in the eye contour area. Leave your review here.
10. SKIN DOCTORS Eyecircle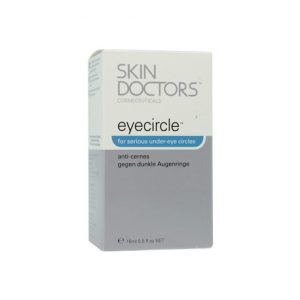 SKIN DOCTORS Eyecircle is for serious under-eye circles. Contains the peptide Haloxyl that has been clinically proven to reduce the appearance of dark circles. It works by neutralising the appearance of dark pigmentation. It also contains a blend of natural vitamins, moisturisers and skin brighteners to help nurture and brighten this delicate area. Results can be seen in as little as 30 days! Read more reviews here.
Now you have the solution!
Whether your baggy eyes are due to a long night with no sleep, a much-needed cry, or just the daily stress of life, these phenomenal eye cream will work wonders!