Say Goodbye to Congested Nose with STERIMAR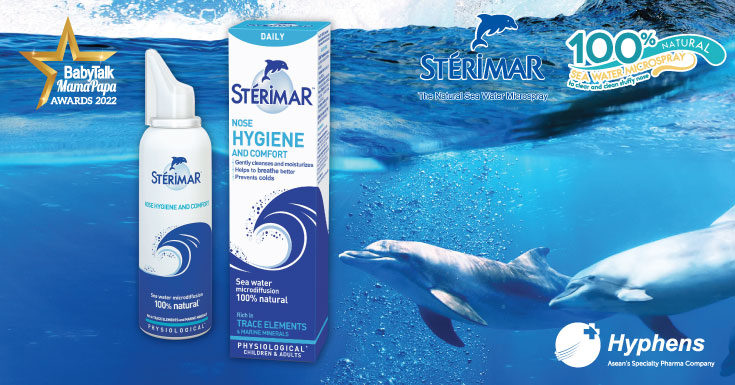 Everyone experiences nasal congestion at one point or the other. It can be triggered by a number of factors; environments that are polluted, humid, dry, or overheated, certain foods or drinks and a number of viruses and bacteria. Then there's the outbreak of Covid-19, which has been a traumatic event for people across the globe over the past few years. To protect ourselves, we have had to resort to using hand sanitisers, wet wipes, and masks, which can sometimes cause congestion or other respiratory problems.
Severe congestion in the nose can inhibit a person's ability to breathe, even during normal activities such as sleeping and conducting conversations at work. This leads to potential hours of unproductivity. There are many medications for relieving nasal congestion, including decongestants and antihistamines, but even over-the-counter medications can have undesirable side effects caused by steroids, drugs or preservatives. Thanks to the all-natural nasal spray, Sterimar Nose Hygiene and Comfort, you no longer need to suffer from a congested nose!
A Gentle and Effective Solution
Sterimar Nose Hygiene and Comfort is a nasal spray made from a seawater solution that is rich in trace elements and marine minerals collected off the coast of Brittany, France. The solution, which has the same amount of salt as human cells, cleans the nose gently and gets rid of airborne irritants like pollen and dust while treating ENT problems like nasal congestion, rhinitis, the flu, and sinusitis.
Filtered, 100% natural and preservative-free, Sterimar sea water benefits from the recognised properties of mineral salts and marine trace elements such as zinc, copper, manganese, iron, magnesium and selenium. Sterimar Nose Hygiene and Comfort is safe and comfortable to use and helps keep the nasal passage clean from airborne irritants while moistening it. It can be used as often as needed – especially when the nose is congested and irritated, during flights or other occasions when air quality may be compromised.
The specially designed nozzle generates a microdiffusion that provides optimum penetration of the active ingredients. This helps maintain the nasal canal clean and moisturised to minimise dryness and infections. Sterimar Nose Hygiene and Comfort includes no nasal pharmaceuticals, steroids, drugs, or preservatives and can be used up to six times per day by adults and children (over the age of three).
Sterimar Nose Hygiene and Comfort was awarded the BabyTalk MamaPapa Awards 2022 as the Best Nasal Spray for Adult.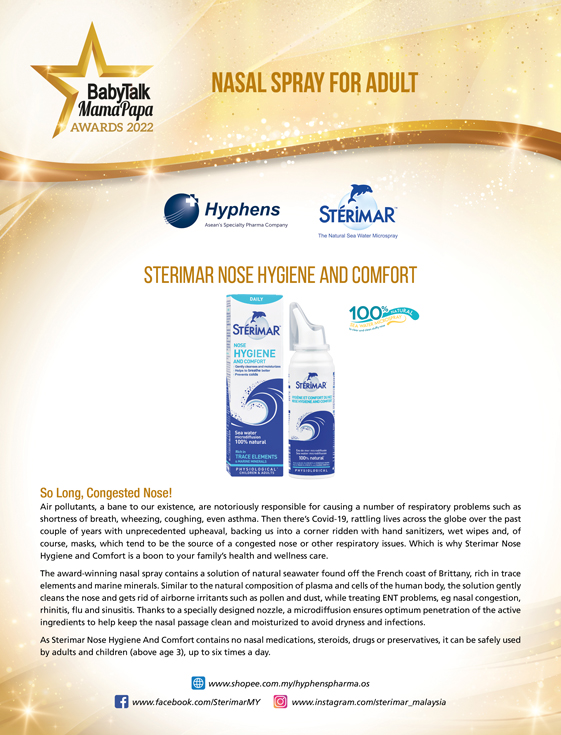 Use Sterimar Nose Hygiene and Comfort regularly to keep the nasal passage clean from airborne irritants and moist to avoid dryness and infections. For more information, visit their Shopee, Facebook and Instagram pages.