Relieve Pain and Tension in Your Muscles with Phiten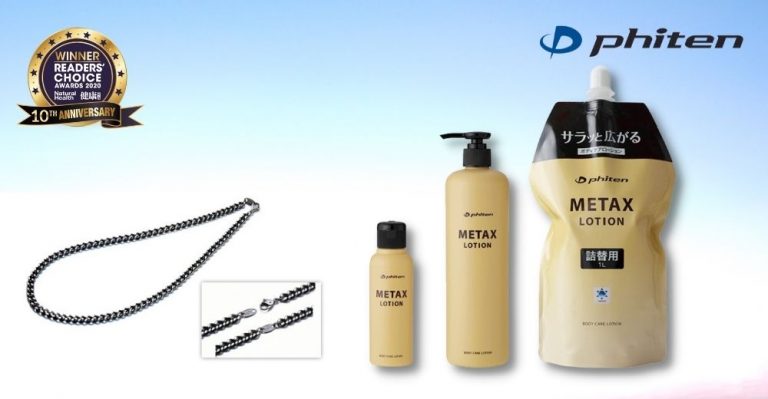 Constant tension and stress are major causes of pain and contribute to many health red flags. With stress increasing and showing no signs of letting up, many users are turning to Phiten Metax Lotion and Titanium Necklaces for relieving the tension and knots on their muscles.
Phiten is one of the leading brands in the field of natural health and wellness. When the Japanese-based company was founded in 1983, the focus was guided by one simple thought: all human beings have an inborn ability to naturally heal themselves. What may surprise many is that this natural state of balance can easily be upset by other factors such as stress or fatigue from an ever-increasing variety of sources, including things we are unaware of.
Phiten products offer a safe and natural alternative for muscle and joint pain relief. Don't let pain keep you from living life to the fullest!
Phiten Metax Lotion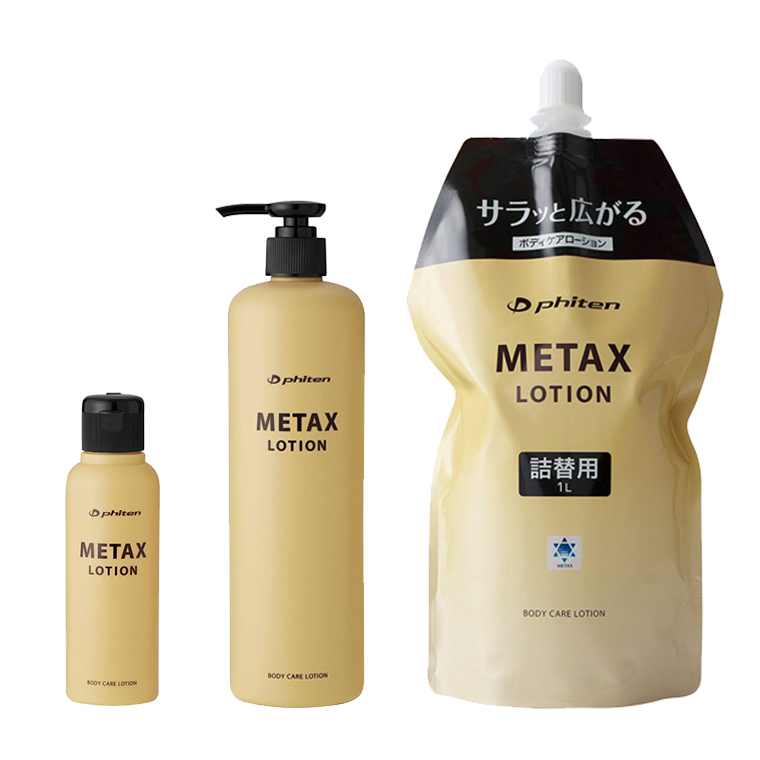 As we go about our daily activities or have an intense workout, it can take a toll on our body. Take a break and give your tired muscles some tender loving care with Phiten Metax Lotion. This lotion alleviates discomfort naturally and effectively without numbing the nerves and causing a dependence on it. Now that's true healing!
You can apply it on almost any part of your body to relieve pain caused by headaches, stiffness, swelling muscles, and other symptoms. You'll enjoy how the lotion feels on your skin because it's non-greasy and leaves it feeling silky and pleasant.
The award-winning Phiten Metax Lotion supports natural healing in your body using scientifically proven technology. Many have attested that pain relief is immediate, thanks to a bioelectric current that is stabilised and naturally relaxes the muscles and body. Phiten Metax Lotion is made in Japan and contains AQUA-GOLD®, AQUA-PALLADIUM®, as well as a variety of ores. Metax Lotion is non-medicated, contains no active ingredients, and has no negative effects on the body. This makes it safe for regular use.
A bottle of 120ml costs less than RM100, making an affordable and effective way to pamper sore muscles. Not only will you experience pain relief, you'll also get muscle recovery and strengthening benefits by using the lotion.
You can even use it around your eyes to reduce tiredness and improve focus. It is truly a multi-purpose product that could be applied anywhere and effective in relaxing and enhancing blood circulation to the relevant areas of your body.
Phiten Titanium Chain Necklace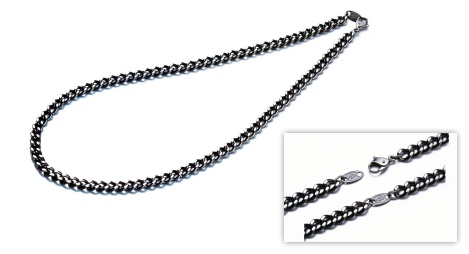 Titanium is generally known as an extremely durable, lightweight, and non-toxic metal, but the Phiten Titanium Chain Necklace takes it to a whole new level. The necklace is composed of 100% pure Titanium that has been "Phiten Processed". It is also coated with a layer of carbonised titanium using a special sputtering process, which makes it more effective. Those with metal allergies can wear it safely.
Made in Japan, the necklace offers all the power of Phiten in a simple and cool new style that everyone will love to wear. The chain and fasteners are also made from pure titanium to complement the minimalist design of the necklace. Wear it proudly in your daily activities such as work or sports, and everyday life while bidding goodbye to muscle aches.
Experience natural healing with Phiten today!
Phiten is the recent Winner of the Natural Health Readers' Choice Awards 2020 for the Best Muscle Relaxing Lotion and Necklace for Natural Healing.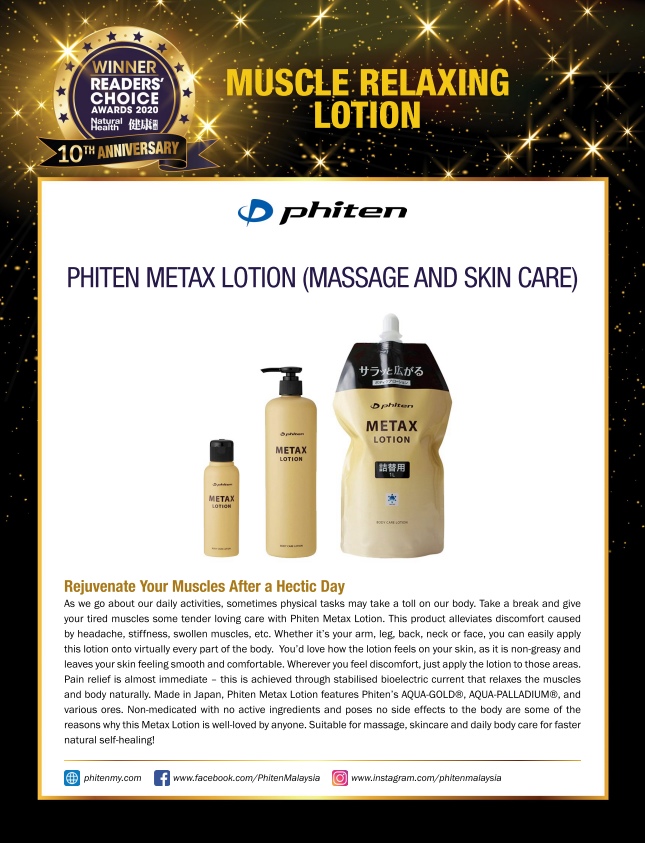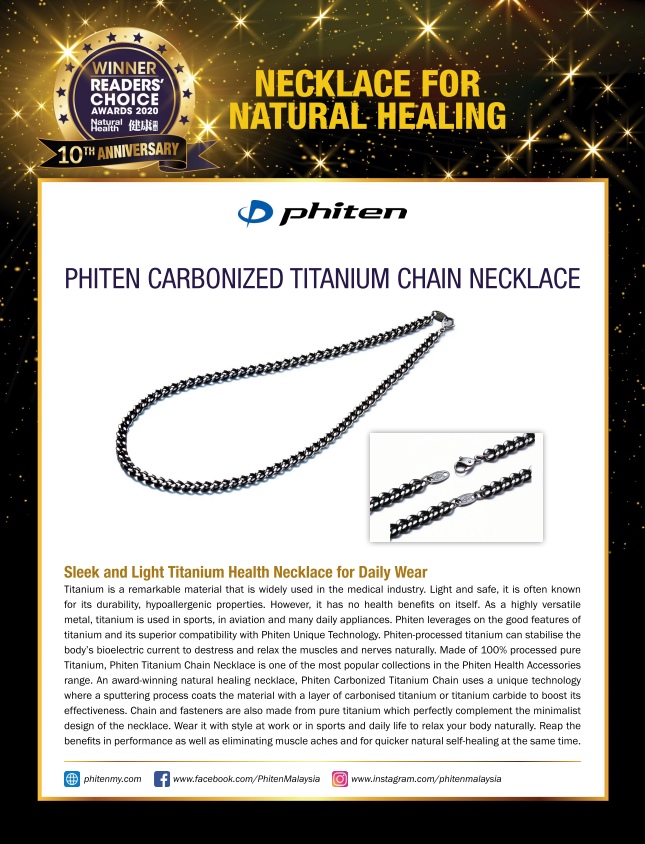 If you love Phiten products, review them Phiten Muscle Relaxing Lotion and Phiten Necklace for Natural Healing. For more information, visit their website, Facebook and Instagram page.