RedONE Takes the Lead in 12-Circuit WSF PSA Satellite Squash Tour to Nurture World-Class Malaysian Players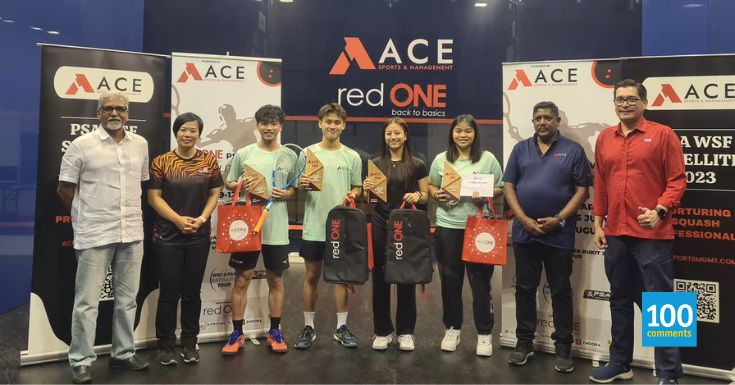 Malaysia is all set to make a mark in the world of squash with the launch of a series of twelve World Squash Federation (WSF) Satellite tour events. These homegrown tournaments aim to elevate the rankings of local players on the international stage, and they are made possible through the sponsorship and support of telecommunications company, RedONE Network Sdn Bhd.
The redONE PSA and WSF Satellite Squash Championships, a 12-circuit tour endorsed by both squash governing bodies, will see RedONE taking charge of all twelve tournaments, providing significant sponsorship money to facilitate their success.
Farid Yunus, the Chief Executive Officer of redONE, expressed the company's commitment to fostering world-class players by allocating funds to enhance the skills and abilities of talented athletes. Currently, redONE sponsors national player S.Sivasangari, who holds an impressive international ranking.
"Many young players who are new to the professional circuit find it challenging to travel to countries like Egypt, England, or Australia to compete and earn ranking points. Therefore, having this championship held in our own country is fantastic. It provides a remarkable opportunity for our players to improve," Farid remarked.
The 12-series homegrown circuit, managed by ACE Sports and Management, commenced in February of this year. Since then, tournaments have taken place in various locations, including Negeri Sembilan, Bukit jalil, and Penang. The most recent competition was held at the Sungai Ujong from 8-11 June in Negeri Sembilan, where Goh Zhi Xuan emerged victorious in the women's category, while Harith Danial claimed the men's title.
Participating in multiple tours is crucial for professional squash players as it allows them to accumulate international ranking points, gain exposure, and earn prize money. These platforms also serve as avenues to attract sponsorships and represent their countries in esteemed international events, ultimately contributing to their career progression and success in the sport.
With ACE Sports & Management securing permission from the WSF to organize these tours, redONE has willingly stepped forward to shoulder the financial responsibilities. Farid highlighted the success story of Malaysia's squash legend, Datuk Nicol Ann David, as evidence that the country has the potential to produce world champions in the sport, provided there is adequate financial support for facility improvements and player exposure.
"We are dedicated to nurturing grassroots talent, especially among young players, enabling them to compete and gain the necessary exposure. Without such efforts, their talent may struggle to flourish," said Farid, who has also served as the President of the Selangor Squash Association (SRAS) for the past eight years.
Farid's personal interest in squash is evident through his support of his son, Aidan Yunus, who secured the Boys Under-19 National Junior Championships title in Bukit Jalil last March.
Notably, RedONE recently invested over RM200,000 in repairing the damaged facility at Astaka Petaling Jaya, previously utilized by SRAS for training purposes. Farid also urged government-linked companies and corporations to take sports sponsorship more seriously. He suggested revisiting past sponsorship practices, such as government-linked companies sponsoring specific sports, citing examples like Tenaga Nasional Berhad (TNB) supporting hockey, Telekom Malaysia (TM) sponsoring football, and Maybank's association with track and field athletes.
Farid emphasized the need to place national players on a payroll, as seen in other countries such as Pakistan, Thailand, and numerous others. He likened successful athletes in those countries to soldiers or police officers, earning salaries while playing and receiving pensions upon retirement.
The upcoming sixth PSA WSF Satellite tournament is scheduled to take place on July 13 at the refurbished Astaka Sports Complex in Petaling Jaya.