Realising Your Potential for Parenthood at TMC Fertility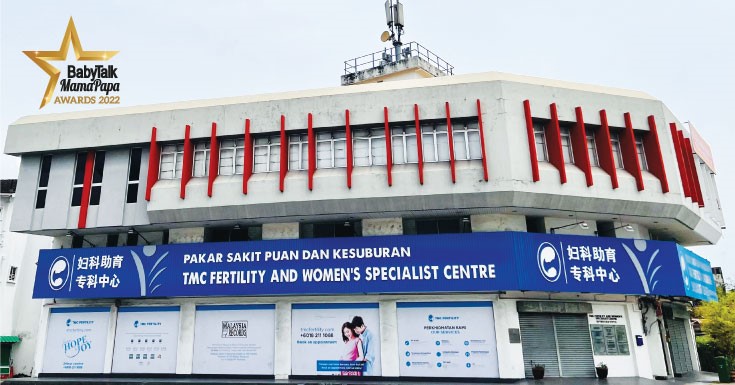 For couples dreaming of starting a family, the happiness that comes with finally conceiving and holding their own baby is incomparable. However, the process towards achieving that goal isn't always easy, as fertility issues may arise and affect both partners.
TMC Fertility & Women's Specialist Centre understands such struggles and offers a comprehensive range of fertility treatment options for male and female patients, so that they may overcome any difficulties they face on their journey to parenthood.
Established in 1994 in Damansara Utama, Selangor, TMC Fertility & Centre has been providing over 25 years of uncompromising level of care to couples looking to start or expand their family. Since then, they have grown to be a well-recognised innovation driver with a network of six centres nationwide. Couples who call Perak home can turn to TMC Fertility & Women's Specialist Centre Ipoh for all their fertility needs. The centre is located along Persiaran Pearl, near the Greentown Business Centre, and is equipped with a world-class laboratory for fertility procedures, recovery rooms and counselling bays.
Services offered include IVF (In-Vitro Fertilization), ICSI (Intra-Cytoplasmic Sperm Injection), PGT (Pre-Implantation Genetic Testing), Cryopreservation (Oocyte, Sperm and Embryo Freezing) and Donation Programmes (Oocyte, Sperm and Embryo Donations). With cutting-edge technologies such as Next Generation Sequencing (NGS) and Time-Lapse Imaging, as well as superior patient support services, affordable packages, and high-quality medications, TMC Fertility is devoted to helping you and your partner realise your dream of having a child.
The award-winning TMC Fertility has impressive pregnancy rates and was recognised by The Malaysian Book of Records in 2018 for producing the most IVF babies from a single practise (with a total of 5,388 babies). Recently, TMC Fertility & Women's Specialist Centre – Ipoh was awarded the BabyTalk MamaPapa Awards 2022 as the Best Fertility Specialist Centre (Perak).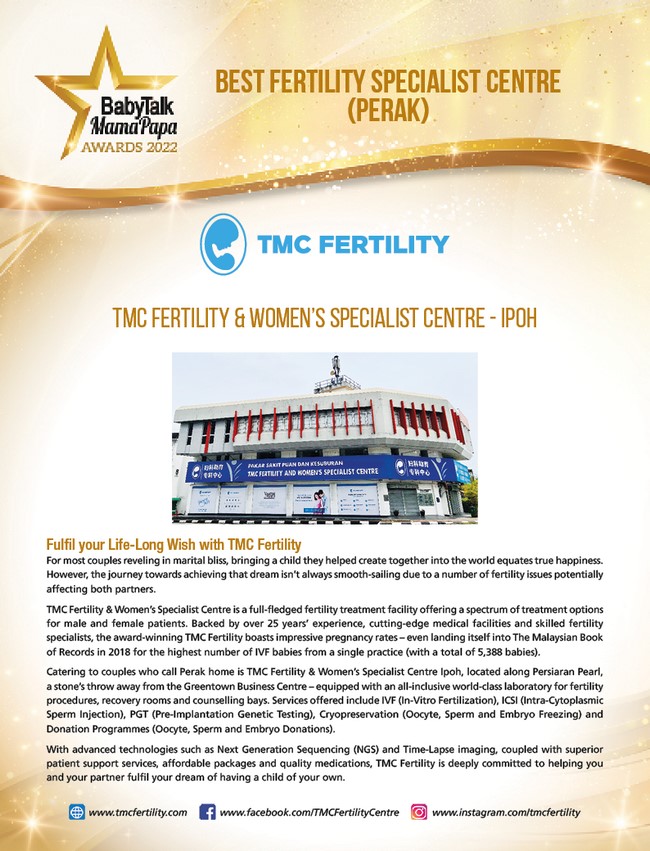 TMC Fertility is proud to provide top-tier fertility expertise and treatments that's on par with the best in the world. They understand that every patient deserves to receive the best possible care and treatment from the very beginning to end in their journey to become parents. For more information, visit their website, Facebook and Instagram pages.