Rafferty's Garden Baby Purees: Because babies should love the taste of real food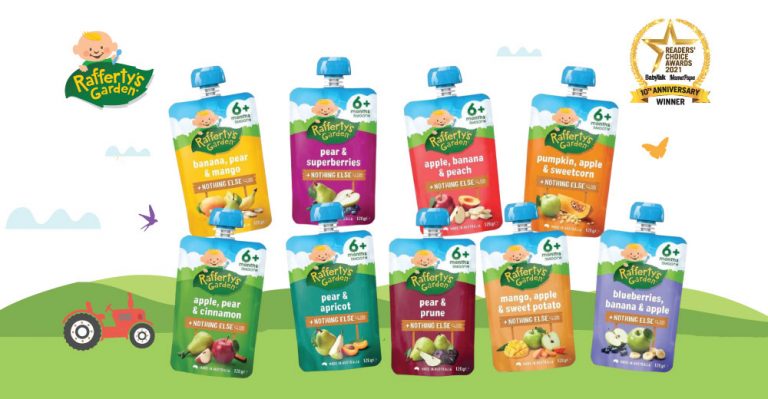 "Love that it has nothing else in it apart from the fruit & veg!"
When a baby starts eating solid foods, it is definitely an exciting new page in life! This may take place anytime between 4 to 6 months of age, and most of the time, parents tend to start them off with a single pureed food at a time. As their baby gets used to eating, it's not uncommon to find parents aspiring to introduce and offer all sorts of new variants of foods to their baby, not just to watch as they get their taste buds tickled, but also to provide the nutrients their precious baby needs.
There are two ways that parents can go about this, and they are, either make their own baby puree, or buy them. While making your own sounds great, not every family has the time or resources to go shopping for ingredients, prepare, cook, feed and store their baby's food. It does, after all, take up a lot of time and can be a laboursome endeavour. Alternatively, buying baby purees may sound simple enough, but savvy parents know all too well that there are some commonalities between the brands of baby purees out there, which aren't necessarily favourable. And also, there are some legitimate reasons why parents shy away from the convenience of store-bought baby purees.
Firstly, many of the brands out there contain preservatives, which parents surely do not want to be feeding their growing baby. Apart from that, there are also commercial baby purees that contain artificial flavouring and colourings, whereas some may even contain additional sugars. What's more, baby purees in the market are known to be quite tasteless and bland, which puts off many babies – which in turn is quite discouraging to parents who are trying to familiarise their baby to vegetable and fruit purees.
There is, however, one brand of baby food that puts a baby's interest first before all else, and uses nothing but real, natural food for all its offerings. Plus, it's an award-winning brand too!
Rafferty's Garden: Natural, real food babies will love
Parents will always want to give their babies the best of everything, and Rafferty's Garden supports parents' desires all the way with high quality baby food, including delicious, natural food purees. Remember what we said earlier about baby purees in the market being bland and tasteless? This is not the case with Rafferty's Garden baby purees, which come in an unbelievable assortment of combinations that are capable of making even adults drool!
Imagine the taste of natural, delicious fruits and vegetables in mouthwatering combos, such as Mango, Apple & Sweet Potato. Or, how about Pear & Prune? Or even Blueberries, Banana & Apple! These are just examples of the many delicious offerings of naturally tasty and healthy baby purees from Rafferty's Garden that you can be stocking up on for your beloved baby.
Parents can rejoice that brands such as Rafferty's Garden take the trouble to ensure that babies get to enjoy real, natural food choices which will benefit them throughout their different developmental stages. Besides that, let's not forget that the earlier a baby gets comfortable with healthy food choices, the easier it will be for parents to help them build good eating habits as they grow older and begin to get exposed to all sorts of healthy options out there in the world. We say, the more natural the food they consume during infancy and toddlerhood, the better off they'd be, which is why Raffterty's Garden is our hands down winner in the Baby Puree category of the 2021 BabyTalk Readers' Choice Awards. Oh, and need we mention how awed we are that each pouch contains what is stated on the pack, and nothing else?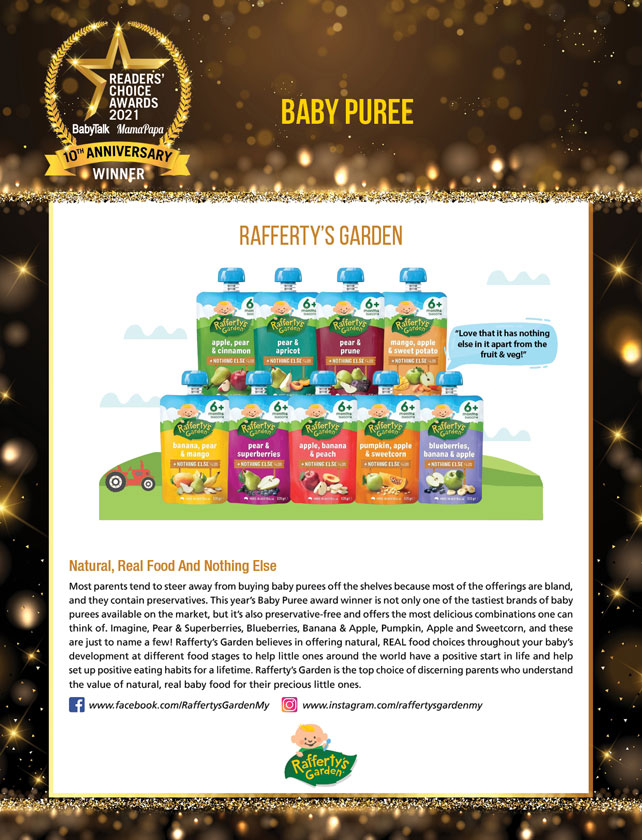 For more information, visit Rafferty's Garden Malaysia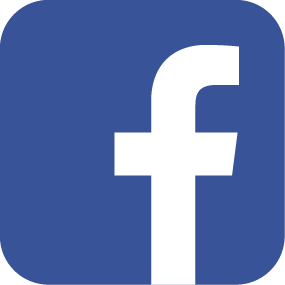 Facebook and
 Instagram.
You can purchase these products from Rafferty's Garden Malaysia through their official online store at Shopee and Lazada.