Quality Early Intervention Programmes for Special Needs Children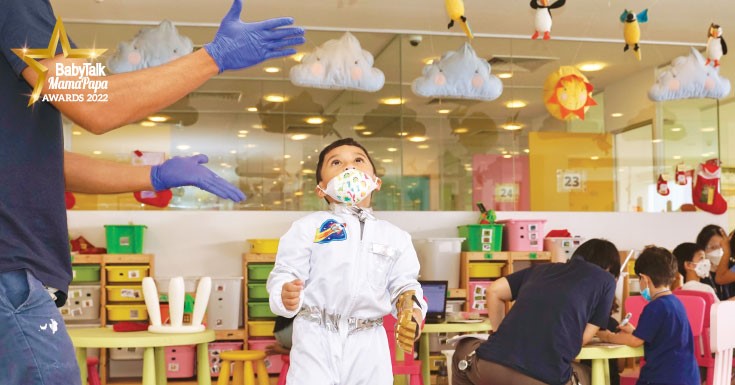 The Autism Behavioural Centre (ABC) is Malaysia's largest 1:1 ABA (Applied Behaviour Analysis) centre, specialising in individualised help for children with speech delays, behaviour problems, and social difficulties. The centre is a renowned provider of early intervention programmes for autistic children.
According to numerous studies, early autism diagnosis and treatments are more likely to have a significant long-term positive impact on symptoms and future skills. Children with autism can be diagnosed before the age of two. Some children with autism who have been developing normally up until that point start to regress just before or between the ages of 1.5 and 3 years old.
A Better Chance of Effectiveness
Early intervention can begin before or during the preschool years, as early as 16 months. A young child's brain is still developing throughout this time and is more adaptive at earlier ages. As a result, treatments have a better chance of being effective in the long run.
ABC offers centre-based and home-based intervention, as well as shadow aide services, free autism screening for children aged 16 to 30 months, and awareness seminars for schools and communities.
The centre believes that autism early intervention not only provides children with the finest possible start, but also gives them the best chance of developing to their full potential.
Some children with autism make so much progress with early intervention that they no longer fall within the autistic spectrum as adults. Many children who eventually no longer meet criteria for the diagnosis share certain characteristics, including earlier treatment and diagnosis, a higher cognitive quotient than the average autistic child, and improved language and movement skills, as well as parent training and parent participation.
Dedicated to Support Children with Special Needs
ABC's mission is to help children, teenagers, and adults develop their communication skills, behaviour, social skills, and school preparedness. Their dedication to providing a safe space, which includes efforts to train Malaysia Airports and Sunway Malls to support and include children and families with special needs, has resulted in numerous positive parent testimonials, making them the ideal choice for quality early intervention for children with special needs.
ABC provides international standards of intervention under the direct supervision of a Board Certified Behaviour Analyst (BCBA) and has intervention centres in Bangsar, Sunway Geo (Subang), and another centre will soon open in Jalan Tun Razak.
The center recently emerged as the gold winner in the BabyTalk MamaPapa Awards 2022 for the Early Intervention Programme (EIP) category.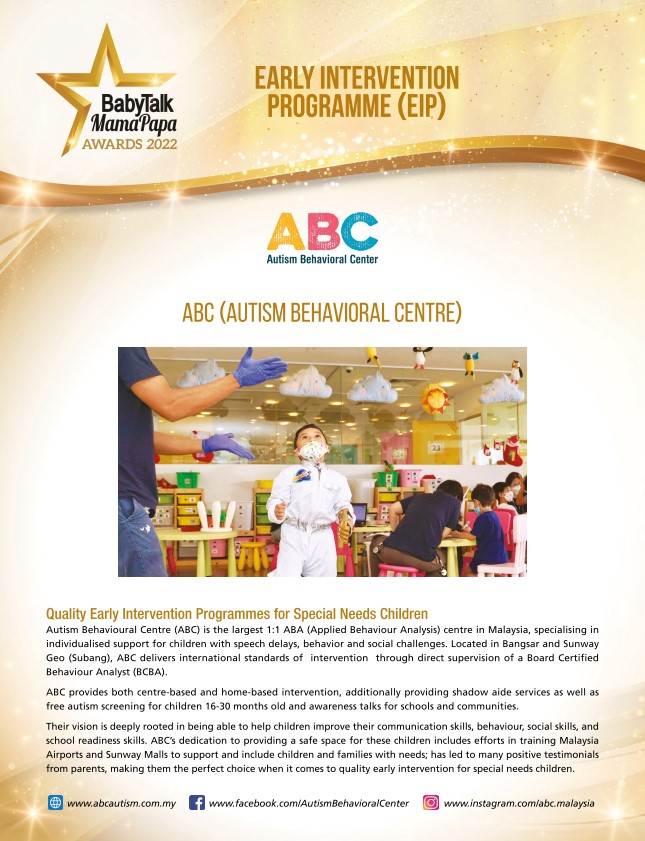 At ABC, every child will receive the attention they need to thrive in a conducive environment. For more information, visit their website, Facebook and Instagram pages.