Put Your Best Face Forward With The Help Of Palmer's Cocoa Butter Formula With Vitamin E Skin Therapy Oil Face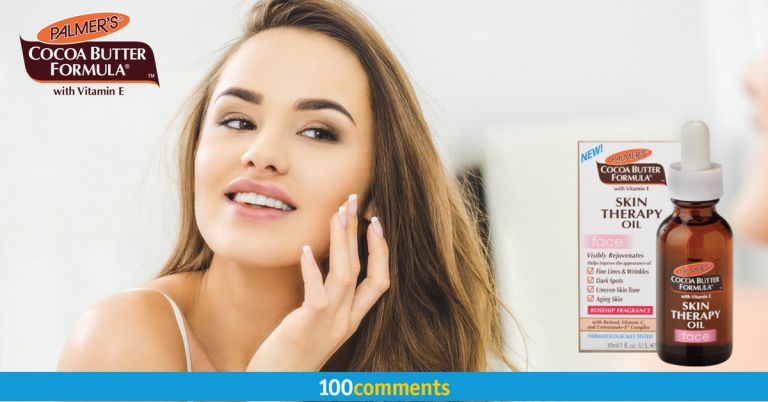 When it comes to skincare, it's important to make sure that you are using the right product. A quality skin care routine can make all the difference in the world when it comes to maintaining your good looks. The earlier you start on a good skincare regime, the more your skin will thank you for it. After all, it's easier to prevent the effects of ageing compared to reversing it.
That said, it's better to start now than never. The longer you wait, the more signs of ageing will appear on your face. This is where Palmer's Cocoa Butter Formula With Vitamin E Skin Therapy Oil Face comes in handy.
Bring Out Your Natural Beauty
Transform your skin with the help of Palmer's Cocoa Butter Formula With Vitamin E Skin Therapy Oil Face. Containing a blend of 10 pure precious oils, Retinol, Vitamin C, and exclusive Cetesomate-E® Complex, this powerful formula is the perfect product to keep you looking younger and fresher than ever.
All Natural Ingredients
Cocoa Butter
A protective plant extract that has been used for beauty products for hundreds of years, Cocoa Butter is rich in antioxidants, flavonoids, and the unique Cocoa Mass Polyphenol. It is a potent natural moisturizer that leaves the skin feeling smooth and silky, transforming even the roughest, driest areas into buttery soft skin.
Retinol
Also known as Vitamin A, Retinol advanced anti-ageing ingredient. It stimulates your skin, helping it produce new skin cells and fading away dark spots caused by photo-ageing, hyperpigmentation, hormonal changes, and blemish scars. As a beauty product, retinol is prized for its ability to treat acne, reduce the appearance of fine lines and wrinkles, and smoothen skin texture.
Vitamin C
Like Retinol, Vitamin C helps to smooth out fine lines and wrinkles, brightening your skin tone and giving you a healthier complexion. Aside from that, Vitamin C boosts the skin's ability to produce collagen – the protein that holds cells together and gives your skin elasticity.
Keep Your Skin Looking and Feeling Great
Palmer's Cocoa Butter Formula With Vitamin E Skin Therapy Oil Face is a light, non-greasy formula that is quickly absorbed into your skin. The purified oils help to moisturise and smoothen your skin, while the Cetesomate Complex delivers all of the essential vitamins and nutrient to where they're needed most.
Anyone can use it to even up their skin tone, erase dark spots from your face and say goodbye to fine lines and wrinkles. Use it in your daily skincare routine after washing your face to get rid of the signs of old age and enjoy brighter, healthier skin.
If you love this skin therapy oil, leave a review here!
For more information and to purchase Palmer's products online, go to www.palmersonline.com.my.