PRUAll Care – Total Care Before and Beyond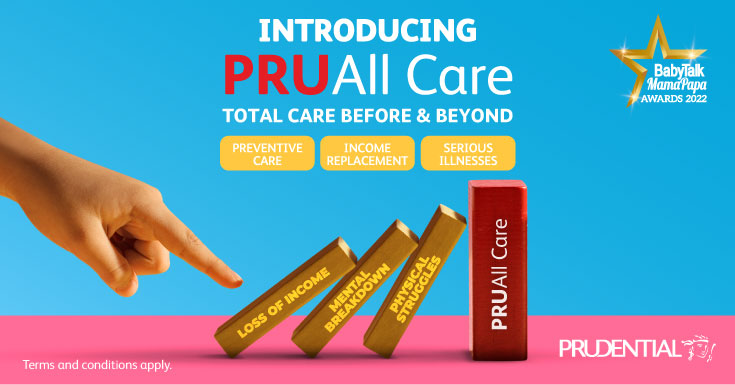 Life is tough, but you don't have to go through it alone. There is always a way to navigate through life's challenges, no matter how big or small they may be. By protecting yourself with Prudential's PRUAll Care, you can plan ahead and be better prepared to face these challenges and get the most out of life.
PRUAll Care is a revolutionary insurance plan that goes beyond offering just Critical Illness (CI) coverage. The plan covers you against 190 health conditions, ranging from early to late-stage critical illness, Special Benefit, Juvenile CI Benefit, and mental health coverage. It also provides Compassionate Benefit upon the death of the life assured.
A Lump Sum Payout for Critical Illness
PRUAll Care can help to avoid any financial crisis if a family member, particularly the breadwinner, is diagnosed with a serious illness, It provides income replacement during the recovery period, as well as payment for treatment fees which covers post-surgery recovery and intensive care benefits. During the recovery period, patients can focus on recovery and their families would not need to sacrifice their lifestyle due to no income from a breadwinner or if income is used to pay treatment for a family member who has been hit by a critical illness. The plan also includes coverage for mental health services.
The coverage starts from as young as 14 days till when one is 80 years of age. You may choose from a coverage starting from RM50,000 up to RM2.5 million based on your lifestyle and premium affordability.
Recently, Prudential's PRUAll Care became the gold winner in the BabyTalk MamaPapa Awards 2022 in the Critical Illness Insurance Plan category.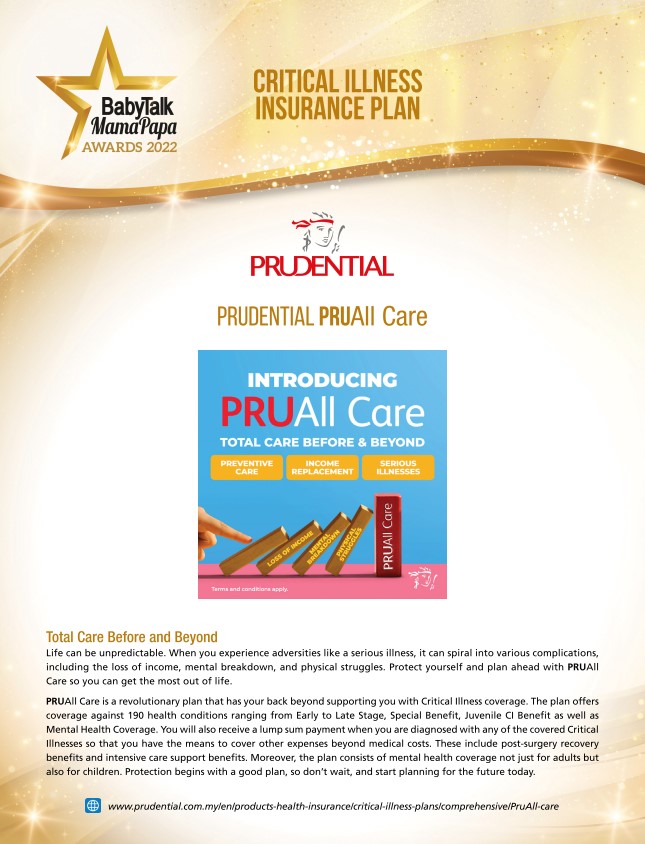 With PRUAll Care, you can be assured knowing that you and your loved ones are taken care of financially in the event of emergencies. The policy goes a long way toward helping pay your bills and maintaining your lifestyle, so you can focus on what's important—getting better. Protection begins with a good plan, and start planning for the future today. For more information about PRUAll Care, please visit their website.