Preventing Sun-Damaged Skin with UVeCARE 3 in 1 Brightening Up Sunscreen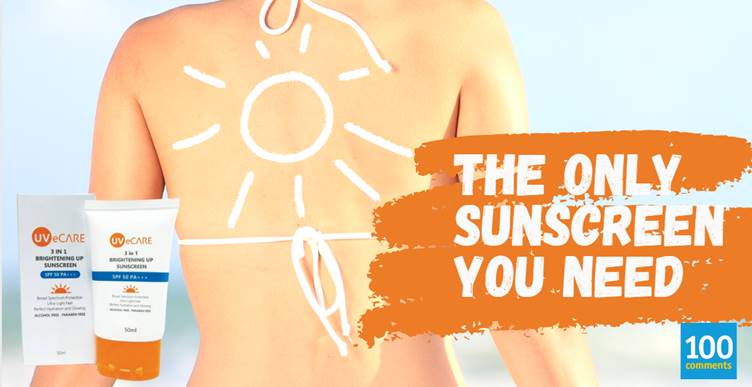 Whether the weather forecast is gloomy or sunny, sunscreen is the one step you should never skip before going outside for the day. SPF protects your skin from the sun's harmful UV rays when applied (and reapplied!). Signs of sun-damage include painful sunburns, skin cancer, and premature signs of aging, such as dry, wrinkled skin and dark spots.
Here's how UVeCARE can help reverse the damage caused by sun exposure by lightening, hydrating and protecting it from further damage.
High SPF 50
If you are in a position where you need to be in the sun frequently, make sure to wear sunscreen of at least SPF30 as recommended by the Skin Cancer Foundation. The SPF value tells you how long it would take your skin to turn red under the sun's UV radiation if you used the product exactly as directed versus how long it would take if you didn't use any sunscreen. So, with SPF 30, you should take 30 times longer to burn than if you didn't wear sunscreen.
An SPF of 30 allows approximately 3% of UVB rays to reach your skin. An SPF of 50 allows about 2% of those rays to pass through. That may appear to be a minor difference until you realised that the SPF 30 allows 50% more UV radiation onto your skin. So the higher the SPF, the better it is for your skin.
UVeCARE 3 in 1 Brightening Up Sunscreen has an SPF of 50, giving you ample protection against UV damage in your daily activities. It is also a broad-spectrum sunscreen protects you from both the harmful UVA and UVB rays.
Skin Brightening Properties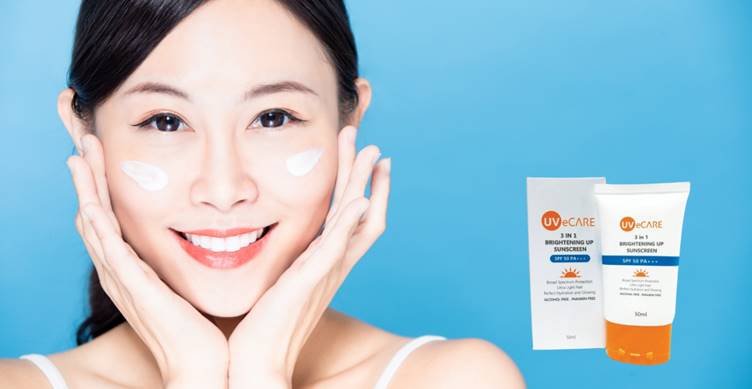 UVeCARE contains arbutin, which lightens dark spots, reduces the appearance of acne scars, and helps even out skin tone. Arbutin works by suppressing the enzymes that stimulate melanin production in the skin, thereby reducing pigment production. This also slows the process by which UV light causes pigmentation, so it prevents as well as treats pigmentation problems.
UVeCARE's Vitamin C content boosts the effectiveness of arbutin in brightening the skin. Arbutin is excellent for reducing overall redness and is gentler on the skin than other skin brighteners such as retinol and glycolic acid.
Won't Clog Pores
Unlike most sunscreens that sit on top of your skin and cause breakouts, the vitamin-enriched UVECARE lotion won't clog your pores. It has a light texture, which is easily absorbed by the skin without leaving a sticky, greasy feeling. It is suitable for use on the face, neck and whole body.
Before leaving the house, simply apply an appropriate amount to your skin and massage it in until it is completely absorbed. Reapply sunscreen every 3 to 4 hours if you are out in the sun. Because the sunscreen is made with skin-friendly ingredients, you can apply it several times per day with complete confidence.
Hydrates the Skin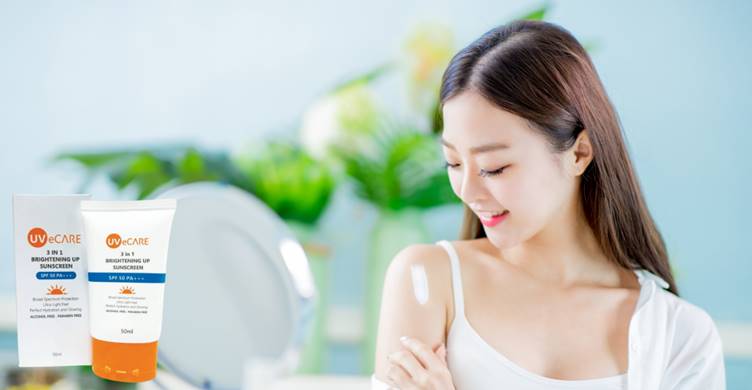 Thanks to its peony root extract, this light, fresh lotion leaves the skin intensely hydrated, soft and moisturised. This helps keep the skin complexion looking clear and matte, as well as fresh and luminous all day long. UVeCARE takes care of moisturising your skin so you would not need to apply an additional moisturiser, saving you time and money in the long run.
The Only Sunscreen You Need
Sunscreen is a must-have to protect skin from UV rays and damaging UVA and UVB rays that cause premature aging and sunburns, and UVeCARE does that job perfectly, and more! Free from alcohol, fragrance and paraben and infused with vitamin C, arbutin and peony root extract and other skin-nourishing ingredients, UVeCARE helps with skin lightening, hydrating and protects the skin from further damage from the sun.
With UVeCARE sunscreen, sunburn, pigmentation, age spots, wrinkles and dull complexion are a thing of the past! If you love UVeCARE, leave a review here. For more information, visit the UVeCARE Facebook page.