Preparing Your Child for the Future with BRAINet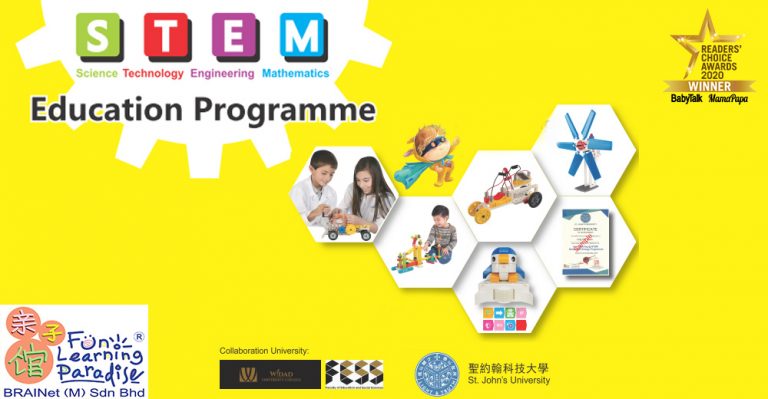 In this digital era, education is evolving at a rapid pace. STEM (Science, Technology, Engineering, Mathematics) learning is a vital foundation for our children to build the skills they need to succeed in this fast-changing world.
Stellar Education Programmes from Kids
BRAINet (M) Sdn Bhd offers a comprehensive range of mental development programs for children. Driven by more than 20 years' of experience, BRAINet (M) Sdn Bhd presents STEM (Science, Technology, Engineering, Mathematics) learning towards preparing children for the future.
BRAINet specialises in STEM modules, training, workshops and lab setup. The company focuses on STEM Education, Skill and Mental Development which nurture essential and soft skills among kids.
Fully cognizant of the current needs of children today, they bring in various hands-on and fun learning education materials in the area of mental and skill development that foster essential skills including critical thinking, logic analysis, creativity, problem solving, troubleshooting, organisation, interpersonal communication, teamwork and collaboration. BRAINet's education materials provided include educational games, science series and mental development for children from the ages of 3 months to 12 years old. The team also trains aspects of intelligence such as organisational skills, cognitive ability, memory, mathematics, logical thinking, observation skills, creativity, reasoning skills, visual/spatial recognition and linguistic ability.
Their systematic mental development materials include flash cards, educational games, family games, construction and science, wooden educational toys, puzzles and alpha music.
Believing that every child should be given the opportunity to fully reap the benefits of STEM education, BRAINet has established a strong network with universities and professionals to make STEM accessible to more children. Current collaboration partners include St. John's University, Universiti Kebangsaan Malaysia and Widad University College. By pursuing cooperative partnerships across a broad range of education institution and industry leaders, they are able to incorporate their resources to create a bigger impact in children's education for a better future.
BRAINet's reputation is built on their commitment to quality education service and support. They provide progressive solutions to build soft skills in children. Parents' have been amazed to see the results achieved by their children in BRAINet's programmes.
BRAINet has recently won the BabyTalk Reader's Choice Awards for STEM Education Programme.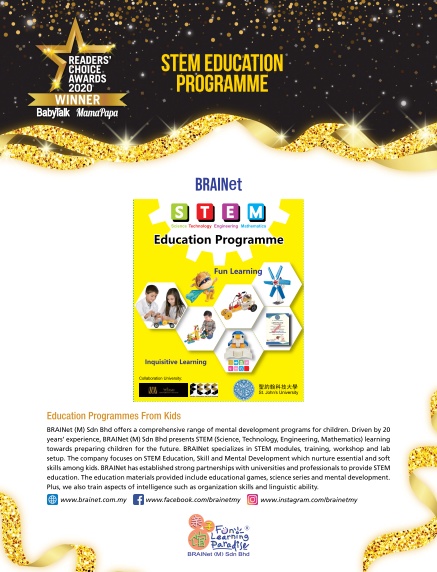 The BRAINet team is committed to support and enhance research and development in STEM education that continually create breakthrough innovations for our society. Most importantly, your child will achieve a great breakthrough in their STEM skills while experiencing the joy of learning in the process.
For more information, visit their website at www.brainet.com.my, Facebook and Instagram pages.