Premium Baby Wipes for Your Baby's Delicate Skin
When you're raising a child, it can be extremely handy to have some baby wipes lying around. You might need something quick and easy for cleaning up any little accidents that may occur like baby's vomit or just to clean the baby's face and hands. Good quality baby wipes are mostly made of exceptionally soft fabrics, as they are designed with the exceedingly sensitive nature of a baby's skin in consideration. They are made with great care and attention to detail, following various regulations, keeping the safety of babies' delicate skin in mind and contain only gentle cleaning formulations, which are tested and researched by experts.
A baby's sensitive skin requires only the best of products, which is why choosing BROWN Baby Wipes is the best choice made by most parents.
Baby Wipes Originating from South Korea
The skin around a baby's diaper area is regularly exposed to wetness, urine, and poop. This skin has more folds and creases than other areas, which can make it difficult to clean thoroughly. This is one of the main reasons why most babies experience diaper rash. BROWN Baby Wipes is one of the safest wipes' for babies as it uses natural and organic ingredients that are GMP Certified, ISO 9001 Certified, and ISO 14001 Certified. These wipes are manufactured under stringent quality control. Owing to its food-grade ingredients and purified water which has gone through a 7-stage purification system, BROWN Baby Wipes are safe to use on a baby's hand and mouth. Their baby wipes contain ingredients that are safe and gentle on the skin, which ensures hygiene while reducing skin irritation and pain.
ECOCERT certified Lavender and Ylang Ylang from France and Madagascar, as well as Cherry Blossom from Jeju Island, Korea, are among the natural extracts contained in BROWN Baby Wipes. All of the natural benefits of the plant extracts are preserved with modern technology to nourish and moisturise your baby's skin after each application. The wipes are fragrance-free, alcohol-free, hypoallergenic and dermatologist-approved, and verified to be free from eco-toxicity and ingredients that may harm your baby's skin. BROWN Baby Wipes are high-quality wipes that consist primarily of water, with the addition of natural moisturisers to prevent dryness. Parents may choose from three different thickness levels to suit their baby's needs.
Wipes are used for more than merely cleaning pee and faeces. They're also frequently used to clean babies when the weather is hot, dusty, and sweaty, and to keep their hands sanitised after eating and playing. Wiping also helps to remove sweat from the infant's sensitive skin's pores and to keep the newborn dust-free while moisturising and calming the skin.
BROWN Baby Wipes has recently won BabyTalk Readers' Choice Awards 2021 for the Premium Baby Wipes category.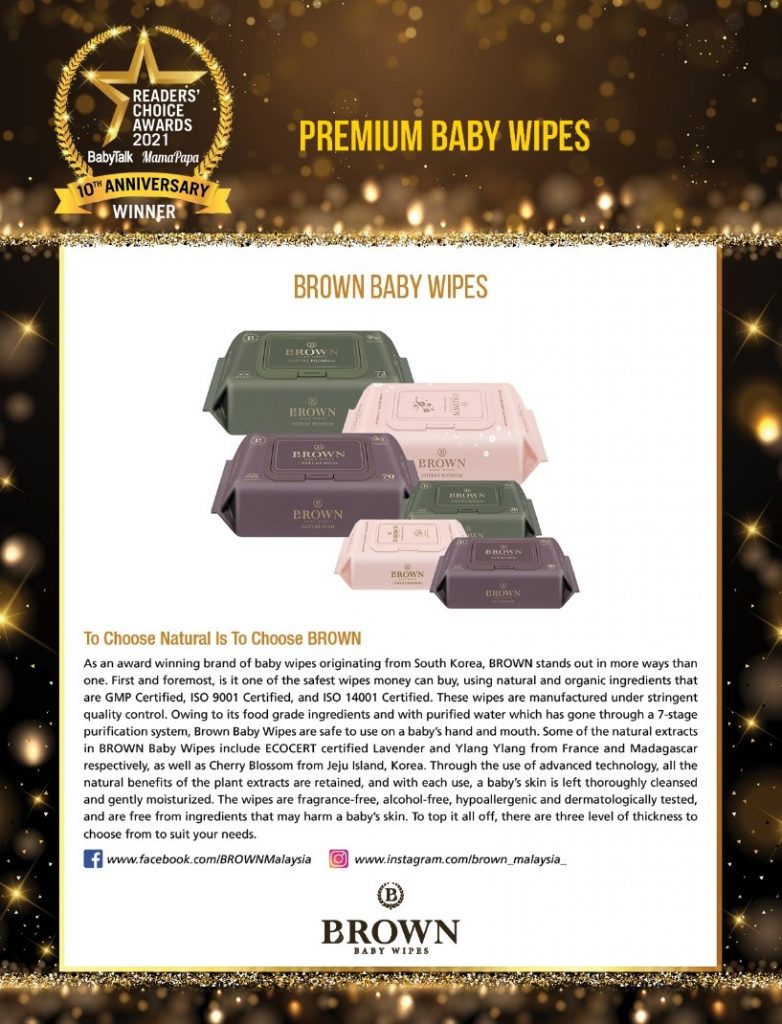 In conclusion, it is important to be very selective and knowledgeable while purchasing baby wipes. We recommend choosing products with as few ingredients as possible, like BROWN Baby Wipes, for the safety and comfort of your newborn. Feel free to share your thought about BROWN Baby Wipes with us!
For more information, visit their Facebook page and Instagram page.