Pregnancy Superfood: Sweet Potato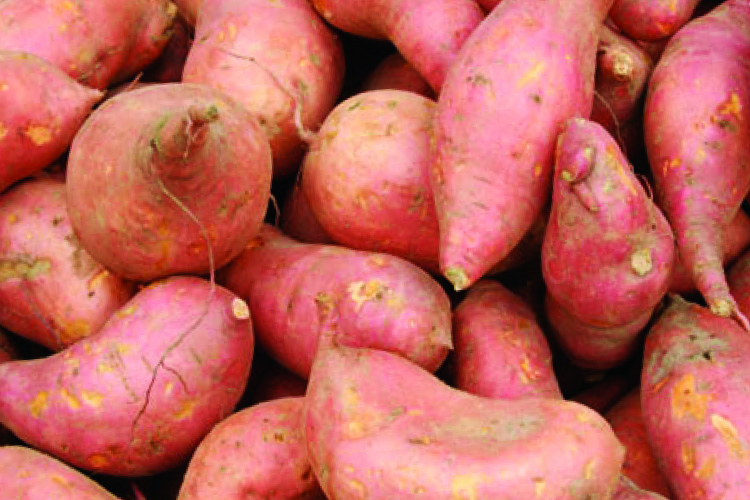 Sweet potato does not only make a great first food for your baby; it is also highly nutritious for mums-to-be.
Nutritious Sweet Potato
Sweet potatoes are tubers and different from potatoes, although they are distantly related. As a food source, they are often eaten boiled, baked or fried. They can also be made into starch or a partial flour substitute.
An excellent addition to your diet which could help in improving your overall health and well-being, sweet potatoes are rich in various essential nutrients and minerals including vitamin A, vitamin C, vitamin E, biotin, manganese, iron, copper, folic acid, pantothenic acid and dietary fibre. For expectant mums, the high folate content in sweet potatoes can help in the healthy development of foetal cells and tissues.
Mashed Sweet Potato with Basil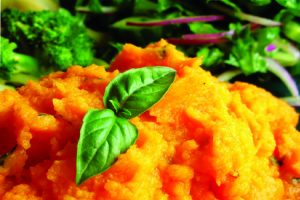 PREPARATION TIME 10 minutes
COOKING TIME 10 minutes
MAKES 2 servings
Ingredients
2 sweet potatoes (about 500g)
2 teaspoons muscovado sugar
½ teaspoon salt
1 and ½ tablespoons margarine
2-3 teaspoons lemon juice (or lime juice)
Freshly ground black pepper
1 to 2 tablespoons chopped basil leaves
Salt to taste
Instructions
Peel and slice the sweet potatoes, place them in a cooking pot with the sugar and ½ teaspoon of salt. Add enough water to cover.
Boil until very soft.
Once cooked, drain the water, add margarine and mash the sweet potatoes with a masher.
Stir in black pepper, chopped basil, lemon juice and salt to taste. Serve the mash with stir-steamed vegetables and an arugula salad.
Warm Mushroom & Sweet Potato Salad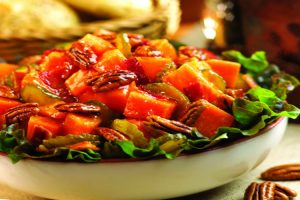 PREPARATION TIME 10 minutes
COOKING TIME 30 minutes
MAKES 8 servings
Ingredients
½ teaspoon Dijon mustard
Juice of 1 lemon
Pinch of sugar
Salt and ground black pepper
1 red pepper, deseeded, cut into chunks
1 red onion, sliced
95g bag of baby salad leaves
2 unpeeled garlic cloves
30ml olive oil
45ml pine nuts
250g pack large flat mushrooms, sliced
500g sweet potatoes, peeled
Instructions
Preheat oven to 200°C. Cut the sweet potatoes into evenly sized large chunks. Place in a large roasting tin and drizzle over half the oil. Roast for 10 minutes or until just tender.
Add mushrooms, pepper, onion, garlic and pine nuts to the roasting tin. Toss well to coat in oil, season with a little salt and plenty of ground black pepper and roast for a further 15-20 minutes. The potatoes and mushrooms should be tender.
Next, remove the tray from the oven and take the garlic out of the tray. Slip the papery skin from the garlic and crush to a pulp with the back of a spoon. In a small bowl, mix together the remaining oil, garlic pulp, lemon juice, mustard and sugar to make a dressing. Season to taste.
Empty the salad leaves onto a large platter, top with the roasted vegetables then drizzle over the dressing. Serve warm.
Sweet Potato Patties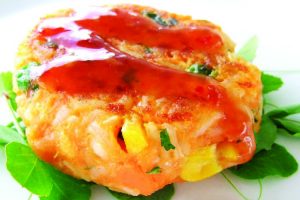 PREPARATION TIME 10 minutes
COOKING TIME 20 minutes
MAKES 8 servings
Ingredients
⅓ cup fresh breadcrumbs
¼ cup rice
250g peeled and roughly chopped sweet potato
½ small onion, finely chopped
½ cup frozen mixed corn kernels and baby peas
30g (⅓ cup) grated parmesan cheese
½ teaspoon ground cumin
1 clove garlic, crushed
1 large egg yolk
1 tablespoon chopped flat leaf parsley
Salt and pepper
1 tablespoon oil, for frying
Sweet chilli sauce, to serve
Instructions
To make the breadcrumbs, place some day-old bread in a food processor and process to make fine crumbs.
Cook some rice and set aside.
Boil or steam sweet potato until tender. In a large bowl, roughly mash the cooked sweet potato with a fork.
Add the breadcrumbs, rice, onion, pea and corn mix, parmesan, cumin, garlic, egg yolk, parsley, salt and pepper and stir until combined.
Form mixture into eight patties.
Heat oil in a non-stick frying pan over medium heat. Cook patties for about four minutes on each side until golden brown and cooked through.
Serve patties hot. Cooked patties can be stored in the refrigerator and reheated in the oven or microwave before serving.