Pregnancy Superfood: Salmon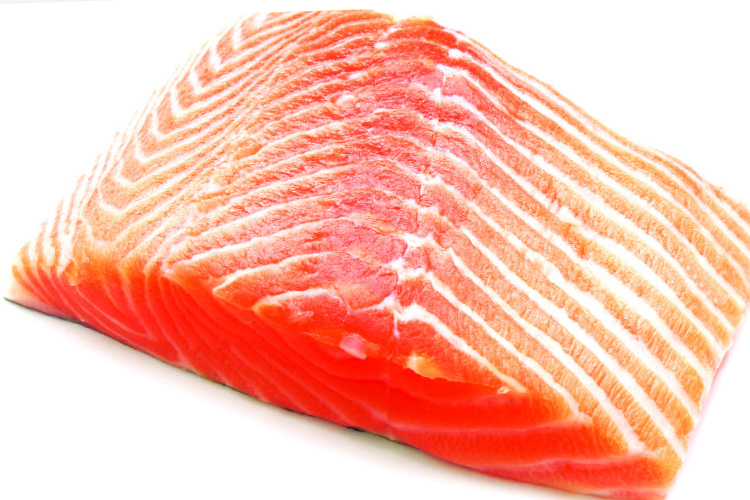 Being pregnant doesn't equal to an indulgence-free, monotonous diet. With some creativity, your meals can be sumptuous yet healthy. This month, we feature the recipes for one of the pregnancy superfoods, salmon.
Delectable Salmon
Fresh, frozen, and canned salmon are excellent sources of protein. Low in saturated fats and rich in omega-3 fats, they are good for brain and eye development. Avoid smoked salmon that are sold refrigerated, unless heated until steaming hot, as they increase the risk of bacteria infection called listeriosis.
Salmon Chowder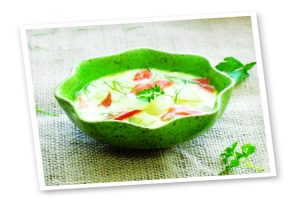 PREPARATION TIME 10 minutes
COOKING TIME 30 minutes
MAKES 4 servings
Ingredients
1 tablespoon olive oil
1 tablespoon butter
1 medium onion, chopped
1 medium fennel bulb, fronds removed, cut in ½-inch pieces
Salt
2 tablespoons all-purpose flour
225gm russet potatoes, peeled and cut in ½-inch pieces
4 cups water
900gm uncooked salmon fillet, broken in chunks
1 cup heavy cream
1 teaspoon freshly ground black pepper
Instructions
Heat oil and butter in a deep skillet or soup pot. Add onion, fennel and one teaspoon salt.
Sauté for around three minutes until the onion becomes translucent and the fennel softens. Add flour and stir for one minute.
Add potatoes and water. Bring to a boil, then reduce heat and cover. Simmer for around 15 minutes until potatoes are tender but not too soft.
Stir in salmon fillet, cream and black pepper. Simmer for 10 minutes.
Add salt to taste. Garnish with fresh parsley or chopped fennel sprigs and serve hot.
Source: tastefoodblog.com
Broiled Salmon with Dill-Mustard Sauce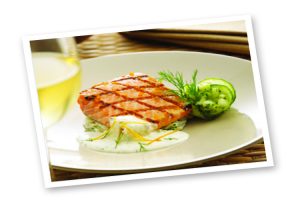 PREPARATION TIME 5 minutes
COOKING TIME 20 minutes
MAKES 6 servings
Ingredients
2 tablespoons chopped fresh dill
4 tablespoons Dijon mustard
2 tablespoons honey
¾ cup mayonnaise
¼ cup sour cream
1 lemon, cut into 6 wedges
6 one-inch thick salmon fillets (each about 170gm)
Non-stick cooking spray
Instructions
Preheat the broiler in your oven.
In a small bowl, combine the chopped dill, mustard and honey. Place two tablespoons of the mixture in a smaller dish and reserve the sauce for basting the salmon later.
Mix the mayonnaise and sour cream with the remaining dill mixture. Cover and chill in the refrigerator until serving time.
Spray the skin side of the salmon with the non-stick cooking spray.
Place the salmon, skin side up, in a broiler pan. Broil the salmon four to six inches from the heat for about five minutes. Then turn the fillets over, brush them with the dill-mustard-honey sauce and broil for five more minutes.
It's cooked when the fish flakes easily with a fork.
Serve the salmon on plates with a dollop of the refrigerated sour cream and dill sauce. Garnish with sprigs of fresh dill. Put a lemon wedge on the plate and serve.
Source: kitchen-goddess.yumsugar.com
Blackened Salmon Sandwich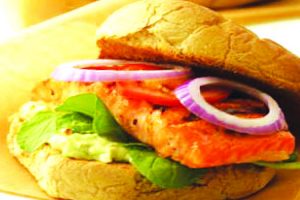 PREPARATION TIME 5 minutes
COOKING TIME 25 minutes
MAKES 4 servings
Ingredients
450gm salmon fillet, skinned and cut into 4 portions
2 teaspoons blackening or Cajun seasoning
1 small avocado, pitted
2 tablespoons low-fat mayonnaise
4 crusty whole-wheat rolls, split and toasted
1 cup arugula (salad greens)
2 plum tomatoes, thinly sliced
½ cup thinly sliced red onion
Instructions
Oil grill rack and preheat it to high.
Rub salmon on both sides with blackening or Cajun seasoning. Grill until cooked through, three to four minutes per side.
Mash avocado and mayonnaise in a small bowl.
To assemble sandwiches, spread some of the avocado mixture on each roll and top with salmon, arugula, tomato and onion.
Source: eatingwell.com